Earnest finishes high school wrestling career on top
BY JACOB MCDERMITT
The final state wrestling match of the 2017-18 season was also senior Jordan Earnest's last time wearing the red of Wadsworth. Earnest finished the season as the state champion at 285 pounds with a 2-1 victory, but that morning even he was unsure of how the day would go.
"It was a little bit crazy. Going to bed, I was nervous about the next day and how the match was going to be really important," said Earnest. "Waking up, I felt a lot better, more calmed down and thinking about how I would get to run out on that stage and the spotlight would be on me. That was something I've been working for all season."
Earnest had been in that position before, making it to the semifinals before finishing fourth in the state his junior year. However, this year was different for him because he got a chance to take advantage of the experience he had gained.
"Nerves were the biggest difference. I'd been there before. I knew this time what I had to do to get back up onto the stage and win that semifinals match," Earnest said.
Earnest faced the second ranked wrestler in the nation in the semifinal match that, a year ago, had been where he saw his chances at a title dissipate. However, he took it in stride and, for the third straight match, pinned his opponent to propel himself to the state championship.
"I knew I had to wrestle him eventually and I'd have to beat him, but I knew I just had to hit my moves. I have a move I could work for and set up at anytime, and I knew just as long as I wrestled my style he wouldn't be able to hit his big move, the throw," said Earnest.
When the finals, delayed by other matches and technical difficulties, finally began, Earnest landed a first period take down to grab an early lead.
"As soon as I got that take down, I looked at the scoreboard and at that point I knew I could be a state champ," he said.
However, Earnest was challenged until the very end by his opponent, Jack Heyob of Cincinnati St. Xavier, in a match that went the whole distance unlike Earnest's previous three pinfalls.
"I knew that I just had to keep wrestling and pushing back because I couldn't get called for stalling too much and just as long as I kept wrestling I would be okay. I knew I could just back away if I needed to," he said.
Earnest's state title capped off a senior season that saw him go 48-1 and earn the Medina Gazette MVP for leading the county with a .980 win percentage, 172 take downs and 35 pins.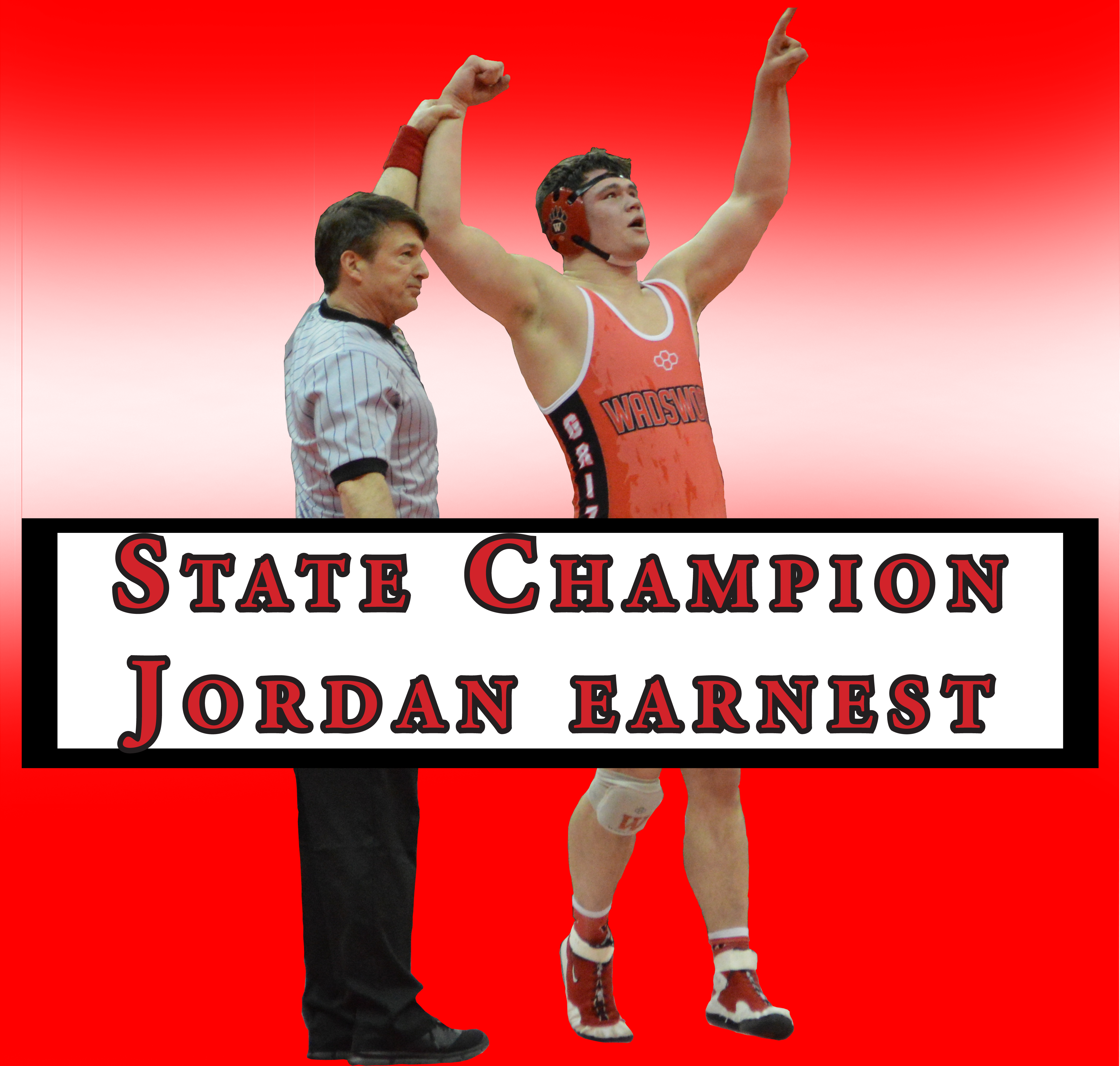 Earnest is the 21st individual state champion wrestler from Wadsworth. Earnest himself will leave to continue his career at Ohio University, but his picture and the bracket he won will go on display outside the wrestling room, along with the other Grizzly champions. However, when people look back on him in 10-15 years, Earnest wants to be remembered for his journey, not just the final destination.
"I just want people to remember how far I came. I started out on the Varsity B team and then, junior year especially, not knowing how to even start seeing where I ended up senior year," he said.
Earnest was also quick to praise his support system when asked about the reasons for his success.
John Gramuglia, head wrestling coach at Wadsworth and a member of the National Wrestling Hall of Fame, pointed to Earnest's ability to take it each day at a time.
"He believed in the process and not the product. He worked on all the little things to make himself better and never got rattled under the pressure," said Gramuglia.
Leave a Comment
Your donation will support the student journalists of Wadsworth High School. Your contribution will allow us to purchase equipment and cover our annual website hosting costs.