Wadsworth High School boys varsity soccer team celebrated senior night with a 2-1 win over Barberton. The team celebrated a total of 14 seniors, one being a foreign exchange student and one being the team statistics girl.
The stadium was decorated in Grizzly colors, balloons, streamers, posters, and cutouts of the boys.
Before the game, the seniors walked down the field and were escorted by parents. The seniors were recognized for their involvement in school activities, and accomplishments, and announced their post-high school graduation plans.
"Senior night was really special for me," said senior Harrison James. "It felt good getting the win and hopefully we can carry this momentum into playoffs."
Seniors on the varsity girls' soccer team met them on the field to give them a gift, congratulating them on their special night.
The goals were both scored in the first half, one from senior Parker Russell and the other from senior Michael Watson.
Russell's goal was an easy pass into the back of the net.
Watson's goal came off of a perfectly placed corner kick from senior Harrison James. Watson easily headed the ball right past Barberton's keeper. 
"It was special scoring a goal on senior night," Watson said. "It was a great way to complete the regular season."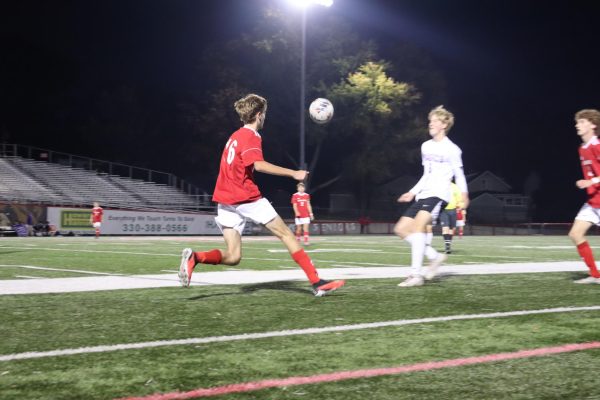 This was the last game of their regular season, pushing their record to 9-5-3 overall. Because of their record, they were given a bye in the first round of playoffs. The Grizzlies will take on Strongsville on Saturday, October 21 at Art Wright Stadium at 7 p.m.