Wadsworth Girls Tennis members are left awaiting their next match against Twinsburg after it was delayed due to weather conditions.
The match, originally scheduled for Tuesday night, was set to take place as the second match within a three-day playing streak. However, due to rainfall throughout the evening, their game was postponed.
Because Twinsburg is a conference match, Wadsworth has to play them before September 22, when the suburban league tournament will take place, leading them to have a match on September 20. The results of this match will help determine each player's and the team's seeding for the tournament.
Unfortunately for the girls, this is not the first time they have had to reschedule this match, with their original schedule having them set to play each other on August 23.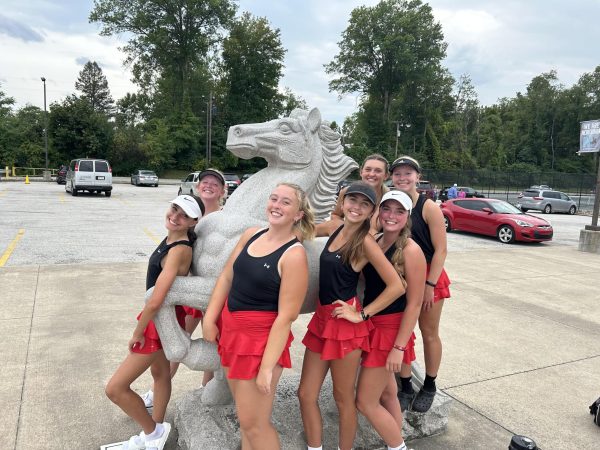 "I'm disappointed because I love to play with my amazing doubles partner, Avery Neville (11),"  said Elyse Errington, senior at Wadsworth High School and varsity member of the girls' tennis team.
However, the disappointment from the weather has not stopped the team from preparing for this match, with the team holding an indoor practice.
"I still had a great time practicing footwork with the rest of the girls," Errington said. 
Despite Tuesday night's match unexpectedly being moved, the team still had an eventful week with Monday night's game against Stow-Munroe Falls ending in a four-to-one win for the Grizzlies, allowing the girls to maintain their three-game winning streak. 
The team's last game of the week on Wednesday night against Solon High School ended in a two-to-three, leaving only one more scheduled match before their senior night match against Norton on September 19. Although the team as a whole lost, many individual players still had successful performances. 
"I was proud of how I played against Solon," said Sienna Lucci, a junior at Wadsworth High School and member of varsity tennis. "I knew it was going to be a hard match, but I pushed through it and won."
With only six regular matches left in the season, the team is striving to maintain their overall successful season record.