Kailyn Biecker Navigates Life as a Three-Sport Athlete
For Kailyn Biecker, playing sports is more than just an after-school activity–it is a part of her identity. Biecker, a junior at Wadsworth High School, participates in three different sports: cross country, track, and soccer. She runs for the high school cross country and track teams while playing soccer at International Soccer Club.
Out of the three sports, Biecker plays, she has been involved in soccer the longest, beginning when she was in kindergarten. She enjoyed the sport when she was young and continued to stick with it over the years, increasing her hours spent playing and overall commitment to the sport.
"In season, we practice three days a week," Biecker said. "Our schedule right now is Tuesday, Wednesday, and Thursday, and each practice is an hour and 30 minutes with fitness at the end."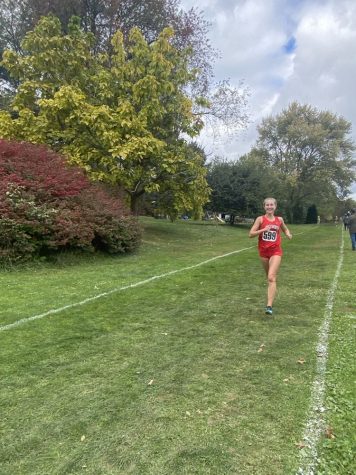 Biecker spends the most time playing soccer in the spring and summer, which is when the season for club soccer is. She gets to travel a lot for soccer and has played games in places like New Mexico, California, Tennessee, Indiana, and, most recently, Arizona. Although Biecker's busy
schedule often causes her to miss school, she has learned to manage the extra work.
"[Missing school] is not that bad," Biecker said. "Most of my teachers are pretty understanding, and I get my work done early. I usually have a lot of time to do it in the car."
Although her practice schedule lightens up after the season, Biecker continues to train year-round in order to stay in shape and keep her game at its best. Playing at such a high intensity for so many years can take a toll on any athlete. Biecker stays motivated by her love of the sport and desire to reach her goals. Specifically, playing Division 1 soccer in college has always been in the back of her mind.
"On my club team, everyone was committing, and it's really just a big push," Biecker said. "I've just had a desire to play[in college] since I was younger."
Biecker began the recruitment process by reaching out to numerous college coaches and performing in front of their showcases. Although the process became stressful at times, it paid off in the end. Last winter, Biecker verbally committed to play soccer at the University of Akron.
"The Akron coach reached out and we were talking for a little bit, and I decided it was the best fit," Biecker said.
Having committed as a junior, Biecker will wait another year before joining the Akron team. In the meantime, she continues to play club soccer–along with running track and cross country for WHS.
Biecker joined both cross-country and track when she was in eighth grade.
As a soccer player, she was already in strong running shape and used to intense workouts. With the encouragement of her parents and even some teachers, she decided to try running competitively. Biecker's background in soccer combined with her strong work ethic allowed her to see success as a runner.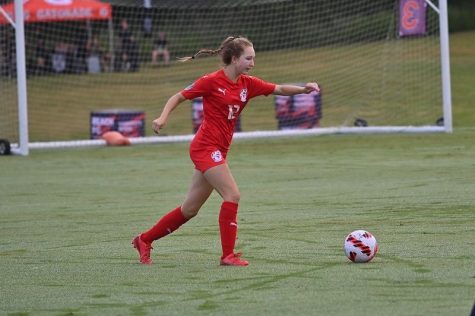 "She does a great job of really pushing herself through whatever workout she's going through or whatever event she's running," said Mr. Humrichouser, who coaches cross country and track. "She's never one to take a rep off. Even if she's tired from soccer or vice versa, she's going
to give 100% to whatever she's doing that day."
Once Biecker joined the high school team, she quickly made a name for herself as one of the top runners in the area. She ended her freshman cross country season by qualifying for the state meet, where she placed 20th as an individual and helped the team come in tenth place.
"Her freshman year she was a part of our state cross country team that finished tenth overall in the state, and she was the top Division 1 freshman on that day," Humrichouser said. "She was able to join us her first year, going through COVID protocols and everything, still excelling as a freshman. I'd say that would probably be her biggest accomplishment in her career."
Biecker prefers cross country to track due to the smaller team size and the more relaxed environment. Still, she has had many accomplishments on the track. She qualified for state in the 4×400 relay as a freshman, and just missed qualifying for state last year. Despite the physical and mental demands of cross country and track, Biecker still finds enjoyment in running and being a part of the team.
"I do like [running] to an extent," Biecker said. "I think it's really stressful, but I like all the girls and I like the environment. We
do a lot of fun things together."
Cross country, in particular, has a very team-oriented atmosphere. Biecker has enjoyed bonding with her teammates on long runs, where they have fun running to different places such as each other's houses, and even Dunkin' Donuts.
With her success in high school running, Biecker naturally started to question if she would like to continue running in college.
"I actually did consider it," Biecker said. "There's a part of me that will really miss running, so I was like, 'Oh, I could do it in college,' but that was just a tiny part of my brain."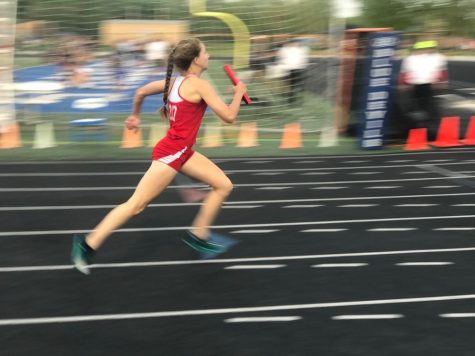 In the end, Biecker decided to continue focusing on college soccer. Still, she has high expectations for herself in her final few seasons of track and cross country.
"I'd like to make it to states one more time in either track or cross country," Biecker said.
Biecker is currently in the middle of track season. She typically goes to track practice after school, then goes straight to either soccer practice or work afterward. This schedule leaves little room for downtime to do homework or relax.
"The hardest part of being a three-sport athlete is balancing it all, keeping a positive mindset, and still finding joy in certain
things," Biecker said.
Despite all the challenges, Biecker has enjoyed being a three-sport athlete. She has made the most of her time in high school by competing in three different sports that she loves.
"I think the most rewarding part is improving myself, being able to watch others succeed, and just spending time with good friends," Biecker said.
Leave a Comment
Your donation will support the student journalists of Wadsworth High School. Your contribution will allow us to purchase equipment and cover our annual website hosting costs.