Wadsworth Middle School Premieres comedy "Comic Book Artist"
The Wadsworth Middle School had their performance of the comedy "Comic Book Artist" by Pat Lydersen on February 10 and February 11, 2023. The production featured an engaging storyline filled with unforgettable characters. The cast size, minus the crew, was approximately 31. Some of the actors from the past two years' performances had returned to the stage to act out the production.
"We were originally supposed to do a different show, but when that fell through unexpectedly, we had to pick something else quickly. Comic Book Artist is a show that Ms. Baxley [the second director] has directed before at WHS, and she was confident our talented middle schoolers could handle it, so we committed to it," Mrs. Patterson, one of the directors for the comedy, said.
"Comic Book Artist" features a young man named Stanley who wants to become an artist for "Wonder Comics." Unfortunately, he works as a janitor for his boss, Mr. Wunderman, who is less than pleased with his work. When Stanley finds his drawing in the trash, placed there by his contemptuous and avaricious boss, he is deeply disheartened and thinks he'll never be good enough to get out of his janitoring job. It is at this moment when Mr. Wunderman's secretary decides to give Stanley a pen from the new shipment box, and tells him to believe in himself. Little do they know that his secretary just gave him a pen that can make his creations come to life.
Stanley is doodling on a sketchpad when, suddenly, his creation known as "Star Guy" comes out to introduce himself as the newest superhero of "Wonder Comics." Stanley draws himself and the new superhero a team of powerful beings consisting of "Triple Time," a superhero known for his speed, "Blossom," a superhero that can put people to sleep with her flowers, and "Wombat Woman," a superhero that is excellent at digging and busting through walls. Stanley is quite excited about his creations coming to life, giving him a boost of courage and confidence.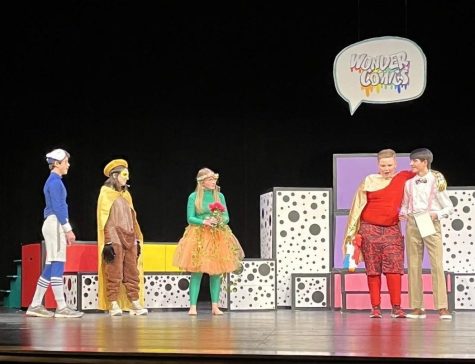 "While I would probably play Wombat Woman on the stage, in real life, I'd likely be Blossom.  During the Summer months, I keep a very large garden. A burrowing creature like Wombat Woman would actually be my arch nemesis in real life…much like the chipmunks that tear up my garden beds," Mrs. Patterson said.
Meanwhile, at a meeting, Mr. Wunderman is determined to make a fortune. He takes his life-giving pens, hands them to his team of artists, and tells them to make a superhero. Unfortunately, this newly-drawn character known as "Doctor Shock Clock" is going to become a supervillain instead. This new supervillain needs to be defeated, but the four superheroes that came to life might not be up to the challenge.
The show kept the audience at the edges of their seats, whilst also laughing along the way. There were new jokes and surprises in each scene, and the WMS cast put their own personal spin on the show with their unique personalities. These said personalities had also been reflected in the set design created by Mrs. Baxley and Mrs. Patterson. The set was vibrant and set with each color of the rainbow. The audience most literally jumped into a comic book with all of the shocking colors.
"We used [black] vinyl for the circles," Mrs. Baxley said.
The story featured a heartwarming story about believing in oneself. These seventh and eighth graders believed in themselves and their peers to put on this production, and Baxley and Patterson both knew that they could be a winning cast.
"This is only the second show I have directed at the middle school, and it is inspiring, to me, how much interest there is in our drama program. It's hard knowing you don't have enough opportunities for every single person. There is so much talent at the middle school, and I know there are so many kids aspiring to our incredible high school program as well," Patterson said.
Leave a Comment
Your donation will support the student journalists of Wadsworth High School. Your contribution will allow us to purchase equipment and cover our annual website hosting costs.