Recently, Wadsworth High School students had the opportunity to listen to speakers, Dr. Stacy Willett and Dennis Regans, about their careers in Homeland Security and Emergency Management.
"We make sure the disaster is organized and the right people are in charge of each spectrum of things," Willett said.
Dr. Willett is a professor at the University of Akron and teaches a program for students who want to enter the Homeland Security or Emergency Management field.
"We have cyber forensics, fire protection, EMS, we have a police academy, and we have my program," Willett said.
Dr. Willett spent 16 years getting her education, ten years of it being spent getting her doctoral degree. 
"I have a doctorate in education with concentration and all of it was done in crisis leadership," Willett said.
Alongside Dr. Willett, Dennis Reagans spoke about his position as a professor in fire protection and his career before he started teaching. 
"I was a firefighter, paramedic, swat medic, and I could probably name another ten other things that they gave us that we had to learn," Reagans said.
Reagans has been a professor for 20 years and was also a part-time professor while still continuing as a firefighter.
"I used school to augment everything I did with the fire service," Reagans said.
Students who attended showed interest in the career path, including Wadsworth Junior, Ace Dykes. 
Dykes says he is very interested in Homeland Security and really enjoyed the speakers.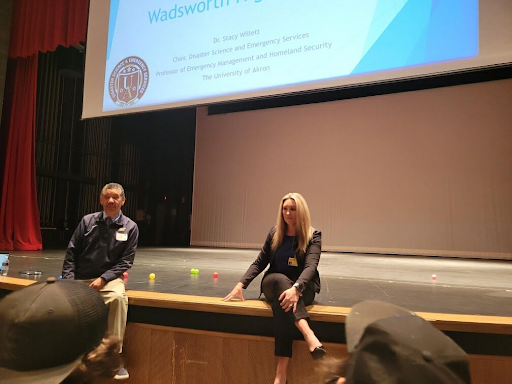 "I thought both of the speakers were really well-spoken, I thought they were very professional and I really liked what they had to say," Dykes said.
*In a previous version of the story, a student was misidentified. The current version has corrected that error. The Bruin acknowledges that we make mistakes but we will always do our best to make sure we get it right.