Jensen Heppner, Wadsworth Junior, aims to go higher in the world of competitive gymnastics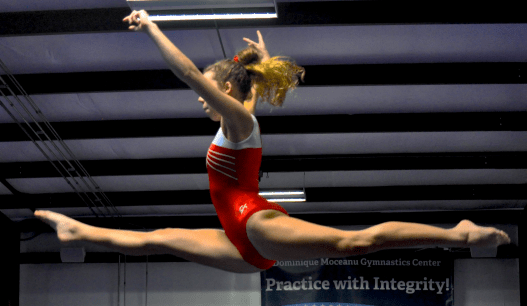 BY ARI KASER
Gymnastics is a sport that combines physical agility and mental balance, and Jensen Heppner, junior at Wadsworth High School, works towards both of those. Heppner is a level 9 gymnast, one of the highest levels a person could go in the competitive gymnastics world.
Heppner started gymnastics when she was six years old, making this year her eleventh year in the sport. In those eleven years, she has managed to climb close to the top of the sport.
"I remember being really excited that I got my pullover on bars and then after that I just kept going," said Heppner.
She works out at the Dominique Moceanu Gymnastics Center, also known as DMG, sixteen hours a week. This is coupled with another six hours of practice per week done with the high school gymnastics team during the competition season. Her hours during the competition season total around twenty two hours each week.
All of this work inside the gym goes into accomplishing new skills, training for future routines and mastering the skills that she competes in front of judges at competitions.
Heppner is considered a level nine gymnast and competes against other girls at that level, but she has and performs skills that are considered to be level ten. The highest non-elite level is ten, making Heppner a high-skilled competitive gymnast.
"My goal for next year is to compete level ten, but I'm competing level nine this year," said Heppner.
Although Heppner is competing level nine, this does not mean that she will only compete the skills that are considered level nine. Heppner's beam routine and parts of her other routines are at the level ten difficulty.
According to Heppner, the difference between level nine and level ten is the amount of bonus that is needed.
The higher a person climbs in competitive gymnastics, the lower their start value is when competing. A gymnast's start value is the amount of points that she starts out with before deductions are taken out.
"Bonus is gained by doing more difficult connections," said Heppner when asked what the generic definition of bonus is.
Bonus gives them the opportunity to increase their start value. The greater the difficulty, most likely, the greater the amount of bonus the gymnast will receive.
Heppner has put countless hours and years into gymnastics with constant training that goes on year round. Gymnastics has trained her in mental and physical discipline, both of these things required for gymnasts to excel in the sport. .
"It means perseverance, hard work and payoff," said Heppner. "You always have to put in the hard work every day, but in the end it's all worth it."
Hard work really came into play for Heppner when she was coming back from the state-wide quarantine. Due to the long break off, Heppner's joints and muscles had time to weaken, which increased the array of injuries that could happen to her.
"The only break I have taken is because of COVID-19," said Heppner. "I have not taken any voluntary breaks from gymnastics."
DMG offered home workouts and conditioning circuits for their gymnasts over the quarantine, but they could only do so much. Heppner did the suggested workouts, and they were able to help her keep most of her muscle mass, but the training that gymnasts do inside of the gym is vastly different to the training that a person can do within the walls of their own home.
Jensen Heppner has put in many hours worth of training and battling mental games, making her talent and commitment in the sport notable to those who know the ins and outs of gymnastics and to those who do not.
Leave a Comment
Your donation will support the student journalists of Wadsworth High School. Your contribution will allow us to purchase equipment and cover our annual website hosting costs.