Students' Rights: The Bruin discusses 50 year anniversary of Tinker v Des Moines Supreme Court decision
OPINION BY ANNA BOWLING
The Tinker v Des Moines Supreme Court case is one every student should know.
Senior staffers of The Bruin were given the opportunity to hear from Mary Beth Tinker at the spring Ohio Scholastic Media Association Awards banquet. The staff goes to OSMA each year to see critiques of the paper and learn about what we can do better as a whole. Kent State University's School of Journalism hosts the event each year. They selected Mary Beth Tinker as the guest speaker to represent the 50th anniversary of the court case Tinker v. Des Moines. At the age of thirteen, Tinker played a crucial role in the way that students' rights are viewed and accepted.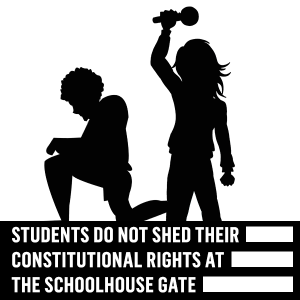 How the case happened
In December of 1965, Mary Beth Tinker arrived to school wearing a black armband to support a truce of the Vietnam War. Along with her brother and another student, she was sent home that day and told not to wear the armband again. The Des Moines school board then suspended the student who took a stand with the armbands. Tinker's family then began the long road of working to protect their rights by suing the school district for infringing on the students' First Amendment rights.
"It doesn't help the problem to change laws everyday or to change the situation, but it's good and it helps to raise awareness about the issues," Tinker said. "It has a lot to do with dealing with controversies in schools, and generally how critics take it."
Over the next four years, the families would make their way to the Supreme Court. In February of 1969, the Court ruled that "students do not shed their constitutional rights at the schoolhouse gate", meaning that the school does not have the final say in what students can say and do in regards to activism, self expression and in peaceful interaction.
Tinker referred to this line multiple times during the awards ceremony, encouraging students and writers to remember who and what they speak up for, that your rights and the rights of others matter more than the views of narrow-minded critics.
The decision of the Court was monumental, with the students winning the case in a landmark 7-2 decision.
"When administrators respect the rights of students and include them in decision making, it is always better for not only students, but everyone involved," Tinker said.
What she told us
After detailing her trials, Tinker went on to advocate for the student activists in the room and how we are the ones who can make the changes. Without her case, we might not have the rights that we do today. While she spoke to all advocates and activists, Tinker specifically spoke to the student journalists in the room. She told us to always continue following the truth and not to distrust a good lead.
In how it relates to her trial, it is simple: there is a new movement of students' rights called "New Voices" and it is being led by the Students Press Law Center. Journalists will be the ones who capture that movement on film and in writing. The "New Voices" goal is pass legislation in every state that helps protect the First Amendment rights of student journalists.
"You just have to keep working on [writing]. Don't give up: Without controversy, you don't have democracy, you don't have education and then it's not worth it," Tinker said. "Students should have a right to advocate for their own interests, and it's also better for the whole society when it is not cheated of the many great ideas of young people, their knowledge, creativity, energy and sense of fairness."
While Tinker encouraged young writers to continue to search for the truth, she reminded writers it can be troublesome finding the truth and publishing it in an accurate and honest way.
How to Move Forward
In moving forward, it can seem difficult to be heard in a space where everyone is talking over and through each other. It can also feel difficult to challenge the powers that be and people leading in authoritative positions. Instead of challenging those powers, students must work with them in order to better educate and create a coexisting environment. We, as a society, need to see that the rights of students are important, and we must continue to fight for the recognition and equity that students are deserving as just as many rights as adults. However, Tinker v. Des Moines established that students do have the right to free speech within schools; this right will remain until, or even if, another Supreme Court case overturns the decision.
Mary Beth Tinker's defiance and her willingness for what is right have allowed many journalists and activists alike to speak their truth. While there is still a very long road ahead, student journalists everywhere must remember that without controversy, there is no conversation. And without conversation there is no change.

Leave a Comment
Your donation will support the student journalists of Wadsworth High School. Your contribution will allow us to purchase equipment and cover our annual website hosting costs.