AP Physics does punkin chunkin' of their own
BY CHRISTIAN SZALAY
Mechanically throwing a pumpkin thousands of feet, or better known as punkin chunkin', is a fall sport that was created in 1986. With the brains of a handful of students, Mr. Austin's AP Physics students created punkin chunkin' machines of their own.
A punkin chunkin' machine can ultimately be any machine that throws a pumpkin some sort of distance. Some of the most popular models are slingshots, pneumatic cannons and trebuchets.
The Guinness world record for the longest ever recorded punkin chunkin' shot was 5,545.42 feet by a pneumatic cannon named "Big 10 Inch." The shots by the students didn't even scratch the surface of professional caliber numbers, but respectively succeeded even with the scarce resources the school provided them.
Mr. Austin gave each lab group specific tools to construct their masterpiece depending on what they wanted to build. Each group would then showcase their machine on the track football field. Launching miniature pumpkins across the field, the students showed they are capable of making something special.  
"It was one of the funnest things I have been apart of in school so far this year," said A.J. Arch, 12, a member of the trebuchet construction team.
The fourth period AP Physics class made a pneumatic cannon that shot a miniature pumpkin the furthest, totaling just about 97 yards. This group by far had the most successful shot between both classes.
"Our's didn't do as well as other groups, but it was still better than nothing," said Kyle Hibinger, 12.
This years round of punkin chunkin' was a project made possible by Mr. Austin. The project requires knowledge of physics, but also goes beyond just the books and preaches teamwork. Each student in their own group played a huge part in constructing machines that shoot pumpkins. Their is no doubt that this will continue to be an annual project given to the students.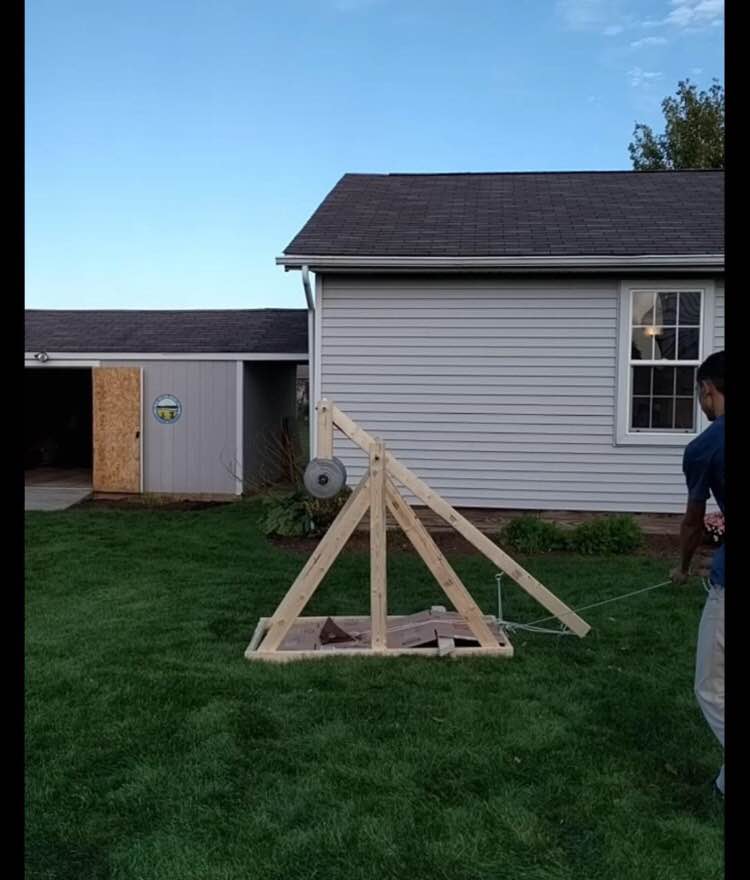 Your donation will support the student journalists of Wadsworth High School. Your contribution will allow us to purchase equipment and cover our annual website hosting costs.