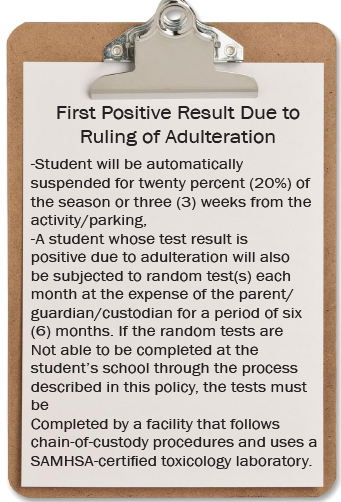 A district-wide email was sent out on October 19 from Dr. Suber concerning a revision of the alcohol, drug, and nicotine policy. Within his email, Dr. Suber explained the reason for the revision writing, "These updates align with best practices and are designed better to help students in their potential battles with addiction rather than punish them."
While some changes to the policy are minor language changes, other parts of the update include new additions covering cases of adulteration. The National Institution of Health defines urine drug testing adulteration as, "a practice involving manipulation of a urine specimen with chemical adulterants to produce a false negative test result." The school has seen an increase in the number of cases of adulteration.
"We want to come to a point where we can really help kids," Dr. Suber said. "So what I noticed is that there was an uptake in kids getting caught falsifying a sample . . . The whole point of drug testing is to make sure kids are getting help."
The revisions focus on adding more layers to the current policy to put less emphasis on positive tests. The administration feels it is better to have a student test positive so they can get the help they need than to falsify their sample.
"It's here more to discourage people from having to feel the need to adult their sample," Dr. Suber said. "It's here to help you, not here to punish you. So we wanted to make sure that the policy was geared more to helping students and not hurting students."
Another portion of the new additions covers outside-of-school testing locations. If for example, a student is in the school building but unable to take the test during the times available, the student can take their test at an outside testing facility, such as a hospital.
The policy states, "If the random tests are not able to be completed at the student's school through the process described in this policy, the tests must be completed by a facility that follows chain-of-custody procedures and uses a SAMHSA-certified toxicology laboratory."
At the next School Board meeting an additional change will be made to the policy, this update will change the policy to align with a law change in 2019 that slipped by past revisions.