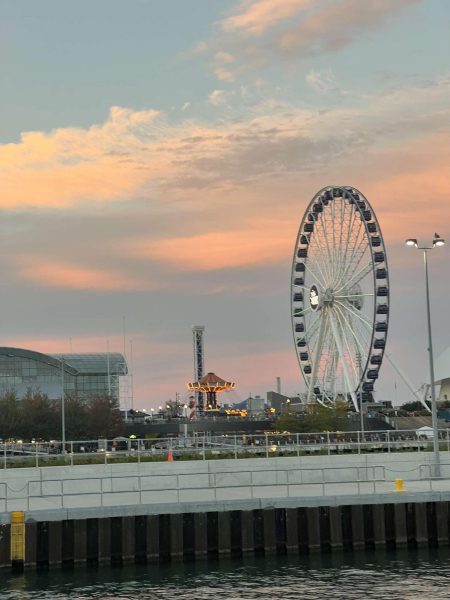 The Wadsworth High School Choir will be going on a trip to Chicago on November 2, 2023, to perform at well-known locations and tour the city.
"I'm really excited to hang out with my friends in Chicago," said Joe Maag, a second-year member of Rhythm in Red.
The choir is to take a trip every other year. In 2021, they traveled to Disney World in Orlando, Florida. This was the first trip since the pandemic and they plan to continue offering these travel opportunities to the students.
"I think that these are some of the best high school memories that kids have," said Mrs. Davis, Choir Director for WHS.
140 members of WHS's choir will be traveling to Chicago for this trip.
In order to make this trip possible, the WHS choir had to work to raise enough money. One of the ways the students help with the funding is by selling boxes of popcorn.
"We had to sell ten boxes of popcorn each, and if we sold 35 boxes we got a free piece of choir merchandise," Maag said.
The students will be seeing the musical "Hamilton" at the James M. Nederlander Theatre. They will also be seeing The Blue Man Group's comedy show at Briar Street Theater.
"We're so excited for The Blue Man Group," Maag said.
The trip will include visits to many well-known attractions in Chicago such as the Navy Pier, the Museum of Science and Industry, the Nederlander Theater, the Magnificent Mile, Water Tower Place, the Lincoln Park Zoo, the Field Museum of Natural History, Millennium Park, the Shedd Aquarium, and more.
"I'm most excited to see The Bean and go to the mall," said Zionna Redmon, a third-year member of Rhythm in Red.
The choir will also be performing at two of these locations. Both performances will take place on Saturday, November 4.
"Some of the ensembles will perform at the Field Museum and Rhythm in Red, our top choir, is going to perform at the John Hancock Building," Davis said.
The choirs will be performing their fall show at these locations.
"We're gonna be performing our fall show, there's two choreo pieces. The first is a country hip-hop type of thing and the second is a more poppy partner dance," Maag said.
After performing at these locations the choir will return to Wadsworth on November 5.