Cedar Point Introduces a Newly-Themed Area for the 2023 Season
For the 2023 season, Cedar Point installed new additions in a section of the park that coordinates with a boardwalk theme. These anticipated features are near Cedar Point's front entrance, directly beside the roller coaster known as "Gatekeeper." With an environment that captures a vintage, coastal theme, this new area of the park has been entitled, "The Boardwalk."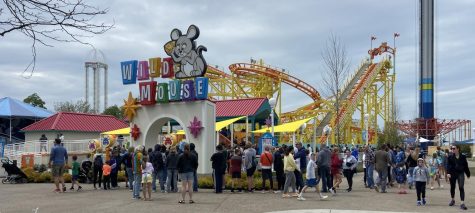 One of the new elements added to Cedar Point's collection of rides is a family-spinning roller coaster known as "Wild Mouse." As a focal point of "The Boardwalk" area, this 52-foot tall mouse-themed roller coaster spins guests 360 degrees in a car with a maximum capacity of four people. When accompanied by an adult, passengers must be 42 inches tall in order to ride the roller coaster. However, when alone, passengers must be at least 48 inches tall. 
Many students at WHS have visited the park within the beginning weeks of the season, including freshman Addison Cyrus. Cyrus made an effort to ride the new roller coaster; however, she was unable to make it through the line before the ride was closed. 
"I waited in line and then it got shut down," Cyrus said. "There was a decent line for it; it was like an hour wait." 
Even though Cyrus could not experience the new features of "Wild Mouse," she still felt intrigued by what it had to offer. 
"I was just like interested in it because it was one of the new rides," Cyrus said. "I would probably like the spinning part of it."
Because Cedar Point does not have any spinning roller coasters, "Wild Mouse" offers a completely different perspective for consistent attendees. With its short height requirements and its family-friendly theme, the roller coaster is widely accepted by Cedar Point's younger audience. 
"I thought it was actually cool because it looks fun for parents if they end up going with their kids," Cyrus said. 
Beyond Cyrus's experience with the ride, some students have had the opportunity to enjoy the attraction. Hannah Hoffman, a junior at WHS, has attended Cedar Point two times in the first month of opening. 
"I've gotten to ride Wild Mouse three times this season," Hoffman said. "I think the ride is really fun and is a good ride that can accommodate the whole family."
Fitting with the boardwalk theme, Hoffman appreciated the placement and appearance of the roller coaster. 
"I like where they put it because I think the bright colors go along with the boardwalk theme well and it looks cool," Hoffman said.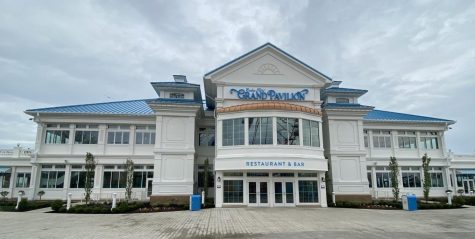 Next to "Wild Mouse" is another one of Cedar Point's new installments named the "Grand Pavilion." This restaurant and bar area replaced the old roller coaster known as "Wicked Twister," which operated from 2002 to 2021. The structure captures the aesthetic of Cedar Point's early beginnings by bringing back the traditional lakeside pavilion that the park used to have. 
"I think it's cute and the inside is very beachy, so I think it matches the theme well," Hoffman said. "I think it's good that [Cedar Point] is adding more food options, especially right now."
The "Grand Pavilion" is also placed along Lake Erie with outdoor seating that overlooks Cedar Point's beach area. Guests can eat on three different balconies that offer sizable views of the lake or can eat inside the pavilion. 
Although these two features of "The Boardwalk" area have been the most anticipated by the public, Cedar Point made other changes within various areas of the park. For example, the popular restaurants "Johnny Rockets," "Chick-fil-A," and "Mac Shack" have been removed for this season. However, with food options in the "Grand Pavilion," along with options in the replacement for Chick-fil-a known as "Frontier Inn," Cedar Point continues to offer guests a variety of choices. 
With Cedar Point's renovation of the land that "The Boardwalk" holds, attendees of the park will be able to gain new experiences for the 2023 season.
Leave a Comment
Your donation will support the student journalists of Wadsworth High School. Your contribution will allow us to purchase equipment and cover our annual website hosting costs.