Wadsworth High Choir performs at Kings Island
The WHS choirs were able to travel to Kings Island and compete in the choir competition "Music in the Parks."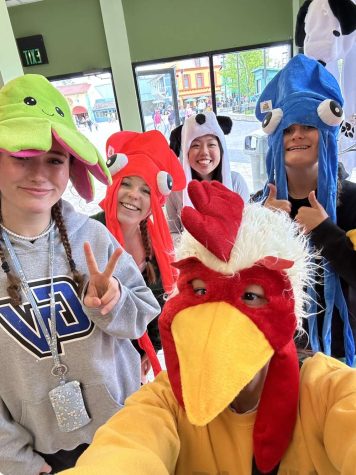 The trip lasted around two days, with them leaving at 11 am on Friday, April 21, and returning at around 8 am on Saturday, April 22. 
"It is a nice opportunity for us to use our Spring show and go do a couple of pieces, compete, and have judges give feedback on some things we can work on and improve," said Mrs. Kalyn Davis, the choral director. "It's a fun trip for the kids, they get to do an amusement park and we stay at Great Wolf Lodge and swim and do the water park and stuff, but the educational piece is the competition that they are involved in."
On Friday, they competed and then were able to go to Great Wolf Lodge and swim. The next day, they had the day to enjoy the rides at Kings Island, they attended the awards ceremony at an amphitheater during the afternoon, and then they traveled back to Wadsworth. 
Wadsworth's Choir program is broken into five groups; Women's Chorus, Men's Chorus, Elite Women's Chorus, New Edition, and Rythmn in Red. All but Women's and Men's Chorus are audition-based choirs, where an audition process is put in place in order to be a member of that choir. Rhythm in Red is the top-performing choir out of the five , with New Edition following behind it as the second-top-performing choir. Rhythm in Red and New Edition are also both mixed-gender choirs. At concerts, each choir has its own individual set of songs with some combined songs between certain choirs. At every concert, there is a 'mass choir' song meaning all five choirs come together on stage to sing a song.
"My favorite part of the trip was most definitely the part where we actually went to Kings Island," said Joe Maag, a sophomore member of the top show choir, Rhythm in Red. "I've never been before so it was really interesting to see how it was different from Cedar Point."
Students had the opportunity to explore Kings Island with their choir members before they went to the awards ceremony that afternoon.
"I think [the students] enjoyed being with their friends," Davis said. "It looked like they had a great time at the park." 
Rhythm in Red competed in the show choir division of the competition and won first place superior rating. 
"I feel pretty good about what our choir won," Maag said. "We were only half a point away from winning the overall first place which was kind of disappointing, but I'm still glad we won first place in our category."
Rhythm in Red performed "Love Will Keep Us Together", from their most recent concert, and "Everything" from their February concert.
"I think I really enjoyed singing 'Love Will Keep Us Together' because it was one of the first times we had ever performed it for anybody, so that was really exciting."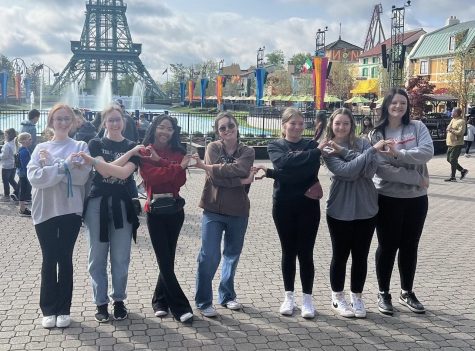 People in the mass choir competed in the concert choir division and they won second place superior rating.
"I was proud of them," Davis said. "I think they both did a pretty nice job for the competition piece."
Leave a Comment
Your donation will support the student journalists of Wadsworth High School. Your contribution will allow us to purchase equipment and cover our annual website hosting costs.