Highlighted Performer Dominic Rutherford sings at Kavé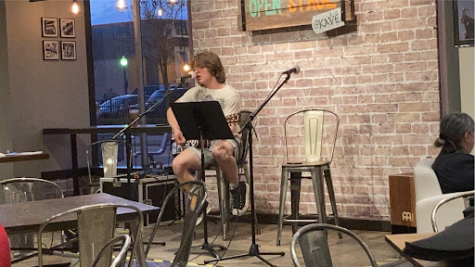 Every Thursday a coffee shop in Barberton named Kavé hosts an open-mic night. This open-mic night provides opportunities for people from all over to come together to listen and perform. To read more about Kavé and its open-mic nights click the link below.
https://wadsworthbruin.com/13288/features/kave-brings-entertainment-to-wadsworth-high-students/
"The goal was to host an event, not at a bar where local youth performers could feel comfortable performing in front of a crowd,"  said Ryan Struckel, the General Manager of Kavé. "We want to make sure that there is a space in the community for people under the age of 21 to grow and explore their talents in a constructive way, and we believe that hosting an Open Mic onstage in a family-friendly establishment is one of the best ways to provide that experience."
Thursday, February 23, Dominic Rutherford, a junior at Green High School performed 3 songs at an open-mic night.
"I just came here during summer once and I heard about it [open-mic night] and I came to watch a couple of performances," Rutherford said. "Then after watching a couple I built up the courage to actually want to perform.

The open-mic night gives people the chance to try something new that they have not tried before. "[I started performing] just very recently compared to some of the other people here, I've only been playing here for a few months," Rutherford said.  "I started playing in December."
The three songs that Rutherford sang were all written by Canadian singer Mac DeMarco. Rutherford sang "K", "This Old Dog" and "Preoccupied".
"I like how he sounds and partially the fact that he's easy for me [to sing], there are obviously things that are outside of my [vocal] range." Rutherford said, "I'm sort of an amateur when it comes to this, so it's nice to have something that isn't going to strain [my voice]."
On this open-mic night, there were around 20-25 people gathered to listen. Although to some this might not seem like a lot of people, some of the performers are still jittery when they perform.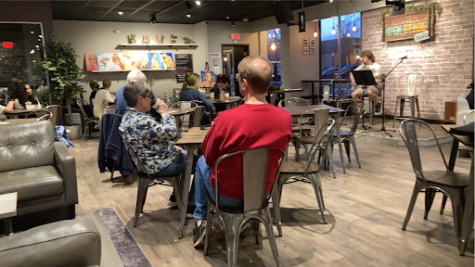 "I'm so nervous every time I'm up there," Rutherford said.
According to Rutherford, the nerves go away as you perform more.
"You'll feel a lot less nervous after your first [performance] because you'll realize people don't care that much if you're bad," Rutherford said. "Even if you think you're bad no one is really judging you that hard and everyone here is very welcoming people."
Anyone is able to come to an open-night mic. Students from various high schools come to sing, not just students from Barberton and Wadsworth. Even some adults come to sing and perform.
"Not everyone here is amazing or a professional singer so you're not going to be the only one who is a bit inexperienced," Rutherford said.
Even if performers are not looking to pursue music as a career, it is still an event to put themselves out there and connect with others in the community.
"I've never been much for [music programs], I like to have my own thing, I like to choose what I perform, what I practice, and when I practice and choir or band can't do that for me," Rutherford said. 
Leave a Comment
Your donation will support the student journalists of Wadsworth High School. Your contribution will allow us to purchase equipment and cover our annual website hosting costs.