Popular Study Site At Wadsworth High Temporarily Blocked
Wadsworth High students discovered that they were unable to access the Quizlet website on February 24, due to a temporary block. This became an issue because many students use the site to study and teachers will often use it for work in their classrooms. 
Quizlet is a study website where teachers and students are able to create flashcards and play study games in hope of memorizing the study set that students are learning. 
The head of the technology department, Phil Luthman was contacted about the issue. 
"These decisions are more made by building administration," said Luthman.
In the morning during second period, no student was able to access Quizlet, as seen in the image below. By later afternoon, after the head principal at Wadsworth High, Dr. Vincent Suber was contacted to comment, Quizlet was unblocked and students were able to access it.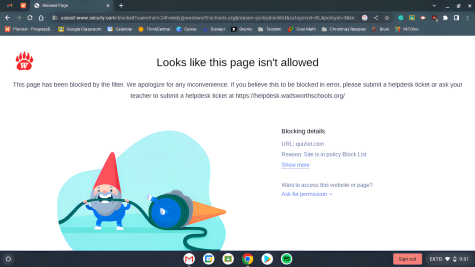 "It was found that students were using the website to find answers during tests and quizzes," Suber said. "Kids said they were in class using Quizlet to cheat on quizzes and tests."
Suber explains that Quizlet is not blocked but it is up to the individual teacher to decide if they want to block Quizlet through an extension called Go Guardian.
"Me personally, I think that students could use anything to cheat," said Hunter Burrows, a junior at WHS.
Go Guardian is an extension on teachers' computers that allow teachers to see the students' Chromebook screens at all time when a session is activated. Teachers are also able to block certain websites while students are in their specific classes. 
"I support the teacher," Suber said. "If a teacher wants to block whatever website in their classroom for their 45-minute period, I support that." 
Students are worried that they will have to find new ways to study rather than using Quizlet if teachers will choose to block it.
"Quizlet is what we were taught all through elementary school, CIS [Central Intermediate School], and high school to use to study," Burrows said. 
Suber believes that the reason that students cheat is just laziness. His logic is that if a website can give students the answer right away then they will use it. 
"Students can use Quizlet at home to study for quizzes and tests but it can no longer be accessed during school hours [when a teacher blocks it] for that reason and to prevent cheating," Suber said.
Leave a Comment
Your donation will support the student journalists of Wadsworth High School. Your contribution will allow us to purchase equipment and cover our annual website hosting costs.