Six Wadsworth Speech and Debate Members Qualify to the National Tournament
Wadsworth High School's Speech and Debate team competed at the national qualifying two-day tournament from Friday, February 17 to Saturday, February 18. The tournament, which was held at McKinley Senior High School, represents Wadsworth's big district competition that qualifies the top placers in Eastern Ohio's main events for the national tournament in June. 
Although there are more opportunities for students to qualify for nationals through last-chance tournaments and supplemental events, Wadsworth guaranteed six national spots through its placings at the big district tournament. The top three or four placers in each event received a reserved ticket to the national tournament in Phoenix, Arizona. 
In Duo Interpretation, Evie Silliman and Cale Breuers won the title of district champions, having obtained one of the three available seats to nationals. Along with this, Anna Wallace qualified in Informative Speaking and Leia Gonzales-Banaag qualified in Program Oral Interpretation after both taking second place. Ben Wilkinson and Colin Moore qualified in Public Forum Debate after taking second place in the final round. 
Knowing the high stakes of the tournament, much of the team endured stress and anxiety over the course of the two long days. Not only did the team leave school early on Friday and return around 11:00 pm, but students also had to be on the bus at 6:15 am the next morning.
Connor Gaugler, a Wadsworth competitor in Public Forum Debate, took the spot as the second alternate in his event with his partner, Garrett Preusser. Gaugler, along with the rest of the team, was nervous for break rounds after Friday's preliminary rounds.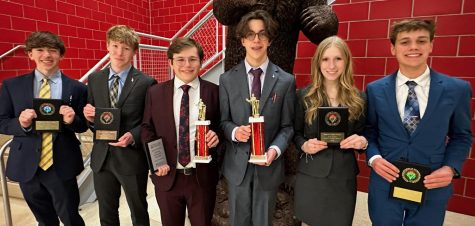 "That night, I was anxious and up until 12:30 am-1:00 am because I started upping my expectations," Gaugler said.
Because there were long layover periods between rounds, Gaugler and other team members disregarded the stressful nature of the tournament by filling their time with fun activities. 
"We killed time by eating tacos, watching Cars [the movie], joining James Welsh's  [Dungeons and Dragons] campaign, and watching Anna's final round," Gaugler said. 
Students who either did not progress after preliminary rounds or lost at the beginning of their following rounds observed other Wadsworth students in finals. The team divided up to observe all five final rounds that Wadsworth competitors had advanced to. 
Neighboring schools of Wadsworth also participated in the big district tournament. Olivia Gray, a Norton competitor who typically competes in Declamation, tried Program Oral Interpretation at the big district tournament. Although she tried to do well, she mainly held this spot as a warm body in the event. 
"Warmbodying is going into the round on purpose and doing bad so everybody else in the round can do better and get higher ranks," Gray said. 
Even though she did not place or qualify, Gray supported her teammates throughout the duration of the tournament, hoping that fellow Norton competitors would qualify. 
After two exhausting days, as described by Gray and Gaugler, the tournament held awards around 9:00 pm on Saturday. On stage, the finalists in speech events were recognized, along with the quarter-finalists in debate events.
Gaugler, having quarter-finals in his event with the two other Wadsworth Public Forum teams, was excited to be recognized. 
"Going up on stage was awesome," Gaugler said. "Being up there with every Wadsworth team felt crazy, and then the results got called out one-by-one, and in the end, Ben and Colin qualified, which made it all a massive W."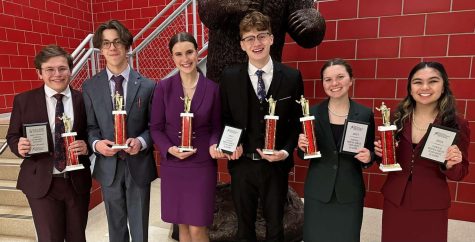 Overall, Wadsworth Speech and Debate was able to rank high in its big district, allowing talented competitors to further their skills in Phoenix this June. With states on the horizon, the team will continue to prepare and represent Ohio.

Leave a Comment
Your donation will support the student journalists of Wadsworth High School. Your contribution will allow us to purchase equipment and cover our annual website hosting costs.