Teachers balance side businesses along with teaching
MR. BERG RUNS TEACHERS-N-TENTS
BY LIZ GROMOFSKY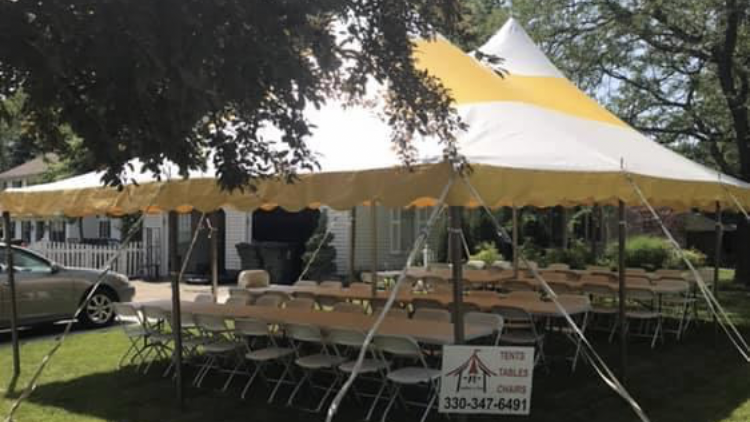 Charles Berg is a speech teacher here at Wadsworth High School. At the end of the day, he goes home to his family, but that is not when his workday ends. When he gets home, he starts working on his side business, Teachers-n-Tents.
Berg is co-owner of Teachers-n-Tents with Wadsworth Middle School teacher Greg Pickard.
"[Pickard] started the business because he wanted to rent a tent for an Ohio State Party he was having," Berg said.
When trying to rent a tent, Pickard realized how expensive it was. The next year, Pickard had the party again but instead, he bought a tent.
"We have this time off in the summer so [Pickard] thought why don't I buy more tents and we will rent these tents out to other people to offset the cost," Berg said.
After renting the tents, Pickard and former co-owner Shannon Bender realized that people also want tables and chairs to go alongside the tents. Bender is a middle school teacher as well.
"So then all of a sudden you have tents, tables, and chairs," Berg said. "That is how the business all really started."
Teachers-n-Tents is celebrating its 10 year anniversary this year. However, Berg did not become a part of this business until about 4 years ago.
"I bought Bender's side out," Berg said.
Berg says there are a few reasons he bought into this business. One reason is that in the summertime, he is not good at just sitting around. Another is because he likes to be active when he is off.
"In the summertime, I want to be doing something," Berg said. "I am not good at sitting by the pool. I should be doing something to make extra money and technically we don't get paid in the summertime so I thought why not jump in."
Berg and Pickard have been best friends since they were three years old. They grew up together in Rittman, Ohio.
"It seemed like a logical fit for me," Berg said. This is because Berg and Pickard are so close.
He goes on to say that seeing the business grow is the most rewarding part. Teachers-n-Tents has had a drastic growing period in the last few years.
"Since the time I started, the business has grown at least 50 percent," Berg said. "Working hard and seeing something work is pretty gratifying and pretty cool."
Berg and Pickard served 61 customers last year, which is the most that they have had since the business started.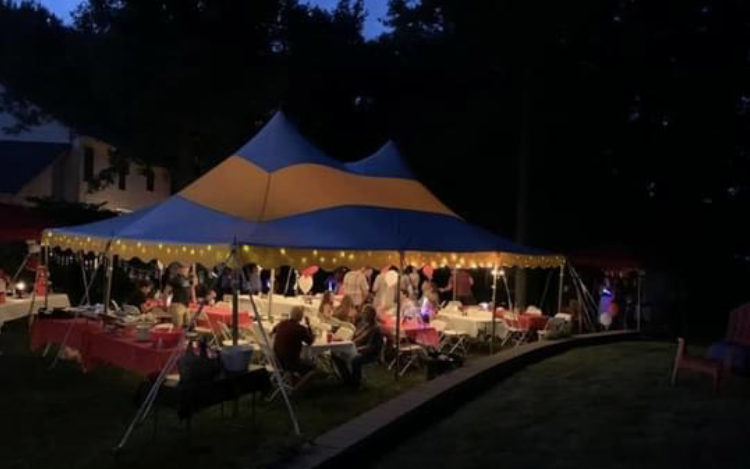 "In the summertime, we spend 8 to 10 hours a week which is not a ton of time because it's quick and we know how to do it," Berg said.
Berg says that he loves hanging out with his best friend which makes it fun.
"We are both very competitive and to see a business grow from a competitive standpoint is fun, but I would lie if I said the extra money isn't great," Berg said. "We are teachers and even just a little bit of money goes a long way."
MR. KAUFMAN RUNS KAUFMAN FAMILY FARMS
MY MASON BURTON
Mr. Kaufman is also a teacher at Wadsworth High School who owns two small businesses outside of his job at the high school.
Kaufman grew up on his parents' farm and that was his inspiration to use the farm for his use.
"I grew up on that farm," Kaufman said. "My parents gave us two acres on their farm to build the house we live in now."
Not including the farm, Kaufman is also in the real estate business with his father.
"We buy and sell real estate, and we buy and flip rental properties," Kaufman said. "It is a lot of work and there are some definite risks, but it's very rewarding to buy a house that is all yucky," and "When someone buys the house and says it's a very beautiful house, it's very rewarding," Kaufman said.
Before Kaufman began his own farm, the land was being rented out.
"Instead of renting out the land, I said I'm going to start making some hay," Kaufman said.
Kaufman rents out the farm from his father and owns some of the equipment on the farm.
Kaufman began to realize there was more money in raising cattle than there was just making and selling hay.
"I found that there was more money in the beef so we kept adding a few more beef every year until we got up to about 13 or 14 cattle a year," Kaufman said.
Kaufman Family Farm has been selling grass-fed beef, pigs, and chicken for 12 years now. Kaufman sells cows by the quarter, half, and full.
"It's very rewarding seeing the animals grow, seeing people that are happy with the product they are getting, seeing the cows out in the field and seeing them grow," Kaufman said. "The feeling that you're doing something and providing a good product for people."
"People comment all the time on how nice the farm looks and how they like looking at the cows," Kaufman said.
Owning a farm is not a very easy task, you can not just get up and go on vacation.
Kaufman Family Farm will likely be inherited by Mr. Kaufman after his parents.
"I probably spend 5-6 hours a week during the winter, whereas in the summer I spend about 20 hours a week during hay season," Kaufman said.
Some people consider selling their business but for now, Kaufman plans to continue raising his cattle and other farm animals.
" My ten-year plan is to continue farming, depending on how involved the kids want to be," Kaufman said.
Leave a Comment
Your donation will support the student journalists of Wadsworth High School. Your contribution will allow us to purchase equipment and cover our annual website hosting costs.