The Culinary Arts Compact is a two-year program for students wanting to pursue a career in the culinary field.
The program is held at Copley High School in Fairlawn, Ohio, and is taught by Mr. Joe Scmeltzer
"For teaching for 30 years, I have seen a lot of students go on to great things," Schmeltzer said. "From chefs in hotels, opening restaurants and businesses, college, corporate industry, bakers opening bakeries, and food writers for magazines."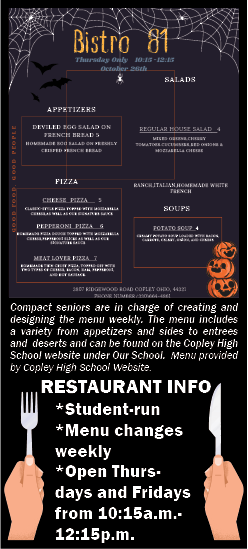 Through the curriculum, students will learn a variety of different skills such as restaurant management, cooking skills, safety and sanitary skills, knife and cutlery skills, and different cooking techniques such as meat identification, stocks and sauces, and multiple different entrees, desserts, and pastries.
Students in the program also fully run a restaurant called Bistro 81 inside Copley High School.
Bistro 81 is open to students and teachers, as well as the public every Thursday and Friday from 10:15a.m-12:15 p.m.
They also make family meals that anybody can order to take home with them every Thursday.
Bistro 81 is also open for public events and catering and often works with local businesses.
The seniors in the compact work as the managers of the restaurant.
Junior students are put into different stations every week with senior students to learn different jobs and stations within the restaurant.
Their jobs include writing prep lists, ordering menu products, writing menu descriptions, producing menu items and costing them out, creating the weekly menu, setting prices, and running their station with their junior students.
"The stations are grill line, entrees (beef, pork, fish and seafood, poultry, and vegetarian), pizza, salad, soup, bread, specialty bread, appetizers, sanitation, servers, host, and cashier," Schmeltzer said.
Sienna Longman, a senior at Wadsworth High School, decided to take the compact to explore her love for cooking.
"I've always had a love for cooking and I wanted to see if it was something I would be interested in pursuing as a career," Longman said. "I also couldn't stand the school setting of always sitting at a desk so I needed something where I could work with my hands and see progress being made."
The program not only shows students how to properly operate a restaurant but also how to operate like a kitchen staff.
"We operate like a kitchen staff and that is because we are running a restaurant together, we all get along very well and have learned how to work with one another," Longman said.
The program is a way for students interested in a career in culinary arts to get a head start on their careers.
"The culinary class here at Copley High School makes students well-rounded and ready to be employed," Schmeltzer said.