The annual Red Ribbon Week at WHS is resurfacing for this school year from Monday, October 23 to Friday, October 27. This spirit week, which focuses on awareness of substance abuse, will allow students to participate in daily spirit themes related to drug prevention.
Over the course of the spirit week, there will be various different themes that students can support. The themes are as follows: Monday is red out day, Tuesday is jersey day, Wednesday is tie-dye day, Thursday is pajama day, and Friday is character day. 

Beth Beal, a prevention specialist at WHS, is one of the main directors behind Red Ribbon Week. Although the week is heavily centered around school spirit, Beal feels that it provides members of the Wadsworth community with an opportunity to take an active stand against drugs.
"Red Ribbon Week is an ideal way for people, schools, and communities to unite and take a visible stand against drugs," Beal said. "This week shows our commitment to helping our students grow up safe, healthy, and drug-free."
In order to successfully model the commitment that Beal feels is important to Red Ribbon Week, students can take steps beyond only participating in next week's spirit themes.
"[Students] can continue to spread the word of the importance of living drug-free," Beal said. "They can take a stand when they see others making unhealthy choices and they can help WHS students live their best lives."
Beyond the awareness that students can spread through their daily interactions, there are other focuses of Red Ribbon Week that can allow students to gain insightful information regarding drug use. 
"The week's focus will be on dissemination of information, prevention education, alternative activities, as well as problem identification and referral," Beal said.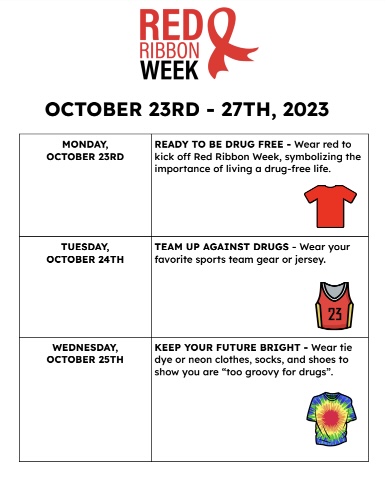 On top of organizing the event, there are several reasons why Red Ribbon Week is significant to Beal. More specifically, she feels that it is her responsibility to inform members of the community about the various dangers of drugs.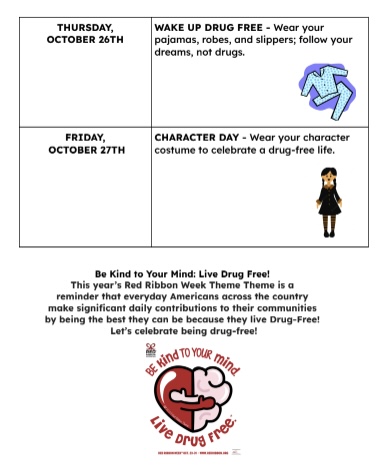 "As a prevention specialist, my everyday goal is to educate and prevent substance use in our schools and community," Beal said. "There are a lot of myths being spread about vaping, cannabis, and alcohol. This is a great opportunity to learn the facts about the dangers of drug use."
Many students at WHS hold a similar perspective to Beal when it comes to the conversation surrounding drug use. Ryan Poling, a junior at WHS, feels that it is important to stay drug-free for a number of reasons.
"For one, I am a runner and it's important for me to be healthy so I can hit new PRs," Poling said. "It could also make some people feel sick all the time and I don't want that to happen to me."
Along with Poling's desire to stay drug-free for himself, he also emphasizes the importance that it has for others. For example, he urges others to remain drug-free due to the harmful impacts that it can have on one's health. 
"[Staying drug-free] keeps your mind healthy and stops it from rotting away," Poling said.
Similar to Poling's advice, the theme for this school year's Red Ribbon Week is to "be kind to your mind and live drug-free."
For any questions regarding substance abuse, contact prevention specialist Beth Beal using the email: bbeal@wadsworthschools.org.