Hailey Harris places top ten at National DECA ICDC
The 2023 DECA International Career Development Conference (ICDC) competitive event was held in Orlando, Florida last month for qualifying individuals who placed at the state-level competition. Two Wadsworth High students: Hailey Harris and Connor Filbert made it to the national level.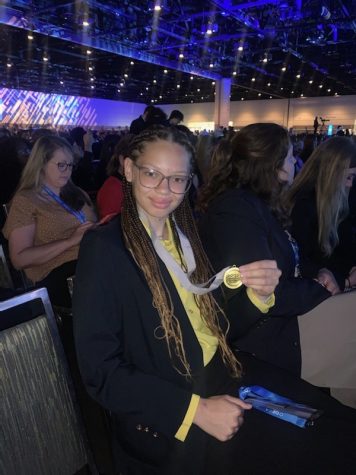 Students competed with each other over different categories within the business and marketing fields. 
Harris placed within the top ten competitors nationally, and she is ranked fourth in the state for Sports and Entertainment Marketing. Harris had to perform a roleplay in front of a judge and was then graded on her emotional intelligence, financial analysis, and customer relations, among other areas. 
"For roleplays you have to take a 100-question test which counts for a third of your overall score, and the next day I competed in my roleplay," Harris said. "During the roleplay, you get a business scenario that you have to go along with, and you are given ten minutes to prepare before presenting your ideas to a judge. The judge will ask different questions that you are not given time to prepare for, and you have to come up with a response or solution to the problem."
The students were given this opportunity through her compact program, The Business Marketing Academy at Barberton. 
"Part of the class is being required to compete at the district competition, and then if you make it further you can choose whether you would like to continue or not," Harris said. "I chose to continue to ICDC because I'm a competitor and I wanted to show the world what I can do." 
Harris plans to pursue a career involving business in the future, as do many of the students in her compact program. 
"I think that my experience with DECA will benefit me in any future career because I've learned a lot about business and how to handle myself professionally," Harris said. 
Sam Coldwell, Business Marketing teacher at Barberton High and the advisor for DECA helped the students get to ICDC and joined them in Florida.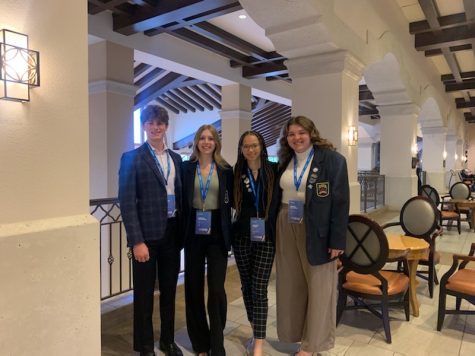 "All of this is impressive, but the truly impressive accomplishment was Hailey Harris being recognized as top ten in the world for her Sports and Entertainment Marketing role play at ICDC, " Coldwell said. 
Harris plans to continue with Business Marketing next school year and hopes to have the opportunity to make it to DECA ICDC again. 
"I loved the competitive aspect and getting to meet new people," Harris said. "And I'm coming for that state title next year."
Leave a Comment
Your donation will support the student journalists of Wadsworth High School. Your contribution will allow us to purchase equipment and cover our annual website hosting costs.