Wadsworth's Austin Hanna Leaves Teaching Career
Austin Hanna, a math teacher at Wadsworth High School, will no longer continue his career in teaching and is pursuing an entirely new field at the end of the 2022-23 school year.
"I don't have an official workplace, but I am going to be an actuary. I'm working with a couple of different insurance companies right now," Hanna said.
An actuary is a business professional tasked with measuring and managing risk for insurance companies. Because of the math required for this job,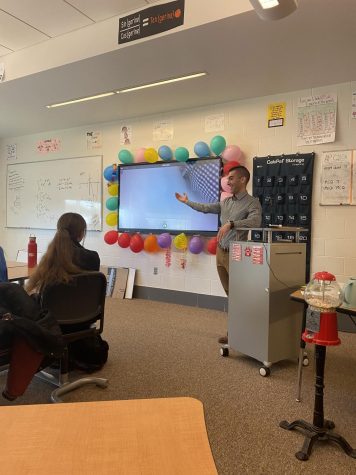 Hanna stated that the time he has spent teaching higher-level math at WHS has greatly prepared him for the future.
"I think the teaching aspect really just kind of gives me an advantage over other applicants," Hanna said.
He knew from the beginning that eventually he planned on leaving teaching. However, Hanna was not confident in what job he would later pursue.
When Hanna went back to college, achieving his master's degree in mathematics, he realized how much he enjoyed his classes.
"I liked taking the math tests for my college classes," Hanna said. "They were fun; I kind of forgot what it's like to study and prepare for tests."
Despite having the knowledge that he would leave Wadsworth eventually, the decision was not easy on Hanna.
"I will miss it here for sure," Hanna said. "I'm going to miss my co-workers a lot because I work with a really great department."
Hanna will be greatly missed by many of his students. Chloe Piekarski, a sophomore at WHS, voiced how much she enjoyed being in his class.
"I think he has a really good way of teaching, and he is hard on us but it gets the point across a lot better," Piekarski said.
Similarly, Addison Painting, a fellow sophomore, shared how she also admired the way that Hanna structured class time.
"I love how Mr. Hanna always makes his lessons fun and incorporates games," Painting said. "He is also really good at helping when you don't understand a lesson."
Hanna will miss working at WHS in the future as he pursues a new career. In addition, his students have shared they are grateful for his influence on them over the past 6 years.
Leave a Comment
Your donation will support the student journalists of Wadsworth High School. Your contribution will allow us to purchase equipment and cover our annual website hosting costs.