Chad Bever Wins Wadsworth High's 'Teacher of the Year'
The 'Teacher of the Year' award is a nominated award that is given to the educator who goes above and beyond with their duties as an instructor. On Thursday, May 4, during the Fine Arts Assembly, Wadsworth High School's teacher of the year was announced. 
Mr. Chad Bever was awarded the 2022-2023 'Teacher of the Year award.
Bever went to the University of Akron for a Bachelor's Degree in Secondary Education specializing in Language Arts and then went back to school for a Master's Degree in Education specializing in Administration. He has been teaching for 17 years in total, working at Wadsworth High School since 2021.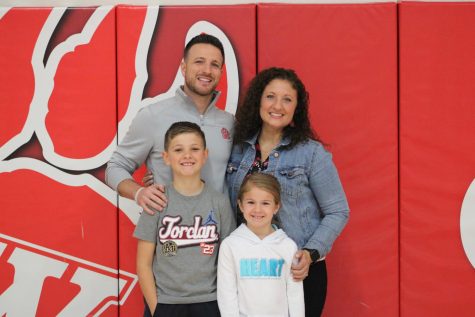 Bever said that he is honored and proud to hold this title. It was an unexpected surprise for him to be chosen out of all the amazing staff at the school.
"He deserves this [award] because of the effort he puts in to make his class fun and pleasant and how much he cares about his students," freshman Landry Macko said.
Bever inspires his students by keeping the class fun while still learning important things. He is described by his students as a caring and dedicated teacher.
Macko said that Bever makes his English class enjoyable by communicating well and giving the students a reasonable amount of work to complete. She said that Bever gives the ninth graders useful work that is helpful for future English classes.
"My favorite thing about Mr. Bever is that you can tell that he remembers what it is like to be a student and he understands how we learn, and that he doesn't overload us with work," freshman Elijah Winkfield said.
Bever's students believe that he deserves this award because of all the hard work Bever puts into making the class fun. The students can tell that Bever cares for his students and their education. 
"We have an incredible staff here at the high school, so to even be considered is an honor," Bever said. "We all work incredibly hard at our jobs, and to be recognized for that is something that I will forever take great pride in."
Leave a Comment
Your donation will support the student journalists of Wadsworth High School. Your contribution will allow us to purchase equipment and cover our annual website hosting costs.