BY JOSH HAGANS
A new easily assembled smartphone microscope developed at Stanford University turns microbiology into game time.  This new device allows kids to play games and make more serious observations with miniature light-seeking microbes called Euglena.
The LudusScope consists of simple lenses and a printed platform on which a smartphone rests.  The phone uses the lens as a microscope that can be raised or lowered in order to achieve proper focus.  Below the optics is a glass platform with a slide where the Euglena swim freely.  In four corners there are LED lights that  surrounded the Euglena.
"It integrates life science with new technology and the unicellular with the multicellular. I think it is pretty cool," said Mr. Recupero, an Honors and AP Chemistry teacher for juniors and seniors.
The Euglena are light responsive, which allows kids to be able to control the swimming direction of the microbes with a joystick that activates the LED lights. Kids can use the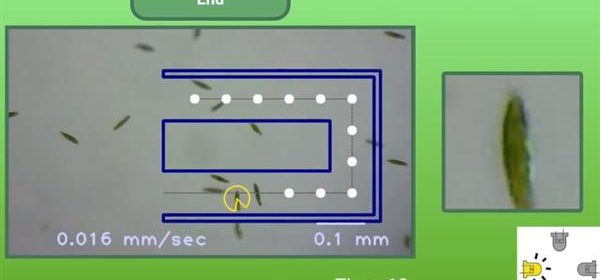 joysticks to play games such as pac man, where they can guide a cell along a track in attempt to collect all the dots.  There is also soccer, where the cell acts as the player and has to line up the ball by making the cell move to in a good position to shoot the ball into the goal.
"I think it would be fun way to make class more exciting by being able to do hands on work instead of just taking notes and learning about them," said Bella Thompson,10.  
Other non-games provide microscopic scale bars and displays real time swimming speed of Euglena.  This lets kids collect data on Euglena behavior, swimming speed and natural biological variability.  
"I think this could be a very useful tool but not necessarily because you can play games with cells.  Though that might draw attention to the device, I think its value is in the ability to adjust the environment and observe how organisms respond.  Also, I think the ability to track and measure individual organisms would be useful.  The game feature seems like more of a novelty, and I am not sure it would be a huge asset to learning," said Mr. Jurey, an Honors Biology teacher for sophomores, after being asked if the LudusScope could be something he would use in his class.
The idea of this program is to promote exploratory stimulation and observation of microscopic organisms by letting kids have open-ended play and getting information through experimentation and modeling.
The major difference from a standard microscope is that the LudusScope sample holder has four LED lights that point toward the center of the sample which creates the directional light stimuli.  The analog stick controls the the lights that vary in intensities to control the movement of the responsive cells.