Wadsworth Junior Brooke Baughman Makes Her Comeback
Pain. Fear. Anxiety. These were all emotions that varsity basketball player, Brooke Baughman felt when she tore her ACL her freshman year. Now, as a junior, she has finally made a full recovery.
Baughman tore her ACL on January 30, 2021, against North Royalton, at North Royalton. After just getting into the game early in the first quarter, Baughman drove to the rim, expecting to make a simple layup and increase Wadsworth's lead over the Bears. But instead, she went up for the shot, came back down, and thought her basketball career was over.
"It was the first 10 seconds of the game and I had just gotten in," Baughman said. "It was my first time getting the ball and I went up for the layup, and when I came back down I slipped on a spot on the floor. My knee hurt really bad and at that moment all I could do was hold my knee and think that I was in pain, but I didn't think I tore my ACL."
At first, the North Royalton physical trainer told her that her ACL was not torn and that nothing was really wrong with her knee. Then, Baughman visited the Wadsworth High School trainer and advised her to go get it checked out at the hospital.
"A couple of days later, I got a text from my dad saying that I tore my ACL," Baughman said. "I was sitting in French class. When I saw the text, I went to Coach Booth's room and he hugged me and comforted me."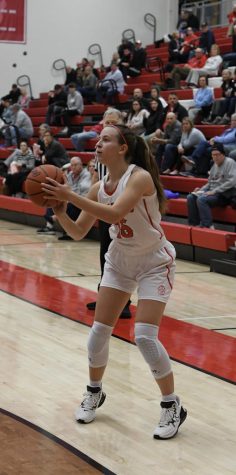 Baughman attended physical therapy three days a week for nine months. There, she gained the muscle back she lost.
After a long nine-month recovery process, Baughman eased her way into her sophomore season, playing junior varsity games before she finally got back into playing varsity games.
Although Baughman felt ACL recovery was exhausting and difficult for the body, she says it was also difficult for her mental health.
"My biggest struggle was definitely the mental part," Baughman said. "I think my body could have done a lot of the jumping and running, but it all made me nervous. Although getting back to playing contact didn't physically hurt, I always got a pit in my stomach, and I still do sometimes when I go down on a physical play."
Baughman has had setbacks during her recovery. During the Jingle Bell Jam in December 2021, she re-injured her knee, spraining her MCL, which put her out for another two months.
Baughman says that throughout her recovery process, girls varsity coach Coach Booth was one of her biggest supporters, along with teammates Jessie Crookston and Macie Roberts.
"When I found out I tore my ACL, I immediately went down to Coach Booth's room," Baughman said. "He also gifted me a picture frame with words of advice from past Lady Grizzly players that have torn their ACL while he has been coaching. After I made my first varsity basket after being back, I got a picture with Macie after the game. It's a moment that I will never forget."
Now, in the middle of her junior season, Baughman has started every game this season and has helped obtain Wadsworth's 10-2 record in the Suburban League.
"Brooke brings a unique skill set to the court, and we try to put her in the best positions to be successful," Booth said. "She also has a very high basketball IQ, she's a student of the game, so that is a huge asset to have. Personally, I am so happy that she's able to be back with her teammates playing the game she loves."
During Baughman's freshman year, WHS was still taking COVID-19 precautions and she tore her ACL mid-season. During sophomore year, she was still recovering. Now, during Baughman's junior year, she is back in court, which is something that she never thought could happen again.
"I've always heard about people coming back stronger than ever, but I never thought that could be me," Baughman said.
Leave a Comment
Your donation will support the student journalists of Wadsworth High School. Your contribution will allow us to purchase equipment and cover our annual website hosting costs.