Grizzly Grandeur returns for another year
BY ANNA BOWLING
The Grizzly Grandeur, put on every year by the speech and debate team, is an event that you do not want to miss. The event is tonight in the high school Performing Arts Center and it starts at 7:30pm.
Auditions were held April 13th after school. Speech and Debate team member Kaitlyn Cummings said that those in attendance will not be disappointed in what they see.
"We are so lucky to have so many talented students here at WHS and the talent show is a great way to showcase some of those people," said Cummings.
The talent show is planning on featuring multiple types of acts including song covers, piano pieces, and even slam poem like performances.
Maggie Stasko,12, is performing a song titled "Liquid Sun and Lemonade". This original song is played on a ukulele. Her song gives the audience a whole new look on food.
Gina DeFilippo,10, is another original singer and songwriter. Her song "Supposed to Be" is inspired by the late Amy Winehouse. She has also signed with record label Snow Entertainment and has released an EP with six songs on it.  
"I am so excited to be performing!" said Defilippo. "I think it's awesome that there is an event for so many amazing Wadsworth High School students to showcase their incredible talents."
Kate Ludke, 9, is performing a piano solo entitled "Moonlight Fantasy." Music sale sight JW Pepper describes the song as "It begins with a bold, rippling introduction, and it flows into a more melodic, mellow A section." Ludke is able to keep up with the fast-paced tempo. She puts emotion into every note she plays.
Tony Batey, 10, and Jake Ross, 12, wrote an original song called "Let's Take it Slow". Featuring an alternative rhythm, the song will take an audience through an entire vocal range and set of emotions. Batey and Ross give the song hints of jazz and classic rock but tie it back together with timeless lyrics.
Katie Jones, 11, is singing for the second time in the Grizzly Grandeur. She plans on singing "Lost Boy" by Ruth B. Jones. She is anxious, but is also excited to perform.  
Robert Hein, 12, is covering the Green Day song "Boulevard of Broken Dreams". He wants to make the most of his senior year and figured that this would be a good way to do it. Hein said that he was able to connect with this song and it really showed some of his emotions.
Shane Kirvel, 11, is a guitarist for the local band Walking in Circles. He has been featured in the talent show before and is sure to bring his talent again. Kirvel plans on jamming out with a background track.
Chase Ray, 12, is a regular at the Grizzly Grandeur. He plans on dancing to EDM style music. He choreographs all of his own routines; all feature hip hop movements and flashy spins. Ray also plans on playing a song on the piano.  
Jillian Fry, 12, and Connor Beheydt, 11, are both performing unique acts. Beheydt is performing a spoken word piece and Fry would like to keep her act a surprise until the show.
Joe Muhl, 9, shows how fast his fingers can fly while playing a piano cover of the ELO song "Mr. Blue Sky". This song was featured on the band's seventh studio album. Muhl kept a smile throughout the whole of his audition.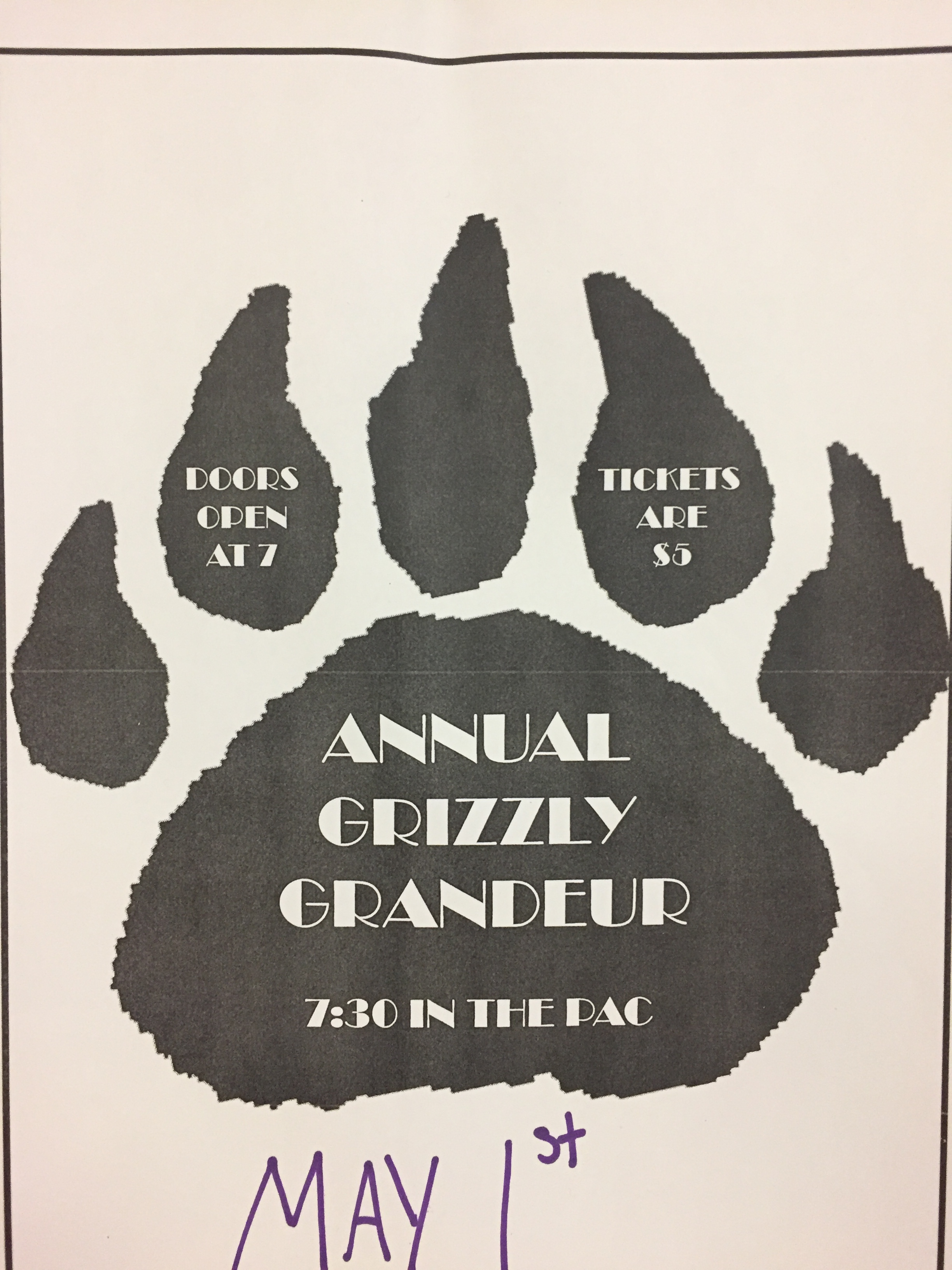 Secilia Ho, 10, is a self-taught pianist playing for her second time in the talent show. Ho's selection is a piano medley that includes songs by John Legend, David Guetta, James Horner, and Yiruma among others.
Aaron Uhl, 10, is singing his cover of "The Candy Man" originally sung by Sammy Davis Jr. Uhl's voice is low and slow, and he had the entire piece memorized to give the audience full eye contact.
Ashley Leatherman,11, and Shane Kirvel, 11, are singing a duet together. They have both been in the talent show before. Leatherman is in choir at the high school and has been in a variety of performances including the fall drama The Crucible.
"From the acts, you will see a lot of musicians, singers, and speakers who are extremely talented and fun to watch and listen to," Defilippo exclaimed.
The talent show will take place on May 1st in the Performing Arts Center.
Your donation will support the student journalists of Wadsworth High School. Your contribution will allow us to purchase equipment and cover our annual website hosting costs.