BY JANAE JOACHIM
Mondays are typically the busiest days for Mayor Robin Laubaugh. These days start at 8 AM and end at 6 PM with various meetings, commissions and calls in between.
"I have night meetings, I have early morning meetings," said Laubaugh. "But some days are busier than others."

Laubaugh has been the mayor of Wadsworth since January 1, 2008 and is now serving her fourth four-year term. She is the first female mayor of the city of Wadsworth.

"I remember wondering if that would be unusual or if that would make a difference," said Laubaugh.
"After I walked through that door I knew that it was going to be just fine."

Laubaugh even went to high school at Wadsworth, having graduated in 1979. She was a cheerleader for football and basketball, was on the swim team and even threw shot put for the track team her senior year. She was also a member of National Honor Society and the Pep Club in addition to being involved in her church.

"All of those things 100 percent helped to prepare me for my college experience," said Laubaugh. "I went to school 1800 miles away and in those days we didn't have cell phones, so there was no texting, there was no email- it was prior to email days. You grow up pretty fast when you are away from your family and away from all of the familiar things you knew at school and you are all of a sudden in a college setting and have the rigors of that."

She went to Brigham Young University in Utah and majored in finance. Her dad was also a businessman, and was even on the building committee when they built Steiner Youth Center.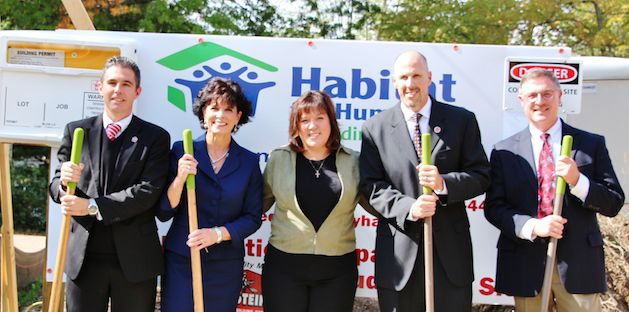 "When I was ready to go to college, I had no idea what I wanted to do," said Laubaugh. "[My dad] said, 'Robin, you are really good at math, you seem to like numbers. Just go and major in something that is business oriented and you are going to be just fine.'"

She continued her finance career and founded her own consulting firm in Wadsworth. After having twins, she chose to step down from the financial planning firm to become a stay-at-home mom. However, she said that she did not want this to stop her from making a difference in her community, church or her kids' school.

"What really got me started [in city government] was my involvement in the community," said Laubaugh.
Laubaugh and her friend, Pam Chester, coordinated to have Kaleidoscope Park built. They had to work with members of the community and local government to plan the building of the park.

"We had over 1,000 people that had some sort of involvement in building that structure," said Laubaugh. "They donated their time, their tools, they donated money, materials."

Before this, she had been asked to run for council multiple times. She finally agreed to run after Kaleidoscope Park was built.

She served six years as Council at Large and was Council President for four, totaling to ten years of council experience. Then Jim Renacci, the mayor at the time, informed Laubaugh that he was not going to run for mayor in the next election since he was moving on to becoming a Congressman, so Laubaugh decided to run.

"We needed somebody to run for mayor, and it was decided that I'd be that person," said Laubaugh.
Being mayor entails not only working with a wide array of people on a daily basis during meetings, but also writing speeches and keeping up with emails and calls. A typical weekday for Laubaugh would include all of these things. The weekends occasionally include ribbon cuttings.

As mayor, Laubaugh still attends City Council meetings. She has the power to sign or veto new legislation brought about in such meetings.

Laubaugh has the opportunity to influence the community in this way and many others, such as initiating projects.

"I hadn't even been sworn into office and there were already discussions concerning Steiner Youth Center, and it just needed to be replaced," said Laubaugh. "Then the high school, of course, was in bad need of being replaced. I was really, really proud of the community center/high school collaboration."

Building this complex was a major accomplishment for Laubaugh as mayor, especially considering the rough economic situation at the time following the 2008 recession. The school had to have levies, which were eventually passed, allowing the complex to be built. The project took multiple years.

"That was a big deal for the community," said Laubaugh.

Laubaugh hopes to work on the city's infrastructure (water lines, sewer lines) in the near future. This project would be coupled with the beautification of downtown Wadsworth.

"Prior to getting into city government, I didn't realize how unique Wadsworth is because other communities don't have their own electric division," said Laubaugh. "We are unique in the number of services we provide and certainly the quality of services we provide."

She feels privileged to work with the people that she does, both in the city and in the surrounding areas.
"I love the city, I love what I do," said Laubaugh. "I love making a difference in the community."