Steele steals states, wins first bowling title for Wadsworth
BY KATE MESSAM
Wadsworth High School senior Chris Steele is no stranger to success in his bowling career. Bowling a 716 in a three game total last Friday, Chris Steele took home the 2020 Division I State title.
After placing 45th at states his freshman year, it was evident that Steele had the talent to go far. Four years later, Steele has earned the title of Suburban League Bowler of the Year following his 232 season average and traveled to Columbus to compete once again at states on March 6, 2020.
Steele bowled 257 in his first game and a discouraging 191 in the second.
"In the second game, the lanes were super difficult. It seemed like I had to be so perfect with every shot, so I put so much pressure on it that I ended up finishing with a 191 which I thought would put me out of it," said Steele. "I knew going into the last game I needed to have one of the best games of my life."
Fortunately for Steele, he finished with a 268, claiming the last 12 shots were "the best" he had ever thrown. Those 12 shots prompted him to win the first ever bowling state title for Wadsworth.
"Once I heard my name announced for the award, it was the first time I had ever been filled with that much emotion, especially when I heard the roar of the crowd," said Steele. "It was amazing."
Last season, Steele competed at districts, missing the cut for states by only six pins. The loss, as Steele describes, "messed [him] up" due to missing the advancement because of one bad frame. However, he used the outcome of last year to help motivate him to work harder in the 2019-2020 season.
"This year my goal was to not just get to state but do well in the regular season,' said Steele. "I have not taken many days off and have sacrificed a lot of time to continue to work on my weaknesses throughout the year because one day I would like to go professional."
During his senior season Steele beat the school record for High Game, bowling a perfect 300, and High Two Game, earning 578, among many other high bowling achievements.
Steele's dedication does not come easy. The senior spends 5-6 days of each week practicing his game, and continued his work almost every day during the off season. Coach George Steele notes just how hard Chris has been working the last year.
"We have worked on technical skills and fine tuning his game, but not just the physical game," said Coach Steele. " We have also worked on the mental aspect of the game, all of which Chris has become very strong in."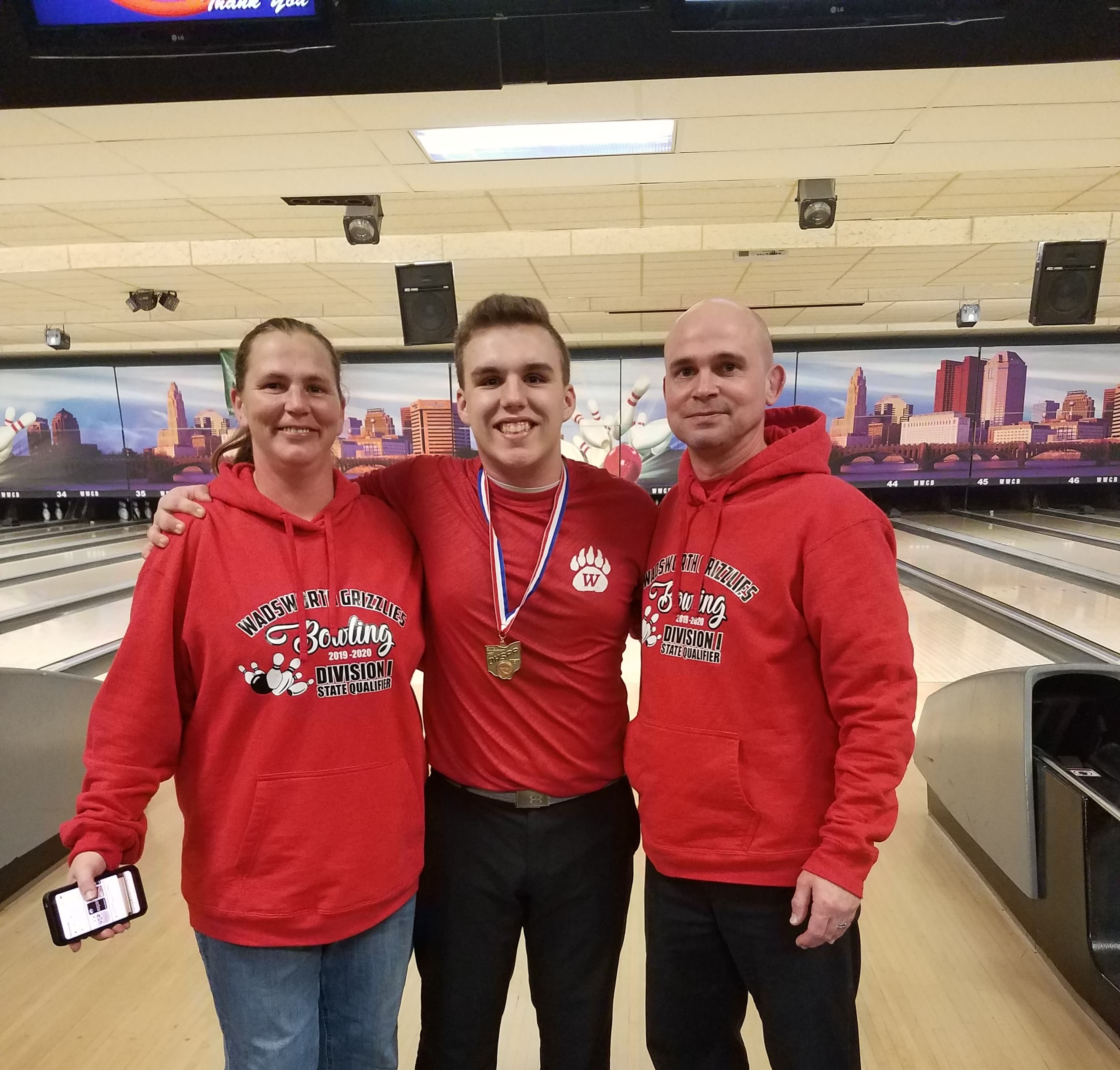 Aside from being his coach, George Steele is also Chris's uncle, and he feels deep pride in seeing how much Chris has progressed.
"As a coach, I'm always proud to see one of the athletes have great success," said Coach Steele. "As Chris's uncle, I know how hard he has worked and the dedication and sacrifice he has put in to get where he is at. I am very proud of him for all his accomplishments, but I am even more proud of the young man he has become."
According to Chris, he grew up having bowling largely incorporated in his life due to his family's involvement with bowling leagues and just an overall love for the sport.
"I got into bowling because it was something my entire family has done since I was little," said Steele. "When I was little I'd go with my mom to the bowling leagues and some of the first words I spoke were 'me throw'."
His bowling career will not end after leaving Wadsworth High School. Steele will be attending Kent State University in the fall and plans to help restart the school's bowling program. Alongside his university team, he intends to bowl in junior professional tournaments.
One day, Steele hopes to go professional and make a career out of his passion for bowling.
Leave a Comment
Your donation will support the student journalists of Wadsworth High School. Your contribution will allow us to purchase equipment and cover our annual website hosting costs.