BY MICAH BECK
NASCAR races are a fun pastime for many people. Millions of people go to dozens of races each year. 22 year-old Matt Tifft, an alum of nearby Highland High School, is a NASCAR driver, and raced in what might be the biggest race of the year; the Daytona 500; as #36, on Sunday, February 18. Though he placed 36th, he withheld his 19th place position until the 187th lap, in which a multi-car pileup halted and delayed the race.
The Daytona 500 (previously known as the Inaugural 500 Mile International) is an annual race held on the Daytona International Speedway in Daytona Beach, Florida. The race is 500 miles long, and requires 200 laps to complete, bringing each lap around the track to be the equivalent of 2.5 miles.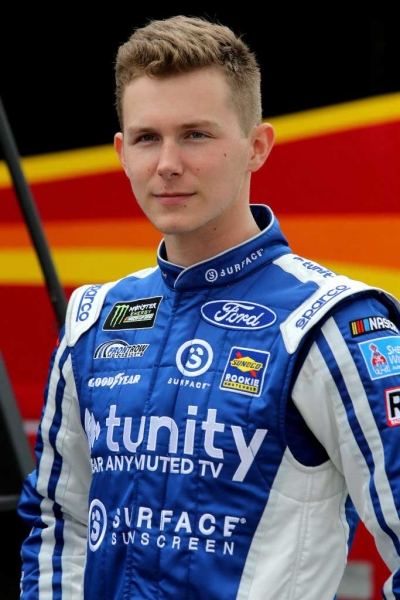 "It certainly was a huge day and a huge moment in my career." said Tifft, in an email interview. "To stand there in front of hundreds of thousands of people with the flyover from the [United States Air Force] Thunderbirds was a moment I'll never forget. To race in the biggest race in America… that day was incredible."
Tifft started racing in 2007 at the Barberton Speedway in Norton, OH in go karts, and in 2009, made his first divisional go-kart schedule, under Beasley Motorsports. He graduated from Highland High School in Granger, Ohio in 2015. His biggest inspiration is Jeff Gordon.
"At first, it was more of a hobby and was seen as being cool, but as I got into high school and had people come out to the races, they realized how big of a deal it really was and they were very supportive." said Tifft.
However, being involved in racing while only being in high school has its challenges. Tifft explained how he had to stay on top of his grades and dedicated to schoolwork. Due to his constant traveling for racing, he was unable to participate in typical high school extracurriculars.
"I didn't participate in things like football games and parties, because I traveled so much for racing. In fact, I almost missed prom because my race was rained out the night before. I literally flew home, changed and made it within 15 minutes of the event starting, which I don't think my date was too happy about!"
When asked about how much skill and dedication it takes to be a NASCAR driver, Tifft explained how they are typically gone 4 days a week travelling, and they very seldom have free time.
"[T]he competition is incredibly intense. Inside the car, it reaches up to 140 degrees and you can sweat out almost 10 [pounds] in a race over the course of 3 hours, with a sustained heart rate similar to that of a marathon runner…"
If you are interested in following in Tifft's footsteps, he recommends you realize the big picture and understand the sacrifices you must make.
"[Y]ou have to keep in mind the big picture of where you want to be and why you want to be there. If you work every day to better yourself and outperform other people, you can achieve your dreams."