Teacher Spotlight
FEATURES BY HANNAH HINES, ANNA WOLFINGER AND JACOB BROWN
Brianne Pernod: World Traveler
BY HANNAH HINES
Brianne Pernod is currently a English teacher here at Wadsworth, but what sets her apart from other teachers is the fact that she has seen parts of the world people only dream of seeing.
Pernod first began her travels with her then fiancé in Europe, starting with Italy. While experiencing the city together, her fiancé dropped the big question, and proposed. Today, they are happily married, and Pernod just recently gave birth to their first born, Nora.
"Italy was the first time I left the country to travel for myself just for vacation," said Pernod. "It was my first glimpse at history come to life. The canals in Venice, the Colosseum in Rome, the ruins of Pompeii, it was all magical. To physically be in the locations I had read about and seen in movies was surreal, and I became addicted to traveling."
After her and her husband saw multiple places around Europe, they eventually made their way East to Southeast Asia. Pernod's favorite part about exploring these culturally diverse Asian countries was visiting the often misconstrued country of Vietnam.
"I partly love the shock value of saying Vietnam is my favorite country," said Pernod. "When people think 'Vietnam,' their first thought is war, not sprawling white sand beaches, immaculate temples and tailor made dresses. Part of the delight is that everything is so cheap, so we could indulge in hotels where the number of stars were equivalent to the price per night. For example, two stars was for $20 a night, and $40 a night was for a four star bungalow in Hoi An near the beach."
Pernod has adventured to over fifty different countries. Some of these places include Scotland, Portugal, Russia, China and the United Arab Emirates. This past summer, Pernod traveled to Northern Ireland to mark the fiftieth country she has traveled to.
"I like to see the first hand look at the world," said Pernod. "It makes it more relevant. I fell in love with seeing a culture entirely from my own perspective and not what I had learned from history books."
Her love for travel goes hand in hand with her love for new experiences.
Pernod does not have plans to stop traveling anytime soon, as she is determined to show her daughter what all the world contains.
"I want to give my daughter the world both literally and figuratively," said Pernod.
Traveling has had an immaculate effect on the way Pernod views the world. It has given her a new perspective in the sense that what you hear in history books is not all there is to some countries. They can hold many mysteries, breathtaking sights, cultural differences and unforgettable potential memories.
"In our core we are all the same, and that is what travel has allowed me to bring back and impress upon others," said Pernod.
Michelle Farr: Runner
BY ANNA WOLFINGER
Michelle Farr is a math teacher here at the high school, but aside from teaching, she has achieved many running accomplishments and still continues to run today.
"Running is awesome for anyone," said Farr. "It doesn't take special talent, a team or a certain venue. You just run."
Farr's running career started at the age of 12. She attended Buckeye High School where she competed in track her freshman year, and even went to states. After states, Farr helped carry the newly formed girls' cross country team.
"At that time, volleyball and marching band were the only girls fall activities. Soccer didn't even exist there yet!" said Farr.
Farr went on to achieve many great accomplishments in cross country very early on.
"I was all-Ohio in both and Medina County cross country, MVP twice and I think I still have the school cross country record set in 1987," said Farr.
At the end of her high school career, she received a track and cross country scholarship at Bowling Green State University.
"I was the cross country team captain my senior year, and that's when I knew I wanted to coach," said Farr.
Farr mainly coached the boys' track and cross country teams, but did coach the girls' for three years.
"Coaching has been one of the best experiences of my life," said Farr.
Farr's teams have had much success while she has coached them. She has had several state qualifiers, a few state champions and they set the boys' 4×800 state record in 2010.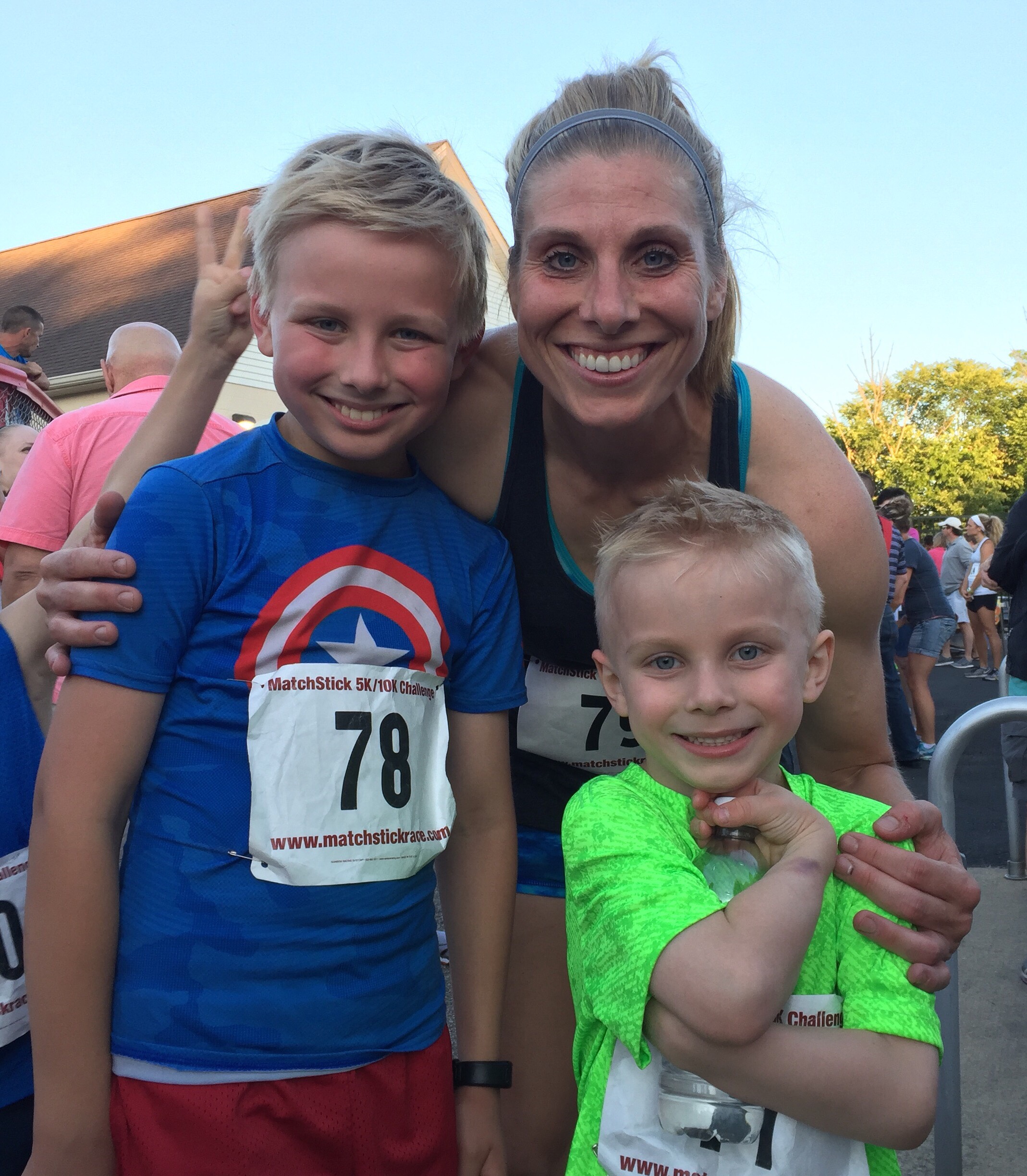 "Developing a lifelong love of running with the kids and seeing the relationships and bonds the runners built with each other is something I will always treasure," said Farr. She then stopped coaching completely in 2014 to spend time with her two sons, Logan and Grayson. "I've mostly done 5ks my entire life, about a couple hundred, but I started racing marathons and half marathons about eight years ago," said Farr.
Farr's success in long distance running did not stop in her high school and college years. In fact, she accomplished her 5k PR when she was 36 years old.
"I've been blessed to accomplish a lot of really cool running goals," said Farr. "I've won races at every distance I've competed in."
Her first marathon win was the 2013 Air Force Marathon in Dayton, OH. Even today, she still continues to run in races but it is not to compete anymore. Farr runs for the personal experience and the feeling that she gets while she is running.
Her accomplishments grew even further with age, however with time comes the difficulty to carry on, but Farr refuses to give up the sport.
"I'm 46 now and winning as the overall woman is getting harder," said Farr. "Last fall I was still able to run in the 18:50s a few times for a 5k. My first 10k PR when I was 40 was 39:30. My half marathon PR was 1:26:52 when I was 42, and my marathon PR is 3:03:27 at age 41."
Farr still wonders how her times would have compared had she started racing at those distances in her 20s.
Upcoming, Farr is planning on running in several 5ks and 10ks this summer as training for the Akron Half Marathon in September.
"In the last four years at that race, I've won the female masters division, which includes women over 40 years, twice and finished 2nd and 3rd and in the top 10 overall women," said Farr.
Farr loves running with her two sons. Farr is a member of the Matchstick 5k/10k/half Marathon Challenge Committee where she helps with the Nathan's Run 5k, which is a cross country race at Memorial Park that donates its proceeds to a WHS senior cross country runner in memory of one of Farr's former athletes, Nate Tipton.
"I've run alongside my sons in those races, and it's fun to see them enjoy the sport," said Farr.
For as long as Farr is able, she is sure to keep on running until her body is physically unable to.
"When I run, my brain shuts off and I don't think of anything for 1 to 2 hours," said Farr. "There's no other time in my day where that can happen. It keeps me joyful despite stresses that just come with life."
Jason Jurey: Park Ranger
BY ANNA WOLFINGER
Jason Jurey is a biology teacher here at Wadsworth High School, and has been teaching for 13 years. However, teaching was not his first career choice. Before teaching, Jurey was a seasonal law enforcement ranger at Bighorn Canyon National Recreation Area in Fort Smith, Montana, then shortly after, moved back home to work for the Lorain County Metroparks in the Strongsville area in 2004.
"As a law enforcement ranger, I was in charge of the day to day enforcement of park regulations and both state and federal laws," said Jurey.
Park rangers are expected to roam their park's grounds daily, which can be as large as a couple of thousands of acres.
"Most of my day was spent patrolling," said Jurey. "We were responsible for tens of thousands of acres, so I would patrol in my truck most of the time. We also had a lake that we patrolled and checked fishing licenses, so I'd do boat control."
Rangers also have to make sure that campers, bikers, hikers and other pedestrians are following the park's rules and regulations and are not disrupting other visitors, but more importantly, the natural environment.
"It was never fun to give citations to people visiting or that were on vacation in my park, but I did have to from time to time," said Jurey. Jurey was an on-call ranger, which meant that he was on the clock 24/7. On-Call rangers must always be ready at anytime whenever they are needed. "I would sometimes get called out in the middle of the night for different reasons as well," said Jurey. "I always hated those calls because it was usually an emergency which meant I was going to have to help someone that had been injured, fight a fire or deal with someone that was being aggressive. None of these were very enjoyable to deal with."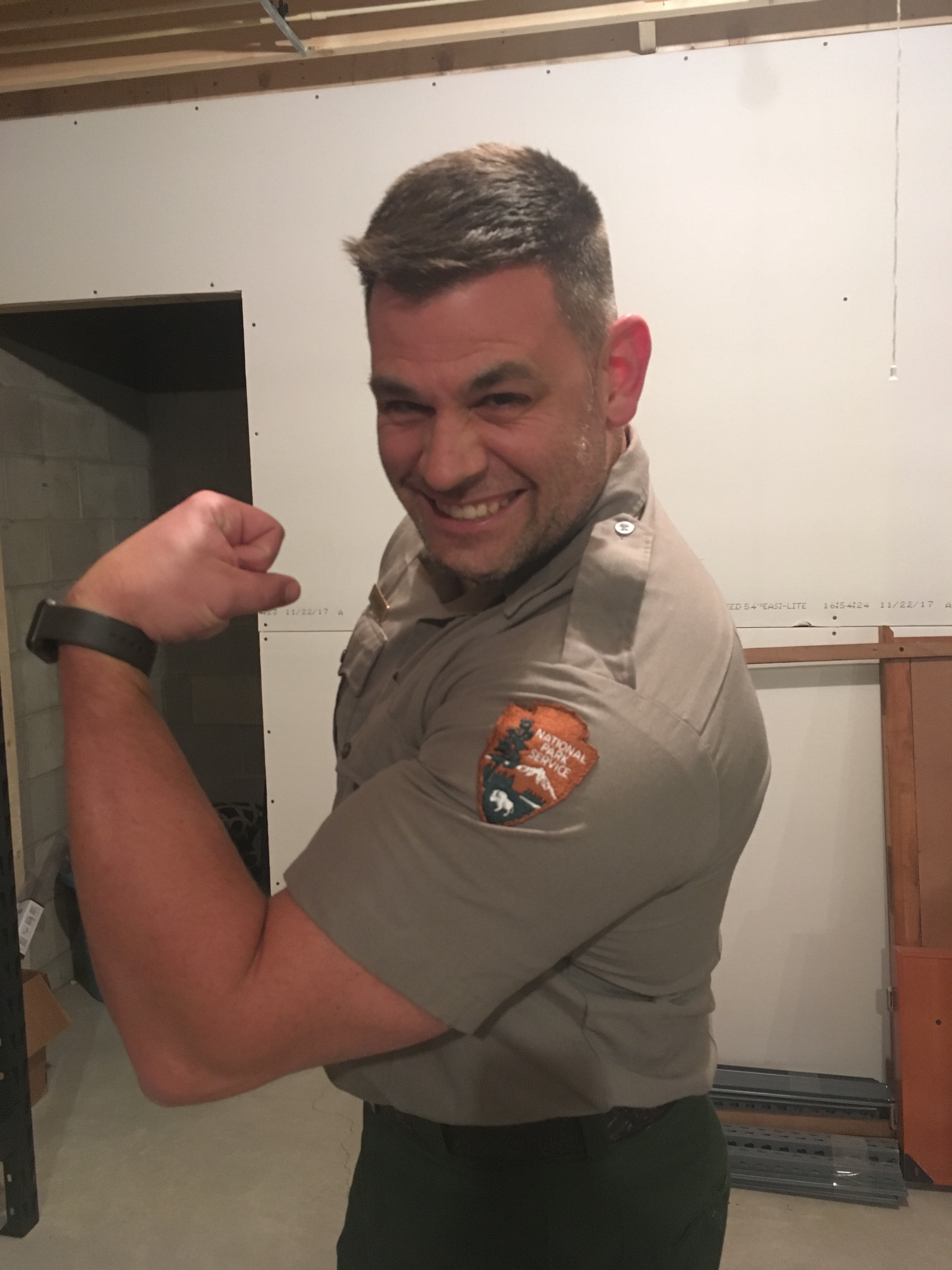 Rangers are not only responsible for enforcing the park's rules, they are also required to manage the animal life if there are any complications with animals being too close to visitors, or are in the middle of a path.
"One time I had to remove a rather angry rattlesnake from a hiking trail," said Jurey. "Let's just say there isn't a class in college that teaches you how to deal with that situation. My attempt basically had me using the metal side of a spade shovel as a shield for my feet and ankles until I could get close enough to scoop him up and launch him into the brush. I can still remember this four foot rattlesnake spiraling through the air into the bushes while I ran the other direction. I'm certain I didn't look very tough to anyone that caught a glimpse of the ordeal!"
The daily difficulties were not all this park ranger experienced, there were also the one-on-one relationships with the visitors.
"The best part was all of the positive interactions I had with park visitors," said Jurey. "I enjoyed talking to people and I also enjoyed working outdoors for the most part."
After serving as a park ranger for only a year, Jurey went back to college to become a teacher.
"An opportunity came along that allowed me to get my Master's in secondary education free of charge, so I began taking classes," said Jurey. "Teaching brought me closer to home and offered some other advantages opposed to my situation in Lorain."
To Jurey, teaching and serving as a park ranger are not as different as one would think.
"The hardest part of the transition was working indoors
again, but summers off allow me to still spend the majority of the nice months outside," said Jurey. "All in all I don't regret my career change, but I do miss it from time to time."
Larry Kaufman: Farmer
BY JACOB BROWN
Mr. Kaufman is most well known around the school for his business, personal finance, accounting and web site design classes. Outside of these walls, Kaufman finds enjoyment in some impressive activities.
Kaufman went to Wadsworth City Schools grew up on a small farm that is owned by his father here in Wadsworth. That same farm is still where he lives today with his wife and kids.
"My dad owns the farm, but me and my wife own 2 acres of land adjacent to the farm that my father gave to us," said Kaufman.
Kaufman said that he finds the work on the farm relaxing. As others have hobbies such as golf or collecting certain items, Kaufman finds pleasure in the daily work of maintaining a farm and everything that comes with it.
Although his father still owns the land, Kaufman and his family are the ones who maintain the property along with the animals.
"It's not a big farm, only 45 acres. We make hay and the kids also have animals for 4-H projects. We also raise meat birds that we butcher for ourselves and we also have hens for eggs," said Kaufman.
While the farm work is considered a hobby to Kaufman, he currently has 23 head of cattle and sell about 10 or 11 beef per year to different people.
"The income is seasonal, it's not a huge flow of income but it's something we enjoy doing., said Kaufman. "Instead of golfing or doing other hobbies, we enjoy the work on the farm and it's good for the kids to be involved and they make some money too on their raised animals."
Although he does not own it now, Kaufman believes he will either inherit the farm from his parents or buy it off of them in the near future.
Apart from the farm, Kaufman also takes interest in real estate. This interest lines up with the classes he teaches at the school.
"My dad was in the real estate business so we also buy and sell properties around the Wadsworth area," said Kaufman. "We have a rental property in Wadsworth and also bought a house to flip."
As he grew up through Wadsworth, Kaufman had found a passion for wrestling. His career continued through middle and high school, where he wrestled for Coach Gramuglia and even continued after graduation. He went from being one of the students to being one of the coaches.
"I love teaching here at Wadsworth, It gives me the opportunity to be with young people and to teach them," said Kaufman. "I enjoy the coaching aspect of it and it's got a good schedule."
Although he loves his job, if he were no longer a teacher, Kaufman said that he would possibly look at going into commercial real estate.
Kaufman also has a YouTube channel where he documents all of his hobbies. His channel, lawrencekaufman, contains anything from farming to wrestling, to even pulling nail out of his thumb.
With the variety of hobbies Kaufman has, it is a mystery of what he may do next in his crazy world.
This story was printed in March. For more print articles, check out the full issue:
Leave a Comment
Your donation will support the student journalists of Wadsworth High School. Your contribution will allow us to purchase equipment and cover our annual website hosting costs.