Kacie Evans dominates her way to the top
BY BROOKE BURTON AND JACOB MCDERMITT
Recently ranked 75th overall in the state of Ohio and with a multitude of broken records to her name over her four-year varsity career, Kacie Evans' name will forever be linked to Wadsworth volleyball. Introduced to the sport at a young age, she is now a Division I commit.
"If I am serving, I honestly do not think about anything. I do not think about 'oh I am gonna miss this serve' or any of that. I think about if I am going to hit a zone, I hit that zone and that is all I am thinking about," said Evans.
She, more often than not, does hit that zone, as she holds the record for aces in a match with 10 against Normandy on 10/21/2017. Along with that, she hold the record for kills in a season with 474 and kills per game with 5.7, both in 2017. On August 31st of that same year, she set a record with 33 kills in a match against Stow. She also holds the career records for both digs and kills. She broke the dig record as a junior, finishing the season at 1,153 and has added on to that total this year. She broke the kills record in the second game of this season, which stands at 1,397 as of October 5th, 2018. Only one word comes to mind in the mind of her teammates when hearing her name.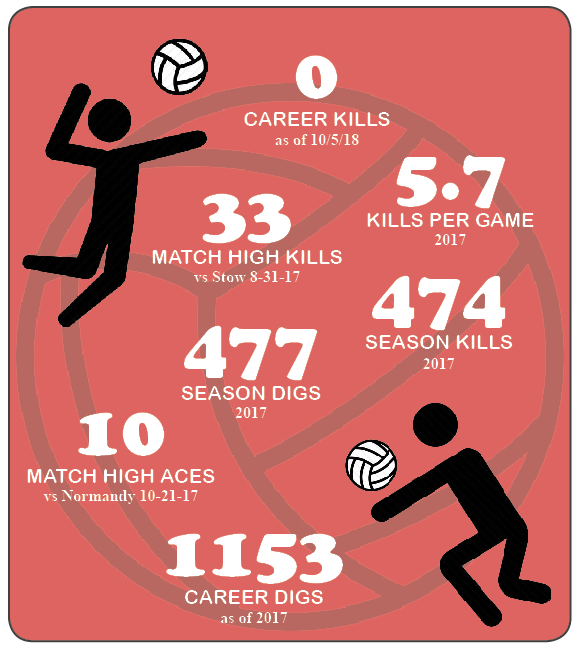 "Legend. Just her talent, her skill," said fellow senior Leah McNutt, who has played with Evans since they both were in seventh grade.
Evans, however, is not resting on her laurels. She has been committed to the University of Georgia, a Division I school in the Southeastern Conference (SEC), since she was a sophomore. The SEC boasts girls as tall as 6'9" compared to the 5'11" Evans, although she is determined to continue her success.
"I still have a lot more to accomplish. I still have four years of college to worry about. My goal is to start my freshman year and from my coaches I think I have a spot, but obviously I have to work for it. I am not just going to walk in like I have it. I am going to do me but respect my coaches decisions and most importantly have fun with the players on the court," Evans explained.
While her name is soon to be on a D-I roster and is already all over the Wadsworth record books, it was not always that way. Both her mother and father had collegiate volleyball careers, so she was first introduced to the game at the age of three and started playing organized when she was six. Her father was a coach at the time and she began to join the high school girls in drills at practice.
"She was athletically gifted at the time, she could move very well on the court. She did not move like a typical six year old, she moved like a volleyball player, like an athlete," said Evans' father. "Her timing to the ball was pretty natural."
Evans used to play soccer and still plays basketball, but volleyball has always been special to her.
"I basically grew up on the volleyball court," Evans recalled. "I know at the bottom of my heart that I always want to play."
This showed when asked if she envisioned herself coaching and had answered before the question was finished.
"For sure," Evans replied. "I'm sure I will. If I have the opportunity to coach college I would, but I am thinking of just sticking with JO or high school."
However, Evans is wary of looking too far ahead. Her freshman year, she was on a team that was predicted to go to districts and potentially further. Unfortuately, they lost in the first round in what Evans described as the most frustrating moment of her volleyball career.
"Freshman year, there was probably a chance of us going to state. It was hard because we were predicted to be in the district final and lost. I think we looked to far ahead and that's what I wanted to change, just focusing on the match," said Evans.
Now, looking back, the three year captain thinks the experience has helped her to become someone for the younger girls to look up to.
"Freshman year, I was nervous. Not only because I was surrounded by upperclassmen, but because when you are a freshman you are like 'I do not know what to do here, I do not know what is going on.' All the senior leaders, like Haley Witschey and the Johnson twins, they had me. I am in their spot now, and most of the freshman and the eight graders and seventh graders all look up to me and the team now, so I have to make sure I have a good positive mentality and am a good role model," said Evans.
McNutt believes Evans has grown, saying the biggest difference has been her ability to elevate her play when the team needs it.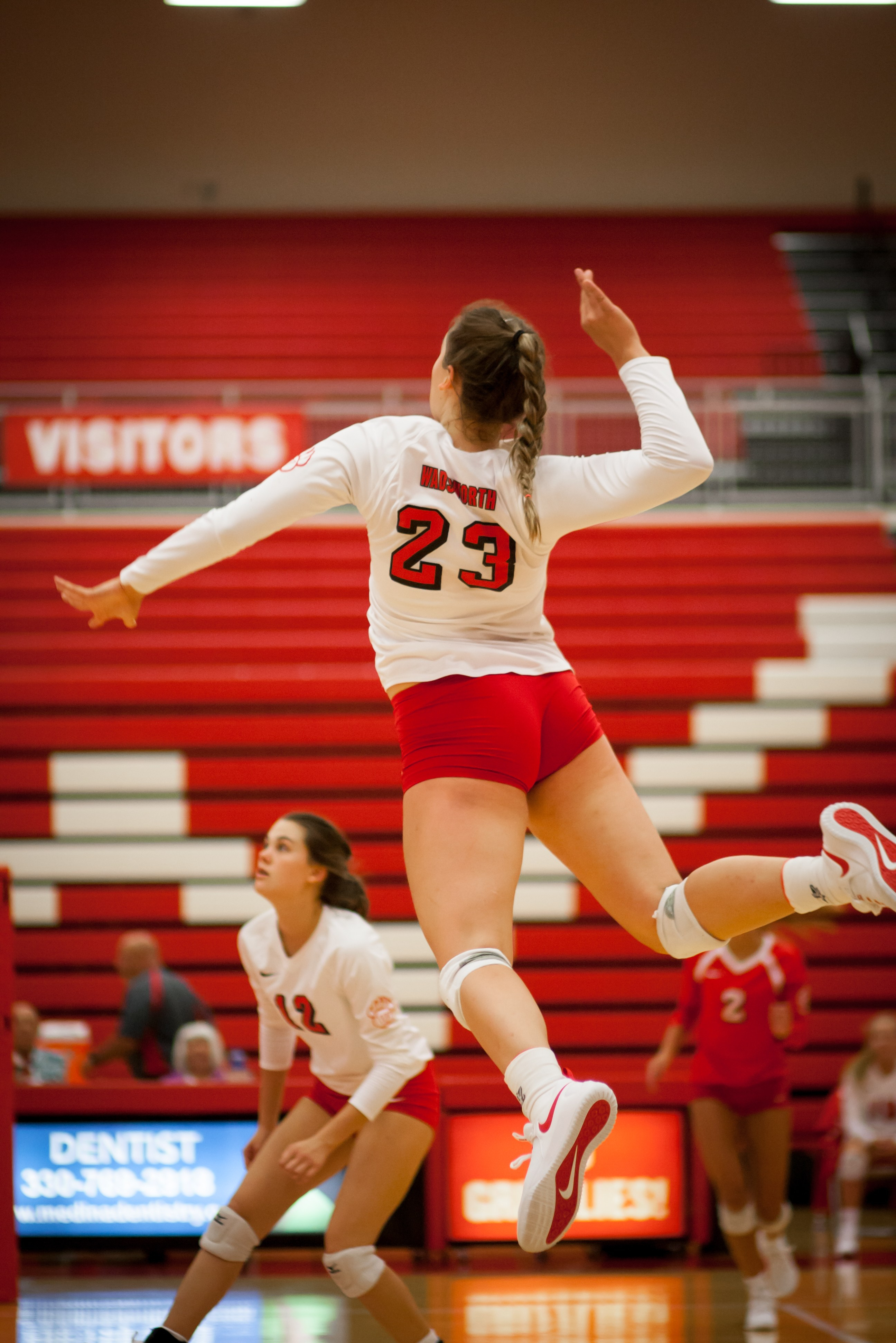 "I think her volleyball IQ has really improved since seventh grade," said McNutt. "She is more aware of how to use her skill and when to put her skill to the test. Sometimes she will play to a whole different level."
A year removed from a district title, Evans hopes to find similar success one more time before she has to move on.
"I think we will go pretty far," predicts Evans. "Our district is one of the most competitive districts in northeast Ohio, maybe northern Ohio. I would say either Strongsville or North Royalton are our biggest competition. Padua moved up to division one this year, but rumor is that they may move back to division two before districts. They won states the past two years so it is going to be challenging. If you remember Brunswick from last year, they were very competitive but unfortunately they lost some key players. I think Royalton and Strongsville are the people we have to worry about."
If Evans has any advice for future athletes, it is to never back down or stop being themselves.
"You cannot back down from anything, even if you make one mistake you cannot let that happen. You have to push yourself. Be humble, be a good role model, be a good teammate, because that is what I have always learned, that is always what I have wanted to do. Do not back down from anything. Be the person you want to thrive for. Have goals set and just go for them. Just have fun. You have to make it fun," said Evans.
Leave a Comment
Your donation will support the student journalists of Wadsworth High School. Your contribution will allow us to purchase equipment and cover our annual website hosting costs.