It's a Wonderful Life left audience excited for Christmas
REVIEW BY ANNA BOWLING
With Christmas coming up right around the corner, the drama department chose to put on It's a Wonderful Life for this year's fall drama production. It is different from the other shows, as it is a live radio play.
"Instead of acting things out, we don't really move that much, the biggest changes we have are with our voices," said Alex Miller, 9.
The show centered around George Bailey, played by Michael Juscak, 12, the main character, and how his life affects others. With the majority of the conflict taking place on Christmas Eve, Bailey was shown by his guardian angel what it means to have a good life.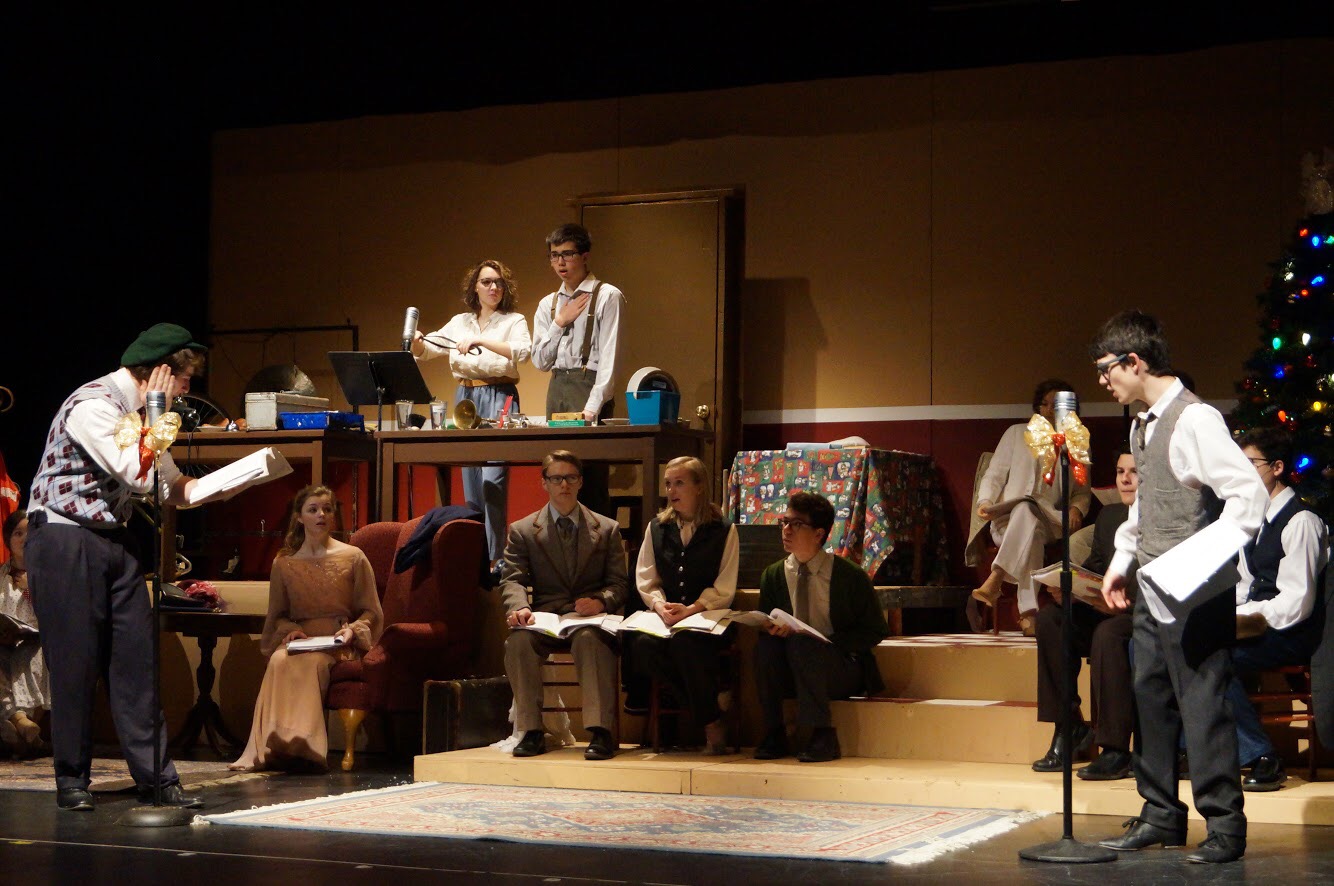 Many of the characters in this high school adaptation are asked to play multiple parts.
"I play two characters- Uncle Billy, which is my favorite because he's kind of crazy and it's fun to try different things with his character. I also play a cop named Bert. I have to do different voices and body language for them. It's been hard to learn how to make those differences, but now that I know how to do them, it's fun," Miller continued.
The show also features a retro form of sound technique. Normally, the productions have sound technicians- kids who sit at the sound board to program and play any sounds necessary. Instead, the radio drama boasts foley artists, who create the sound effects while also acting on stage. Instead of having the normal acting with stage directions, a radio play entails for most of the acting to be done with one's voice only.
"It's so much different. With a drama, you don't get a spectacular song or amazing singing, like in a musical. The only thing you have up there is you. With this being a radio play, you don't even really get acting with a stage. You get your voice. Reading the script is very different with a radio play. The author doesn't give you any directions on how to take it. It's difficult and at first we had no idea how to pull it off. But we worked and worked and I think it's going to be good," said Alyssa Baxley, 12.
The show was excellent; like any other play that Wadsworth Drama puts on, they have the best actors and directors. Juscak's acting makes the character lovable and realistic.
All of the actors were strong performers and they made the show engaging and entertaining. Seeing friends do what they love makes an audience member more open to enjoying the craft they have made.
Another great feature was the applause sign that would light up when the show required audience participation. It made for a fun, interactive situation that put the audience members closer to the actors.
"When the audience reacts and sees that we're having fun, then they have fun and it makes the whole show ten times better," says Alyssa Baxley, 12.
The highlight of the show had to be the ending. With the closing of the show, there was this sense of magic and finality. It was full of emotion and all the characters portrayed their emotions well. As George Bailey learns his place in the world, everything falls into place. The audience sees that one's choices really do matter.
My absolute favorite part of the show was when they made it snow within the last fifteen minutes of the play. Creating the snow made the Christmas story feel that much more realistic and welcoming. It shows how much time and effort the department puts into their shows, as the snow is a major commitment to produce and clean up. The actors and actresses have a lot of dedication and love for the program.
With the majority of the cast being upperclassmen who only have a few more shows or none at all left in their high school career, the choice of It's a Wonderful Life made for a memorable performance for the audience and those involved. It was a fun show and included so many traditional aspects of Christmas that left me, and hopefully the rest of the audience, wowed once again.
"It's just a happy Christmas story that will put you in a great mood and in the Christmas spirit," Miller finished.
Leave a Comment
Your donation will support the student journalists of Wadsworth High School. Your contribution will allow us to purchase equipment and cover our annual website hosting costs.