Restricted chants turn away students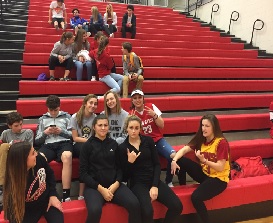 OPINION BY MITCHELL BLACKBURN 
Wadsworth High School administration has maintained restraints on what the student section is and is not allowed to chant. The crowd has been told to show positivity throughout the game. However, this rule does not apply to everyone. Students are trying to chant more than just the average "Go Grizzlies" and "We are….Wadsworth." To show school pride and spirit, it might take chanting at or against the other team. If that is what it takes to win, then why not?
Why can the other team do chants towards our team and we cannot?
The visiting team in some cases, brings a decent sized student section to a big time game. People on the visiting end are allowed to chant whatever they want, so why not us? There is no such thing as home court/field advantage if this is the case. Believe it or not, a student section can play a huge factor in a game by causing distractions. If our student section is told to be nice, then the same should be told to the other side. Since everyone pays the same amount to enter the game, they should be allowed to do the same chants.
Have numbers of attendance dropped in student section since the restrictions?
Numbers in the students sections have dropped since the administration put the restrictions on chants. Students say it is just no longer fun to go.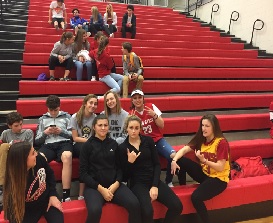 "I would definitely come to more games if there were less rules," said Craig Palidar, 12.
When you watch a college game, you see the student section having fun. In college, you do not see the administration watching the students' every move in the section. If these restrictions were taken away, then maybe more people would come. With the increase in attendance, the school would receive more money. This would then satisfy all parties involved.
Are the rules on the students a little severe?
The rules that have been placed on students are a little severe for a high school. Young adults, who lead the student section, know what they can and cannot say.
"I think the rules on chants are a little extreme, because I hear other schools chant things at our place that we are not allowed to say…It makes our student body look soft," said Palidar.
Palidar seems to be right and wishes to see some changes in the future.
What kind of chants are restricted at the sporting events?
Specific chants in the section are prohibited. For example, students are prohibited from chanting an opponent's name. This chant could easily help our team and there have been instances where the other team has yelled one of our own players' name.
However, doing the same "Go Grizzlies" chant the entire game becomes repetitive and boring. If other students from other schools are allowed to chant towards the other team then so should we. It is not fair to us that they can chant these things, but we are being kicked out for it. Again, we pay the same amount to get into the game.
The fact of the matter is we should be trusted to do certain chants. This is our school, and we should be able to show our school spirit the way we want to. Our chants are a part of our identity.
Your donation will support the student journalists of Wadsworth High School. Your contribution will allow us to purchase equipment and cover our annual website hosting costs.