W Wadsworth High School's theater department will be performing the play "Miracle on 34th Street" on December 7-9.
Over the course of the school year, the drama department performs two musicals, one drama, and one comedy.
The leads of the show include Aiden Bigler as Kris Kringle, Kinsey Nussbaum as Doris Walker, Joe Maag as Fred Gayley, Zionna Redmon as Susan Walker, Camryn Henderson as Sawyer, Carsyn Derrig as Shelly Shellhammer, and Connor McNeill as Drunk Santa and Judge Harper.
The play follows the story of an old man hired to play Santa Claus in a department store. Eventually, it comes into question if he is the real Santa Claus.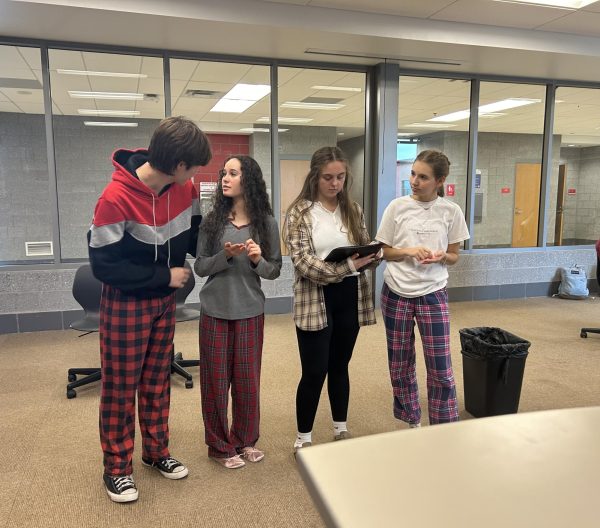 "On the surface, it's a story about Santa Claus and some folks in New York City kind of meeting him and trying to decipher whether or not this man standing in front of them is Santa Claus as he says he is," said Lindsay Patterson, one of the directors. "A little under the surface, it is very much a story about the Christmas spirit and belief."
The production explores many themes that span from the idea of the Christmas spirit to belief.
"I like the fact that the play is serious and it has important lessons, but it's also funny," Maag said.
The play has been adapted from the film released in 1947. The film is loosely based on a novel set in 1945.
"It's a good message," Bigler said. "Who doesn't love Christmas?"
This play was chosen as this year's drama because of its holiday theme.
"It feels like somewhat of a privilege to be able to contribute to the holiday season," Patterson said.
Rehearsals began in early September and will continue almost every day until the performances.
"The kids are working on a dance right now to Santa Claus is Coming to Town by Michael Jackson," said Mary Beth Baxley, one of the directors.
The preparation for the play so far has included casting, blocking, memorizing lines, rehearsing, and planning the details of the production.
"We have to portray the human experience and that is something really hard to replicate," Maag said.
Everyone involved in the play is very excited to see how the play will turn out after months of dedication and hours of rehearsal.
"I love it when there are things in the script that we do so many times and the audience laughs at it, and I never knew it was supposed to be funny," Nussbaum said.
In addition to the three performances, they will also perform for all the third graders in the district.
"We're so fortunate that the community in Wadsworth supports the arts the way that they do," Baxley said. "It enables us to have all of these opportunities,"
The performances of the show will be in the WHS Performing Arts Center and tickets will be sold for $8.