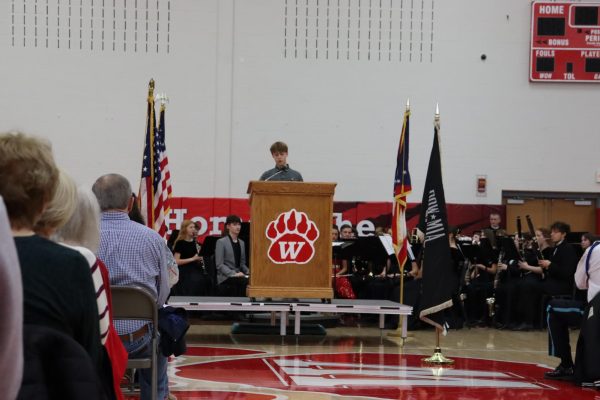 Wadsworth High School hosted its annual Veteran's Day assembly on November 10, 2023, honoring and remembering the men and women who have served in the military. The assembly is put on with the help of Principal Keri Hamsher and AP US History teacher, Mr. Jason Knapp. 
The veterans had breakfast in the school cafeteria before the assembly and when the assembly started, they progressed into the gymnasium to be seated.
"The band, choir, APUSH [students], student council along with Mrs. Hamsher bring all segments together to create a 45-minute assembly," Knapp said.    
Students from several groups of the high school help to put on the assembly. Students from the Student Council help with the breakfast, AP US History students read essays and the choir and band give performances.
"My favorite part is that the assembly is done by the students," Knapp said. "The veterans are really appreciative of the fact that our students are the show."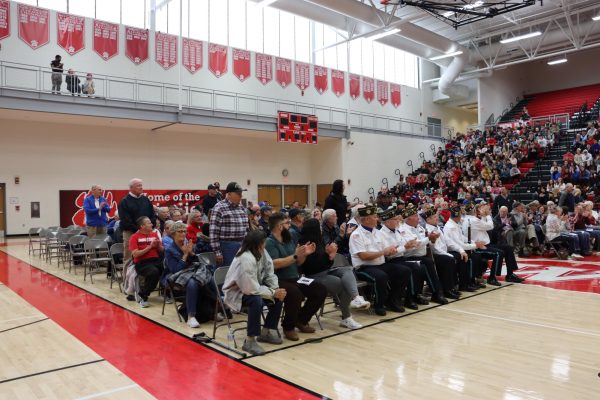 This event is open to the veterans of friends and family as well as the community. No matter which branch of the military they served or are serving in, all were welcome to attend.
"It's important for our student body to honor the veterans but also be inspired by
 them," Knapp said. "Our veterans are great role models for us. Maybe our students will one day want to serve their country because of what they witnessed at the assembly."
There were five AP US History students who presented speeches in front of the veterans, students, and school staff as well as Jacob Nichols narrating for the band during their performances.
"Speaking in front of people was not that nerve-wracking for me," said Lyla Marazano, one of the student speakers of the Veteran's Day assembly. "I enjoyed being a part of something so special and tried my best to focus on that more than the fact that I was speaking in front of the entire student body."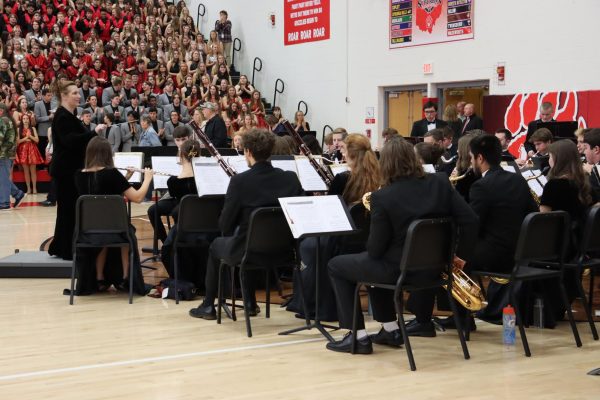 The students read their works which ranged from topics about the history of Veterans Day to the students' own experiences with veterans to poems thanking the veterans.
"I decided to write a poem because it was something different than what people had done in the past and it added some dimension to the presentation as well as a good example of the kind of students Mr. Knapp teaches," Marazano said.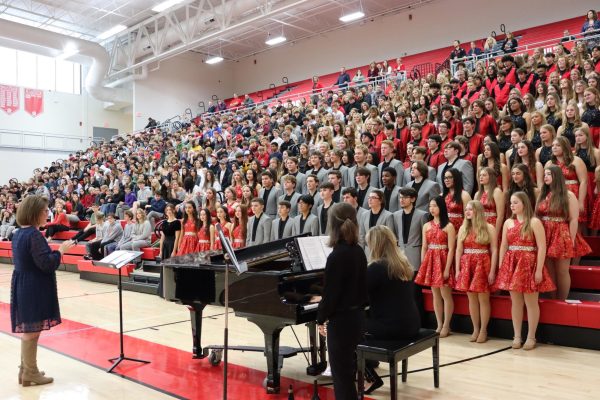 The band performed two songs "The Greatest Generation" and "Salute to America's Finest," and the choir sang the National Anthem as well as "Song for an Unsung Hero."
"My favorite part of the assembly was when the veterans stood up as the band played their branch's song," Marazano said. "It was so cool to see that."