The president of the Board of Education, Jill Stevens, has just been reelected and a new member, Tim Beck, has won a seat by just 0.38% of the votes.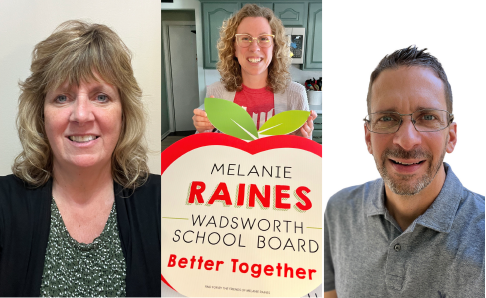 Jill Stevens was reelected with the largest number of votes, with 4,872 (33.85%) of the votes. Tim Beck won the second open seat, winning 4,317 (29.99%) of the votes. Melanie Raines, the third candidate, gained 4,262 (29.61%) of the votes but did not win a seat on the Board of Education. Additionally, 942 (6.54%) of the votes went toward the withdrawn candidate, Hilary Enders.
Stevens was first elected to the Board of Education in November of 2019 and has been serving on it since. 
"I am thrilled to be reelected to the board," Stevens said. "Our board and administration are an incredible team and I am glad to continue the work on our goals, our committees, spending time in our schools (hampered during my first term and a 30-month pandemic), and focusing on ensuring a climate of mutual respect for all at WCS. We will have plenty of challenges in the next 4 years and I have full confidence in this team to tackle each of the challenges."
Beck has extensive experience in the Wadsworth community and has worked on committees such as the Be Kind Wadsworth Initiative and the Mental Health Committee. 
"I appreciate the other candidates and their willingness to put themselves out there for the greater good," Beck said. "It was a close race which proves 'every vote counts'! This is an exciting opportunity to serve our schools and community on the school board. I remain committed to conversations with students, parents, teachers and administrators which I hope will build trust between all parties. We're all in this together. Collectively we can do the work to make our school district thrive."
Raines lost by less than 0.5% of the votes and sent her response to the results in an email to the Bruin the morning after the election.
"The Wadsworth City School Board election results came down to 55 votes (0.38%)," Raines said. "As a community ambassador, I will continue to serve our WCS District and surrounding community in multiple ways. I congratulate Mrs. Stevens and Mr. Beck and desire for our school board to continue moving forward. There is a lot to celebrate in our schools and always more work to be done. Overall, I am pleased with each decision made along the way and am humbled by the number of votes received!"
Stevens and Beck will be sworn in at a Board of Education meeting in early January of 2024.