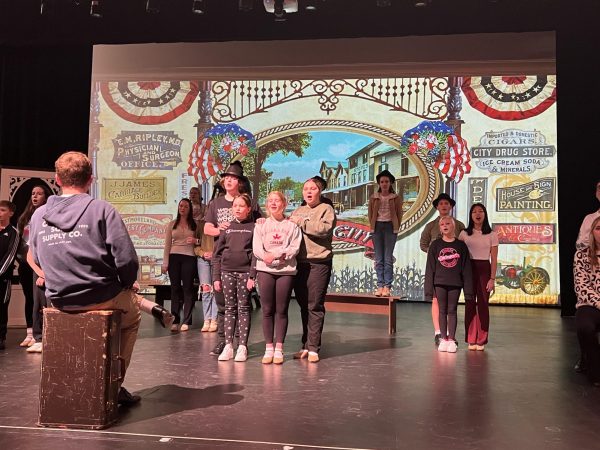 The Off Broadstreet Players will bring the classic musical, Music Man, to the stage November 16-18.
Directors Mrs. Pam Csaky and Mrs. Kalyn Davis began rehearsing with the cast in early September.  They meet after school daily working on choreography, blocking, memorization, and characterization.
Unlike most productions, this musical requires younger kids to have a role.  This past year, WHS held a new musical theater camp for younger students interested in the fine arts.  From that, the directors were able to choose eight students to be a part of the show.
"We knew we needed smaller people so we decided to pick from grades five and six," Csaky said.  "We thought about it and invited the ones we thought would be most interested."
Jasmine Krug, senior at WHS, has been a part of the drama department for the past four years.  This fall she earned the lead role, as Marian Paroo.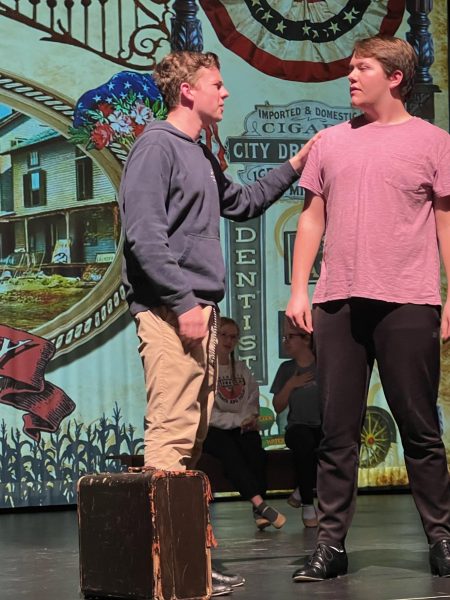 "I like being a role model for the younger kids," Krug said.  "It's rewarding to know that kids look up to you."
Csaky expressed that Music Man is a recognizable classic show set in the 1900s.
"It's always fun bringing classic to the stage," Csaky said.  "The costumes are fun, it's very different clothing styles, a fun musical, and a charming story.
The cast is appreciative of everything the directors do for the program, including Tyler Blum, who plays a role in the Quartet.
"I feel like the directors really know what they're doing and to be able to see something you worked really hard on come to fruition is always really nice," Blum said.
Overall, Csaky's success as a director is due to her understanding of these shows to both the cast and the community.
"Once things get rolling they [the cast]  fall in love with the show."  Csaky said.  "If you ask the community members, they have high expectations, and we seem to meet them all the time." 
The musical will be held November 16-18 at 7pm in the PAC at Wadsworth High School.  To purchase tickets visit https://www.payschoolsevents.com/events/details/28947.