Wadsworth High School has welcomed five new students this year, spanning three different countries in Europe. Anna Estrada and Maria Llado from Spain, Matteo Chionetti and Vittoria Manzini from Italy, and Lea Stach from Germany. The students decided to start their exchange journey for multiple reasons
"I decided to become an exchange student for the experience in general, and to improve the language," Chionetti said.
Many of the students also shared that their desire to travel abroad stemmed from wanting to immerse themselves in an entirely new culture.
There are many different ways to start the process of becoming an exchange student, this varies depending on which country the student is from and which school the student attends.
"I contacted an agency that has a relationship with my school," Chionetti said. However, in Germany, students apply for a year abroad on their own."
"We just look around and then decide which organization fits you the best, then try to get accepted," Stach said.
As one may expect, there are many differences between life in Europe compared to here in the U.S., especially at school.
Stach shared that she experiences quizzes and tests much more frequently.
"Because here, it's quantity over quality," Stach said. "You always have to prepare but you didn't really learn enough to show on the quiz."
The students also shared style differences between WHS students and their peers in Europe, with American students dressing much more casually for school compared to what they are used to.
Though the students have had fun living in America, there are some aspects of life at home they miss. Manzini and Chionetti explained how good authentic Italian food is, and how they miss their home-cooked meals.
Overall, the students have shared their excitement for life in a new country, and are looking forward to many different things during their year abroad.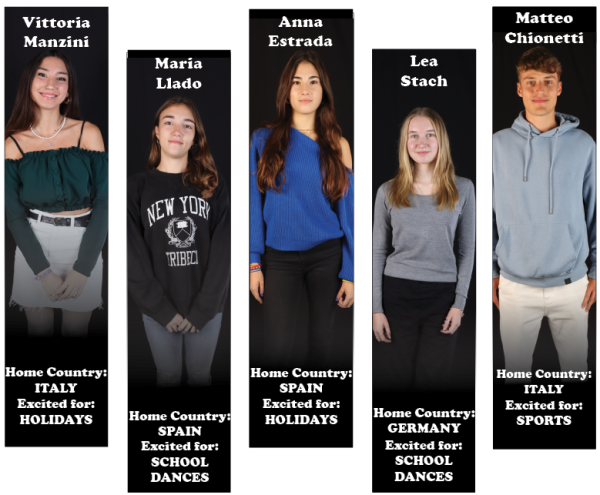 Manzini is excited to experience different cultural aspects of life in America she does not encounter in Italy, "I'm excited for Thanksgiving and Black Friday shopping, something I don't normally celebrate," Manzini said.
Llado mostly wants to attend the dances, like homecoming and prom.
The holiday atmosphere excites Estrada the most this year in the United States. "I'm excited to spend Christmas here because in Spain it is not as popular as here," Estrada said.
Stach is looking forward to attending the WHS school dances, "I am so excited to find a prom dress," Stach said.
One thing Chionetti would like to do while he is in the United States is attend professional sporting events. "I would like to see some sports like the NBA," Chionetti said.