Wadsworth High Implements New End of Course Policy
This year, Wadsworth High School has decided to change their Final Exam policy. In past years, WHS has required all students to take their Final Exams, regardless of passing the End Of Course (EOC) exams or not. 
Starting this year, WHS has given the students new requirements to meet in order to be exempt from taking their Final Exams. 
This new rule mainly affects the sophomore class but also stands for every student taking an End Of Course exam. 
"I think it's good motivation for the kids. I think as you know, it's especially sophomores we talked about who really get hit hard with EOC's, four EOC's in one year, which is crazy,"  Shelly Rohrer said, an all level Biology teacher. " I think it's also that you guys are tested to death constantly. And I think if we can take a couple of them off your plate, then that's great." 
There are different requirements for each of the core classes.
 For example, the original English standards were that the students must pass the EOC test, must have an 80% or higher in the class, and lastly they could not have any office discipline from the fourth nine weeks in order to be exempt from taking an English Final Exam. 
Towards the last two weeks of school the English department was informed that the test scores will not be released until the week of WHS final exams.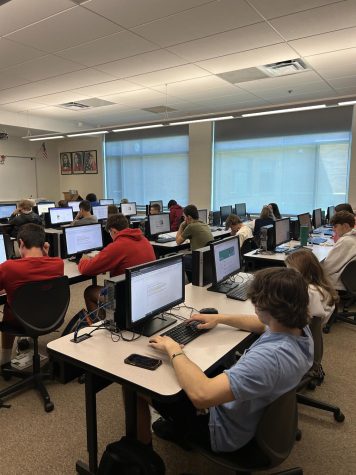 "We had to exclude that factor [passing the EOC]  in determining whether or not students were going to take the test. So we're just using the discipline and current grade factors," said Scott Callaghan, an English teacher at WHS. 
With this policy being implemented in the fourth 9 weeks, any disciplinaries in the first 3 quarters of the school year do not count. 
As for the other departments the requirement is the student must pass the test. If the student does not meet the standards they are to take a final exam. 
"We try to be as fair as we possibly can be. while still maintaining very high standards, "Callaghan said. 
Since this is the first year that WHS is trying this, the rules and standards were up to each department.
"I do think we should probably be consistent. I know English has a hard time because there's that written portion of it. They don't get their scores back until later," said Rohrer, " So that was the reasoning why they put in the 80% and then the no discipline issue. I think if we do students not having discipline, it should be across the board." 
The students were informed of this change in Final Exam Policies  at the beginning of the fourth quarter.
Leave a Comment
Your donation will support the student journalists of Wadsworth High School. Your contribution will allow us to purchase equipment and cover our annual website hosting costs.