Taylor Swift's "The Eras Tour" sweeps nation
On November 18, 2022, the day of Taylor Swift's "The Eras Tour" ticket sale, 125 people at Wadsworth High School were on Ticketmaster, waiting to purchase tickets.
Swift announced she would be going on a headlining tour across the United States on November 1, 2022. Tickets available for Ticketmaster Verified Fans would be on sale on November 18, 2022.
To be able to buy tickets early, fans had to register for Ticketmaster's Verified Fans Presale. The day before the sale, those selected would be sent a code by Ticketmaster that could be used to get into the queue.
On the day of the sale, due to the high demand, the website experienced severe troubles, leaving many fans without tickets.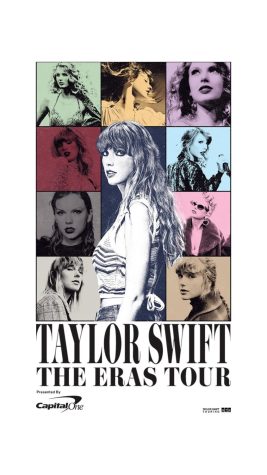 "I got in the queue, just chilling there forever because that line moved so slow," said Addie Beck, Wadsworth High School senior and future attendee of "The Eras Tour" on June 16 in Pittsburgh, Pennsylvania.
About 30 minutes after the sale began, Ticketmaster paused the queue due to their website experiencing technical issues.
"[Then] the queue paused," Beck said. "It was a long wait; it was awful."
After Beck was finally able to enter the sale, she experienced another problem.
"I finally got in and the tickets were finally able to be opened," Beck said. "Then my code does not work. It was just a full panic mode."
Despite the hassle to get tickets, many fans, including Beck, were still able to purchase them and eagerly await their date.
"I'm planning on dressing as [the] "Fearless" era and obviously going to do some bracelet trading when we get there," Beck said.
Bracelet trading was a fan project based on the lyric in Swift's song, "You're On Your Own, Kid" saying, "So make the friendship bracelets, take the moment and taste it…" As a result, many fans began making bracelets associated with Swift and trading them at the concert.
"We'll probably go out to eat and I really want to go to the merch, but it isn't a priority because it's really difficult to get the merch," said Meredith Hire, Wadsworth High School freshman and attendee of "The Eras Tour" on July 1 in Cincinnati, Ohio.
"I'm excited to hear her sing 'All Too Well,'" Hire said. "I'm excited to see Gracie [Abrams, one of ten openers for Swift on tour]; I'm excited to see her outfits and just hear her sing."
Swift has a total of 16 costume changes throughout the concert including jackets, dresses, and even suits.
"I'm going to check into my hotel, I'm going to get ready for the concert, and I'm planning to go there early to go to the merch shop," said Cynthia Wilhite, Wadsworth High School freshman and future attendee of "The Eras Tour" on June 17 in Pittsburgh, Pennsylvania.
The concert goes through all of Swift's musical eras, spanning her 17-year career.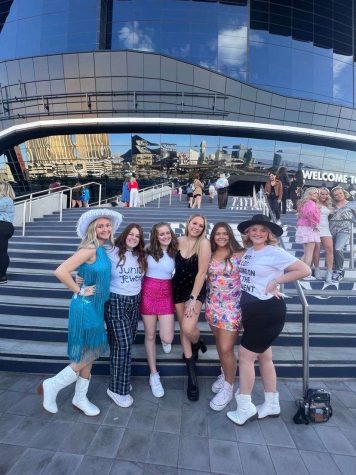 Each night of the tour, Swift has an acoustic set with a guitar and piano song that change from show to show and never repeats.
"I can't wait to see the performance live and hear the surprise songs," Wilhite said.
Now, a few weeks into her tour, she continues to break more records.
The tour is beating her previous record of the highest-grossing tour and an over-30-year-old record held by Madonna for the most attended concert by a female artist. Each show can expect anywhere from 60,000 to 70,000 fans in attendance.
Wadsworth graduates, Regan Simpson and Kenna Barfuss attended the second night of the Las Vegas shows on March 25, 2023.
A popular fan activity is dressing up either in costumes or outfits related to Taylor Swift and her music. While Simpson believes it can be a fun part of each concert to take part in, she feels it is important to dress for the environment.
"I would say to dress cute, but comfy because it is a dancing show," Simpson said. "We are jumping and dancing and singing the whole time, so you'll want to be comfy. One other thing is getting to the venue early because it's fun to just be in the environment and see all the other Swifties."
Swift will be on stage for over three hours, taking fans through the eras of her career, singing 44 songs in total. Since the show is so long, if fans plan to get out of their seats and dance along, Barfuss recommends that they should consider that when picking their outfits and shoes.
"I would tell [fans] to expect to have the time of their lives and to wear comfy shoes," Barfuss said. "I would also recommend going early to the concert to get merch and pictures. It was really fun taking it all in and listening to the openers."
Outside the stadium, the merch truck has become a big topic of conversation among Swift's fans on the Internet. Within the truck, certain items have gone viral and many fans have been arriving very early at the venues just to get in line for the truck. A couple of venues have already addressed this issue, setting a time for fans to shop.
"For the merch, that's really a big thing because I personally think concert merch is really cool, but I would say if you want merch with no line, get to the venue early before the doors open," Simpson said. "We got there at 3, the doors opened at 4:30 and we were probably third or fourth in line for merch, but on the other side."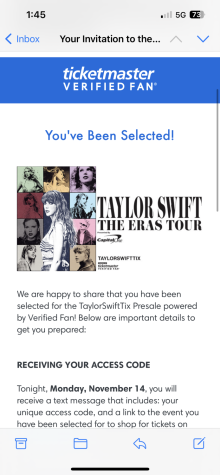 Inside the stadium are many different locations to buy merch, all spread around different entrances. A couple of venues have shared statements mentioning this. For example, Mercedes-Benz Stadium in Atlanta, Georgia stated that they would have 26 different inside merch locations available.
"I think the merch and drink lines were insane," Barfuss said. I had friends who waited 6 hours in line for merch and they couldn't even get the merch that they wanted. I think the venue needed more merch and needed to organize it all better. It was also annoying how not all the merch that was sold in the truck outside was inside."
Because so many fans are expected to be at each show, lines are projected to be long everywhere. While some stadiums are not letting fans in line for things such as the merch truck until a certain time, fans are expected to arrive an hour or two before the doors open.
"I think the merch is totally worth it, but I don't think it's the end of the world if you don't get it at your show because there are variations online," Simpson said.
Despite all the trouble fans went through all around the country buying tickets, the tour already has record-high reviews.
"I would tell others that it is genuinely going to be such a good concert with so much for everyone, even if you're not a huge Swiftie," Simpson said. "It's super cool because she plays a lot of her songs that everyone knows and the environment is just so amazing to be in."
Leave a Comment
Your donation will support the student journalists of Wadsworth High School. Your contribution will allow us to purchase equipment and cover our annual website hosting costs.