Señora Mathews Retires After Teaching Spanish and Coaching Speech and Debate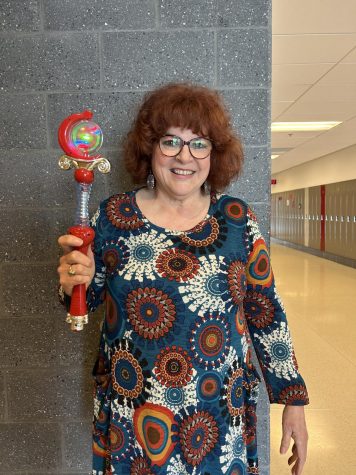 One of Mathews' favorite parts of teaching Spanish is when she sees students begin to get a good grasp of the language.
"I really like to see when students get it and they start using it," Mathews said. "Every once in a while they might burst out with a Spanish word."
Mathews says that one of her favorite things that she gets to teach in Spanish is the culture. She enjoys teaching students about things like the Day of the Dead, Christmas in Mexico, and different prominent Spanish artists.
Mathews wishes that she was able to have more time to focus on Spanish-related things that are more than just grammar.
"I really love the culture and sadly, there is not enough time to teach all of [it]," Mathews said.
Her students have voiced that they enjoy her class and how she teaches.
"Mrs. Mathews actively seeks to make learning enjoyable," said Bailey Fetterolf, a sophomore taking Spanish Two. "She always has different games, puzzles, and activities that are both fun and educational."
Along with teaching Spanish, she was a Speech and Debate team coach for 21 years, with fifteen of those years including her being a head coach for the WHS team.
"One of my favorite things was getting to know the students who wanted to participate in the talent show and putting it on, and the Speech team worked really hard on it," Mathews said. "I loved that talent show; it was fun."
Mathews believes that her time spent teaching has taught her to be a more flexible person.
"No matter how well you prepare for a job, the best lesson is on-the-job experience," Mathews said.
During her retirement, Mathews would like to spend more time in the cottage that she owns in Ontario with her husband.
She also wants to be able to visit her grandchildren, who live out of state on a more regular basis.
Additionally, she is a painter and enjoys spending time creating art. Specifically, she enjoys painting snowmen. She currently sells her paintings at a craft show but is hoping to be able to sell them more in her free time.
Although she will miss teaching, she thinks that the new Spanish teachers will be very good at their jobs.
"We have met our replacements and they are very, very capable, and a good fit for Wadsworth High School," Mathews said.
Mathews is very grateful that she was able to work at Wadsworth High School and feels that Wadsworth City School District has been a great school system.
*  In the printed publication of this story there were several misspellings of Mathew's name. The online format is correct. We apologize to Señora Mathews.
Leave a Comment
Your donation will support the student journalists of Wadsworth High School. Your contribution will allow us to purchase equipment and cover our annual website hosting costs.