Wadsworth softball season nearly underway
With the start of their season fast approaching, Wadsworth High School's softball team is preparing to take the field in a variety of ways.
Since September, players and coaches have met multiple times a week to practice in a voluntary setting in an attempt to get as many reps in as possible prior to tryouts. From weightlifting to hitting to defensive skills, the Grizzlies have honed their skills under new head coach Jim Noall.
Noall joins the Grizzlies in his 49th year of coaching, and his first year at Wadsworth after being head coach at Ellet High School prior. Varsity assistants Randy Dye and Kim Crookston, along with JV head coach Sarah Mackiewicz, round out the coaching staff.
Sophomore and Varsity catcher Maddy Hostettler attributes Noall's many years of coaching experience to how he has coached them in the offseason and moving forward into the regular season.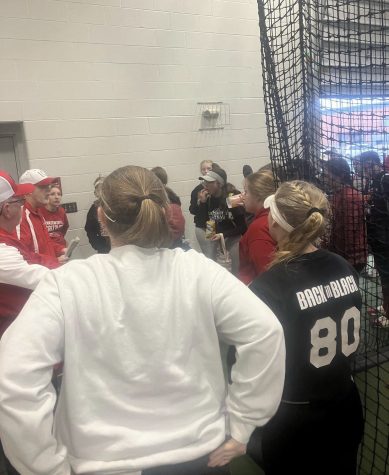 "Our head coach this year is on his 49th year of coaching so he brings a lot of experience and knowledge to the table, and I think that's really important because I think he can help shape us into being better players," Hostettler said.
Tryouts, which spanned from February 20 to February 22, marked the start of official practices and the countdown to scrimmages and games began.
On March 9, the team participated in an intersquad scrimmage, or a mock game against one's own teammates, to finetune aspects of the game that Noall and the Grizzlies want to improve.
"Today was the intersquad that I wanted to have, and I wanted to make sure we got one in before we play Walsh next week on Thursday," Noall said. "We have to make sure we're ready and don't plateau."
However, before the Grizzlies hit the field for the first time in their season opener against Copley on March 25, they have planned three scrimmages, weather permitting. For Noall, these scrimmages are key in helping to set the team up for success and provide more of an accurate, game-like setting.
"I'm trying to put us on a mode where we are playing okay competition and then we're playing really good competition," Noall said.
Wadsworth is scheduled to play against Our Lady of the Elms, at Walsh Jesuit, and against Cloverleaf on March 14, 16, and 22, respectively.
Going into a heavily scheduled season of 27 games, excluding postseason play, these scrimmages will be vital to providing feedback of what needs to be improved before the season is underway.
"I think [the scrimmages] will help figure out where people need to go with positions and developmentally where we stand and what we need to work on before our games in the future," Hostettler said.
As far as the season goes, having a positive attitude and good energy will be an important aspect in the Grizzlies success.
 "I was on the other side of the fence for a long time when I was over at Ellet, because we would play Wadsworth virtually every year, and I just know what kind of atmosphere there is here and it's really, really good and we need to keep maintaining that," Noall said. "We're going to keep rolling with what we've got and everybody's gotta stay positive, and we'll be just fine."
Leave a Comment
Your donation will support the student journalists of Wadsworth High School. Your contribution will allow us to purchase equipment and cover our annual website hosting costs.