Hailey Harris Pursues a New Season Of High Jumping
Hailey Harris, a Wadsworth High School junior, is working to reach new records while high jumping for the track team. After holding the number one spot for female high jumpers within the suburban league for a brief point last year, she has very high expectations for herself coming into the new season.
Harris has been high jumping since seventh grade, making her one of the few original jumpers currently on the team.
"My dad was a high jumper and my mom was a sprinter, so I think both of those [things] led me to track," Harris said. "It's just kind of in my blood."
While the motions of high jump appear difficult to some, Harris feels that it is something that just came to her, and it did not take her long to get the motions down. 
"It felt pretty natural [when I started jumping]," Harris said. "The motion of jumping over a bar backward is kind of strange but I felt like I caught on pretty quickly."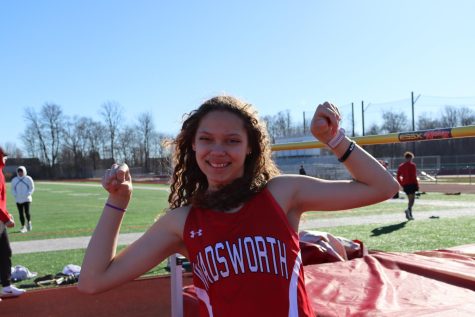 Harris's record is 4 feet and 10 inches, a record she obtained her sophomore year, and her goal for the rest of her high school career is to reach five feet. The progress for high jumping is often slow, where little progress is made at a time. 
"My proudest moment was my freshman year at Wooster," Harris said. "It was a non-conference meet and I jumped four foot eight for the first time, which was a goal I had been working toward all season." 
Harris also runs the 200 and 400-meter races, as well as the 4×400-meter and 4×100-meter relays, but she sees high jump as her most important event. 
She feels that being a high jumper comes with some added pressure, being the only one jumping at a time, more people are watching you, making it more stressful. 
"Having everyone watching you is pretty stressful, the pressure is definitely there with an event when you're the only person doing it."
In high jump, participants only have three opportunities to clear the bar at each height, and once he or she misses all three jumps, they are out. 
"You get three attempts at every height, so with that, it can be kind of hard," Harris said. "If you miss the first two jumps sometimes it's hard to stay motivated not to get down on yourself or count yourself out for that last jump."
Most of the practices focus less on the jumping itself, and more on preparing the body to jump, and breaking down the motions of the jumps.
"Usually the first half of practice is warm-ups and mobility, and then we'll get into some sprints," Harris said. "Sometimes we have a harder workout, sometimes we just do speed drills and things like that, and then we'll go over to the high jump pit and go through some warmups for high jump and work on our approach and our steps, and then we get into some jumps over the bar."
Harris describes the lack of resources and bad weather being some of the hardest parts of high jumping. With only one high jump pit and a lack of coaches, she feels it can sometimes be hard to get the support and preparation needed. 
"Sharing the high jump pit with other runners can be hard at times, and also the weather is a big factor, a lot of times it's raining or snowing so it can be hard to get jumps in," Harris said. "It's also been a little difficult to have a different coach every year, but it has given me the opportunity to learn from different coaches, which I think is really unique."
Harris describes the week leading up to a meet as a time for preparation and specifically getting in the right mindset to compete. 
"We try to get in at least one hard workout before a meet, and about two days before, we get a lot of reps in at high jump," Harris said. "The day before is just more of a mental day, at least for me, making sure I'm ready to compete and in the right headspace. That day we just do some walk-through jumps, some approaches, and fine-tune any of the mechanics before the big day." 
Harris plans to continue jumping throughout college, and she has already had multiple colleges reach out to her with interest. As she is only a junior, she has not yet committed to a college but is looking into her options. 
"I've had some interest [from colleges] so I'm just trying to see what comes of that," Harris said. "I'm keeping my options pretty open, just trying to find a team that's a good fit for me."
The team had an optional indoor meet in early February, and their first official meet of the outdoor season will be the Austintown Early Bird on Saturday, March 25. 
Leave a Comment
Your donation will support the student journalists of Wadsworth High School. Your contribution will allow us to purchase equipment and cover our annual website hosting costs.