Local businesses awarded money as part of the Economic Project
Several local restaurants in the area have received a financial boost from grants awarded as part of an economic development project.
The project, known as the Restaurant Expansion and Attraction Program (REAP), was designed to support local businesses and stimulate economic growth in the community. The first round of the program awarded a total of $50,000 to four restaurants: Sonnets, Great Oaks Tavern, UnWined Main Street, and Water Main Grille.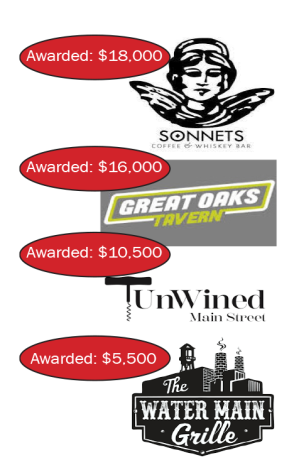 According to Matthew Springer, the Director of Economic Development, "the program was structured as a reimbursement grant for eligible 'interior' improvements that increased dining capacity or helped expand the restaurant into a full-service establishment. "A full-service restaurant, as defined by Springer is, "one that serves a minimum of two meals on a regular basis."
The grants, ranging from $5,500 to $18,000, were awarded based on the restaurants' proposals for using the funds to expand their operations and improve their dining experience. The proposals were reviewed and awarded by a committee consisting of the Assistant Service Director, Planning Director, and Economic Development Director, who established a scoring matrix to objectively rank the proposals.
Good news for local restaurants, as the city has already budgeted $75,000 for a second round of the REAP program next year. While the specifics of the program are still being worked out, the city anticipates some changes to the program. At this point, the restaurants are moving forward with their projects, and according to Springer, upon successfully completing their projects and receiving final inspection approvals, they are eligible for their grant awards. This is a significant step forward for these businesses and a testament to the success of the REAP program and the city's commitment to supporting local businesses and stimulating economic growth in the community.
This story was written by ChatGPT and edited by News Editor Katie Allen. In order to read more about ChatGPt click the link below!
Leave a Comment
Your donation will support the student journalists of Wadsworth High School. Your contribution will allow us to purchase equipment and cover our annual website hosting costs.