Continuing a legacy: Kallai Sr. passes down his title a generation
Chris Kallai Sr., a teacher at Wadsworth High School, has recently retired from his position as a career-tech carpentry teacher. In his place, his son, Chris Kallai Jr., has taken over the position, continuing his legacy of leading the Four Cities Compact program. 
Kallai Sr. has been working in carpentry his whole life, learning it from his father.
"[Kallai] Sr. learned it from his dad, and I learned it from him growing up," Kallai Jr. said.
Wanting to have a career that allows him to help others, Kallai Sr. decided to work in the carpentry field. Eventually, he became a teacher at WHS, allowing him to pursue his love of carpentry in an unexpected way.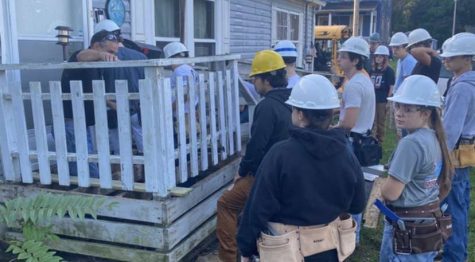 "We didn't even realize this job existed until Sr. got a job here in Wadsworth,"  Kallai Jr. said. 
While teaching, Kallai Sr.'s main goal was to prepare his students to find jobs in the real world, and to teach them skills that can be beneficial on a broad scale.
"We are trying to train people for all the skills trades out there, in every area," Kallai Sr said. "It is a good paying job and you can support a family well with what we do." 
His passions of carpentry and of teaching were passed on to his son, who has developed a similar love of the trade. 
"I've always had a passion for wanting to teach, and when I combined it with doing carpentry, it was a win," Kallai Jr said.
In order to prepare to take over his father's position, Kallai Jr. assisted with the career tech program while subbing within the district.
"The assistant position came out when Sr. said he was looking at retiring, so I decided to take it," Kallai Jr. said. "I followed him around and asked questions, helping him whenever needed. I worked with him every step of the way to learn the whole process until he stepped down and handed me the position." 
Although Kallai Sr. is no longer teaching at WHS, he remains busy with carpentry work, even taking on projects at his own pace.
"I'm still working as much as I can," Kallai Sr. said. "I take on all kinds of projects, trying to stay up with all the people that have needs out there, that's the key."
Although having the opportunity to train under his father, Kallai Jr. feels as if he has big shoes to fill. 
"[Kallai Sr.] set a very high standard, as well as Mr. Smith, the teacher before him," Kallai Jr said. "This has been an amazing program and has been in the forefront of the Wadsworth Four Cities Compact, so in taking over it, you want to make sure you are doing everything you can to maintain that legacy."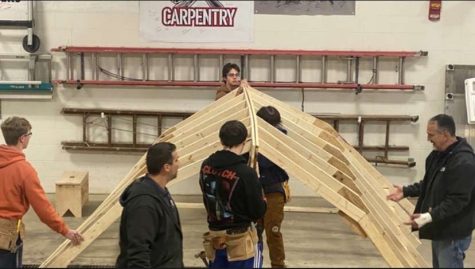 Once establishing himself as a full-time carpentry teacher at WHS, Kallai Jr. wishes to expand the program to include technology as well.
"I would like to continue the legacy that the teachers before have created," Kallai Jr. said. "But, I'm a technology guru, so I am trying to bring the carpentry program into that side of it all. There's still a lot of stuff we do hands-on, but wherever we can, try to bring it into the 21st century. " 
Beyond this, Kallai Jr. is excited to witness his student's personal growth, both as carpenters and as people.
"I love the atmosphere of being able to interact with the students and watching these kids learn and grow,"Kallai Jr. said. "At first, they're struggling and trying to learn how to do stuff, but in the end, they are building an entire house that we are selling to someone to live in." 
Overall, Kallai Sr. feels that his son will continue his legacy in developing WHS's carpentry program.
"I want to keep the traditions going," Kallai Sr. said. "He will make sure the program keeps the same standards that we worked for."
Leave a Comment
Your donation will support the student journalists of Wadsworth High School. Your contribution will allow us to purchase equipment and cover our annual website hosting costs.