Wadsworth High hosts Valentine's Day Blind Dates at Lunch
This year, the Bruin decided to play matchmaker and test if blind dating could potentially work for the students of WHS. With Valentine's Day on the horizon, students were offered a survey that they could fill out if they were interested in going on a blind date with the Bruin. Based on the responses, pairs were randomly created, a date was set, and fate was sealed.
Prior to beginning the event, members of the Bruin prepared a romantic setting within the 1400 publication room at WHS. In doing so, an environment of pink lighting and intimate music surrounded the dates as they took place. Small notes were placed into cups on each table, which contained icebreaker discussions that promoted comfortable conditions for the couples. School lunches of turkey wraps and desserts were provided to each couple, along with flowers, scattered Hershey Kisses, and formal silverware.
Although all of the dates occurred at the same time within the publication room, the first couple consisted of seniors Kara Moore and Sean Hibbard. When asked how they felt about being set up together, the pair admitted that they already knew each other.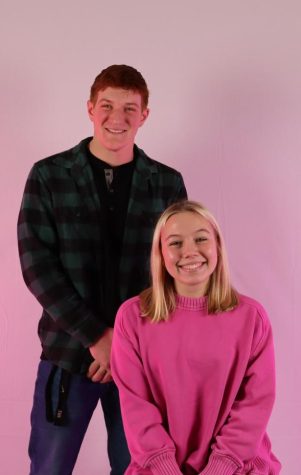 "I already know Sean so it definitely wasn't as awkward as it could have been, but it was good," Moore said.
Similar to Moore, Hibbard felt that the date could have been embarrassing if he had not previously known his date.
"I thought it was going to be super awkward, but I knew Kara so it was all good," Hibbard said.
During their time together, the arranged couple discussed their history at Valley View Elementary School and utilized this similarity as an expansive topic of conversation throughout the date.
"We both went to Valley View, so we were able to reminisce on all the teachers and all the things that happened," Moore said.
Overall, both agreed that the date went well and could have taken a more unfortunate route. When asked if they would go on another date, Hibbard replied with yes, while Moore explained how it would be left up to fate.
On the contrary, the other three couples did not express the same natural connection as Hibbard and Moore.
Junior Grace Conley and sophomore Connor Gaugler were also placed together based on the survey results.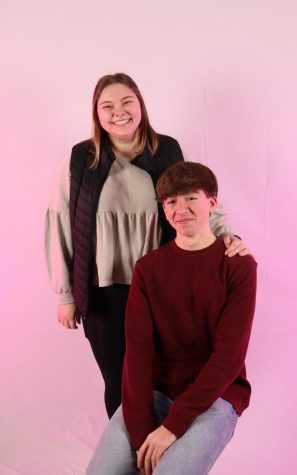 "I didn't really expect much," Conley said. "I had very little expectations."
These low expectations were not one-sided, however, as her date's mindset mirrored a similar perspective. Gaugler explained that he, too, had low expectations walking into the blind date scenario and did not expect much to come out of it.
The couple explained that even after going through numerous rounds of icebreakers and other conversations, they didn't feel a spark and would not pursue a relationship.
"It was nice to get to know him and learn little things about each other, but no thank you," Conley said.
However, just because one couple was not meant to be, does not mean that there's no hope for the rest.
Senior Brian Bowser and junior Anne Streger may have a slight amount of potential for a future relationship, according to their date results.
The pair commented that their favorite thing about the date was a conversation that they had with regard to their teachers. The couple agreed that they would see where the road goes in their future.
The final couple was junior Stella Breuers and senior Tighe Harty.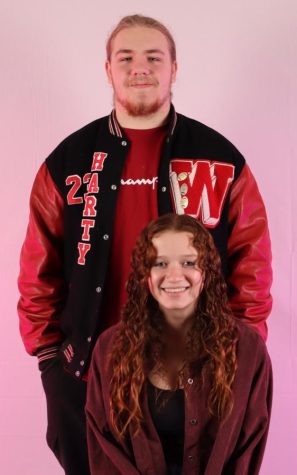 When asked about the content of their date, Harty responded with assurance, claiming that the date was similar to his original expectations.
"It was exactly what I expected," Harty said.
Breuers, on a similar note, agreed with Harty and said that it went great.
The pair is not sure if they would go on another date; however, they had a pleasant time. Through engaging in icebreakers and entertaining small talk, the pair concluded that their date together was enjoyable.
After all of the dates were completed and resolved, each couple was placed in Bruin's photography studio, where they posed for a variety of pictures. Beyond this, all of the participants took a group photo, as well, after partaking in post-interview examinations.
Even though a majority of the participants in the Bruin's blind date do not hold high standards for the potential of furthering their relationship with one another, everybody involved enjoyed the fun, experimental aspect of the scenario. While there was a large presence of awkwardness among the group, the general result of the entire setup proved to be successful, allowing for different students to better understand those who they do not often interact with.
Leave a Comment
Your donation will support the student journalists of Wadsworth High School. Your contribution will allow us to purchase equipment and cover our annual website hosting costs.