BY LAUREN BALL
Absolute Intense Wrestling (AIW) brought the action to Wadsworth community members of all ages during Rumble on Main Street, a professional wrestling show, on September 10. The wrestlers put their talents on display for the crowd to see on their journey to athletic success in the wrestling business.
However, while the audience cheered and applauded for every suplex, bodyslam, and win, for many of the performers, this was one of multiple shows they worked this week. The grind of being an independent wrestler, or a wrestler not signed to a large corporation, is one that most casual wrestling fans do not recognize. It is often solely their responsibility to travel, manage their schedule, and book shows, all while making sure that they keep their skills sharp for performances.
Wrestling legend and WWE Hall of Famer Arn Anderson touched on the behind the scenes work it takes to make it in the wrestling business.
"I'm sure everyone in that audience, if you took a poll, they think, just like we all thought before we got into it, that you have like a genie and just blink yourself to the town and you're there," Anderson said. "But it's a tough business, you know, it's a tough business."
Dominic Garinni, a wrestler for AIW who is also a head trainer, mentioned that the lengthy schedule that the athletes abide by in order to achieve greatness is not one for the faint of heart.
"Life as an indie wrestler is very busy if you're trying to do it at a high level, because you have to balance work, you have to balance training, you have to balance your bookings," Garinni said. "Being an independent wrestler is all about balance."
Before coming to Wadsworth to wrestle in Rumble on Main Street, he competed in New Jersey the night before, then woke up at five in the morning to catch a flight to Ohio.
Since wrestlers like Garinni are independent, or "indie", it means that they are not signed to a particular wrestling company, and do not make a fixed salary because of that. Garinni holds a day job where he helps people with developmental disabilities find jobs in addition to being a wrestler.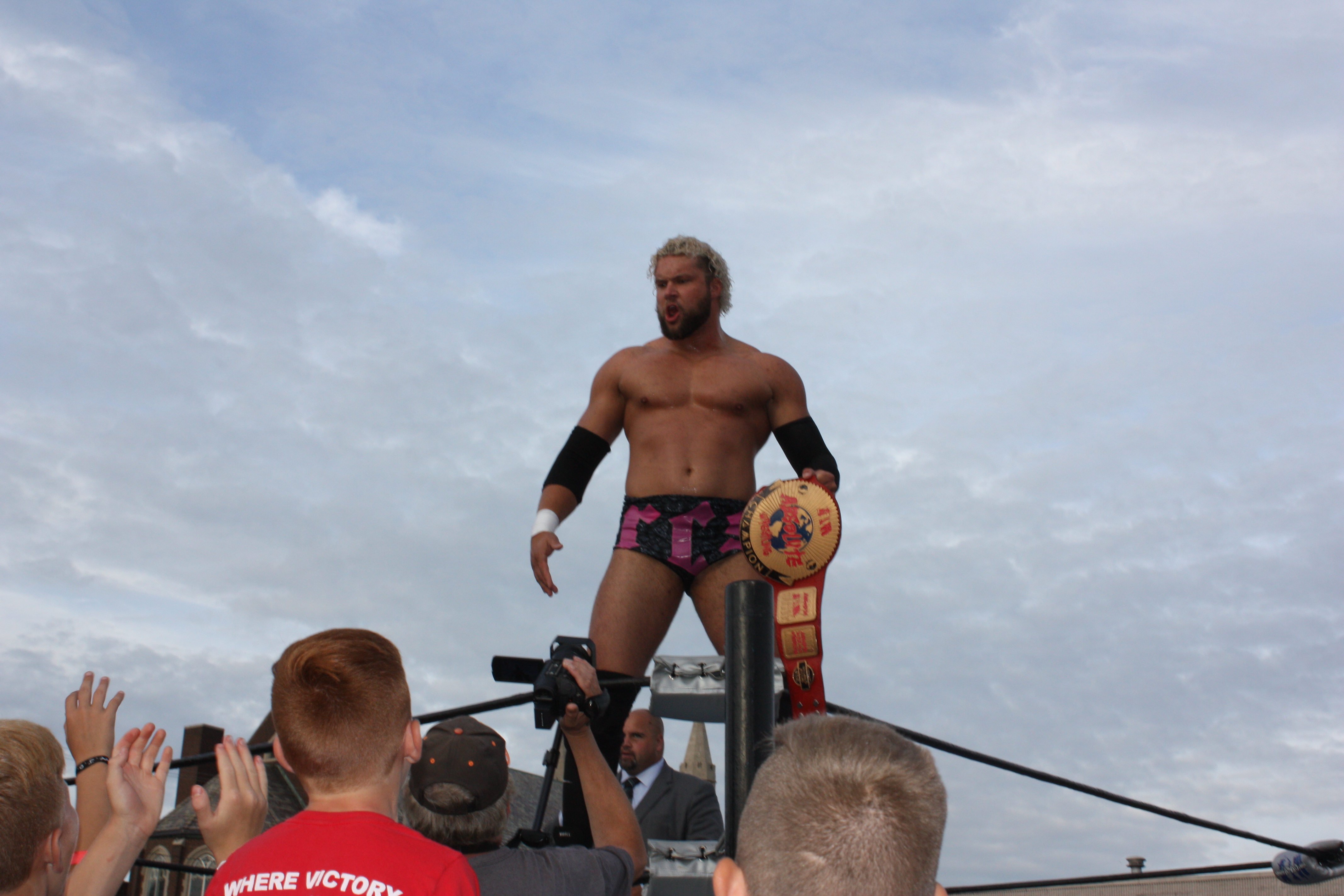 "Since we aren't making a salary, we could get hurt at any moment," Garinni said. "For our income, we have to keep a day job. My long term ultimate goal for the wrestling business would be to make a living out of this. That doesn't necessarily mean to sign a contract with an AEW or WWE, but get to a point where I'm making enough money off of independent wrestling that I wouldn't need to hold a day job. So everyday when I woke up the only thing I would have to focus on is wrestling."
But for wrestlers like Anderson and Garinni, their love of the sport makes the late nights and long drives worth it.
"The actual part of wrestling itself, the match, the adrenaline from the fans you get when you're in the ring, that's the best part," said Garinni.
Similarly, Anderson attributed the experiences gained from 40 years in the business as the most fulfilling part.
"I've traveled the world, I've gotten to see a lot of interesting places," said Anderson. "I've been in the business going on 40 years, so I've gotten to see different generations and the evolution of the business from where it was when I started to what it is now. I've been around a long time and witnessed a lot of change, some for the better, some not."
One of these interesting places was Wadsworth. The show was very community-oriented from start to finish, creating a fun atmosphere for locals and those who traveled from out of town to enjoy it.
Prior to the show, AIW and the Wadsworth wrestling team partnered in a fundraiser for the team, offering discounted seats for team members along with a portion of the profits from the show being donated to the program. The team was also recognized for their accomplishments during the 2021-2022 season, and they got to walk around the ring.
Perhaps the most entertaining part of the match came during a four-man match starring Chase Oliver. Oliver, the local fan favorite, emerged from backstage in a Wadsworth Grizzlies shirt and proceeded to win the match.
But before it was over, Wadsworth superintendent Dr. Andrew Hill snuck into the ring and hit one of Oliver's opponents, much to the delight of the crowd. Then, Oliver won, and he and Hill celebrated the victory in the center of the ring, arms raised.
Rumble on Main Street was a success for both the community and entertainers. For the wrestlers, they will continue to perform elsewhere in hopes of making it big in the wrestling business, but for locals in attendance, this will be a day they will remember for a long time whenever they think of professional wrestling.