Vape Detector Installed in Wadsworth High Bathrooms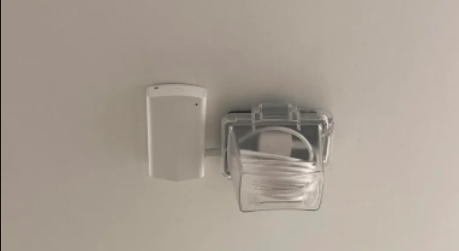 Vape detectors were installed in the Wadsworth High School bathrooms weeks before students returned to school. These devices went active at the beginning of the school year and are intended to stop students from vandalization and smoking within the bathrooms.
These IAQD (Indoor-Air Quality Devices) come from the developer Cisco Meraki. This developer also created the brand of cameras that the high school has scattered throughout the building, thus allowing the cameras, located outside the bathrooms, and the IAQD to communicate well with each other. 
According to Cisco Meraki, "[The IAQD] can detect the presence of chemicals, debris, extreme temperature, humidity, and noise." 
Although all of those things can be detected, marijuana, nicotine, and noise are what the school is most concerned about. In theory, once the IAQD detects one of these substances, they immediately send a signal to the cameras outside each restroom. These IAQD allow the administration to more precisely see who went into the bathroom to trigger the alarm that alerts administrators when a chemical is detected.
WHS principal, Dr. Vincent Suber brought the idea of installing IAQD to the Wadsworth Board of Education, where it was decided that funds would be pulled from two different accounts to pay for the IAQD and install it.
"The funding for the detectors was split between [the] technology [account], to buy the devices, and [the] maintenance [account], to install the devices,'' Suber said. 
Spread throughout the high school are 19 IAQD, each costing $428. In total, $8,132 were spent on hardware, including the devices themselves. Then, $8,550 were spent on the electricity to install the IAQD, while $3,150 were spent on the wiring for the devices. In total, this project cost $19,832.
The typical consequences for those who are caught vaping include a warning or citation followed up by an instructional class about the harms of vaping. 
"I would say probably would have average like one or two [students] a month, but in May there were like 25 [students]," Suber said.
According to Suber, the need for these detectors was justified by the growing number of students in these classes. 
"There's a problem, kids have admitted that it [vaping] is a problem," Suber said.
He made it clear that these devices were not installed to make people get into trouble.
"It's not about catching people…we're more interested in getting them [students] help," Suber said.
Another reason for the IAQD installation was due to the vandalism and destruction during the "Devious Lick'' trend that was viral on TikTok. 
"We have 1,600 students…kids were upset because they wanted to use the bathroom and they couldn't," Suber said.
He is confident that this will lower the number of students vaping in school bathrooms.
Leave a Comment
Your donation will support the student journalists of Wadsworth High School. Your contribution will allow us to purchase equipment and cover our annual website hosting costs.