BY JULIA SWAIN
Five hundred and eighty-six. This is the amount of free speech controversies detected across the United States by the Free Speech Tracker since its creation by Georgetown University in 2017. It was founded to monitor these instances to determine how often first amendment rights are challenged in political, social, or intellectual expression. More than half of these entries occurred in an academic environment according to the database.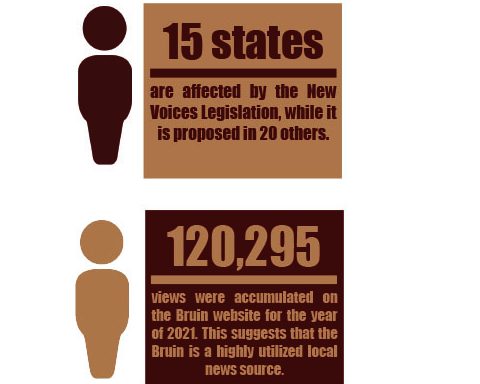 An example of this can be found straight from the Bruin. Brianna Becerra, former staff writer, and a co-editor in chief of the Bruin was tasked with sharing important opinions monthly in the form of the editorial. This is defined as a newspaper article written by or on behalf of an editor that gives an opinion on a topical issue. Oftentimes, Becerra felt as though she had to avoid certain topics or remain cautious in discussing them.
"Whenever I wrote articles, especially editorials, I knew that I had to be very careful about what I said," Becerra said. "I had to learn how to censor myself before [the] administration could censor me. There were definitely more topics that I wanted to tackle in the Bruin, but I knew that the administration wouldn't let me."
This initiates the problem of censorship within a publication. Even things such as the opinions found in editorials, which are intended to display the ideas of the staff in an honest and authentic way, may be altered in order to fit what administrations deem to be appropriate. The Bruin functions under prior review, as this form of censorship, is utilized in every publication, allowing the administration, specifically the building principal, to change or reject content completely prior to the release of the paper.
The introduction of the New Voices Act intends to change this notion, as it looks to separate the administration from student publications entirely. Any state that adopts New Voices will grant student newspapers the right to publish without any sort of prior review or censorship, which gives rights that do not presently exist to student journalists. Fifteen states currently have adapted the act, and twenty have already begun efforts toward their own bill.
"Student journalists go into journalism to tell stories, to tell the stories that matter to their communities, to their schools, to their peers," said Hillary Davis, New Voices Advocacy and Organizing Director. "This legislation allows them to be able to do that without first and foremost thinking about how it's going to be received by a school administration."
However, there are many concerns surrounding New Voices. One of the more prevalent objections exists within the fact that administrators are worried about the effects that the act will have on the appropriateness of their publications. Davis addressed these concerns and dismissed them with remarks on why these worries should not be present.
"I think they [legislators] need to stop for a moment and separate out their stereotypes and fears of high school students in particular from reality," Davis said. "We constantly are dealing with legislators who are very afraid that the only thing student journalists want to do is talk about sex, and drugs and gossip about their teachers, and that just confound reality. No student sits in class and goes through all these conversations about ethics and media law and good journalism and fact-checking and all of that just to wreak havoc."
As outlined in the Wadsworth Board of Education's policy on student publications, the Bruin is a "limited-purpose" public forum and is "not intended to address general matters of public concern," meaning that publications such as the Bruin were not intended to expand beyond the walls of Wadsworth High School by covering community-based concerns, such as elections or town emergencies, although the Bruin has done just that over the past three or so years.
Additionally, it lists that school officials may review and reject content during the process of prior review if it falls under specific criteria, such as if it includes age-inappropriate content, or if it includes matters beyond the limited scope of the forum. This limits the information that is given out in student publications if prior review is used.
"It's [the prior review of the Bruin] laid out in our board policy that we are to review it," said Steve Moore, former WHS principal, and current assistant superintendent. "The principal is ultimately in charge of the stuff that comes out in the paper but we have obviously an advisor that does that, and our students are responsible for it, but I think really what it's been is that we really want to make sure that we review it for accuracy."
Kat Wilkinson, junior at WHS, shared her own thoughts on the Bruin, and how she believes that prior review affects the content.
"I love the Bruin so much, but I think a lot of the content is fluff because the school is uncomfortable with talking about anything else besides things that are happening within the school, [but] I think there needs to be more conversation about current topics," Wilkinson said. "We are all so scared to be seen as controversial. Even just saying your opinion is controversial because it goes against the norm of being 'hush-hush' about tricky subjects."
An example of this can be seen in a Florida high school, where principal Michael Hunter censored a school's yearbook in their coverage of a walkout in opposition to HB 1557 (a bill that involves parental rights in education). The journalists were punished for this incident, despite the fact that they were covering the event in a matter that was simply reporting the event as it happened with no inserted opinion on the matter behind it.
This notion of prior review or any other form of censorship creates fear within student journalists, as they often question what they can and can not cover. Wilkinson agreed with this notion, as although she wishes that the Bruin could cover topics such as LGBTQIA+ matters and birth control, it would be unlikely because "of how censored our media is in school" and how "even just saying the word 'gay', 'racism' or 'abortion' causes a stir."
Moore had positive opinions on the current prior review system, stating his belief that if it were to be continued, there would be many benefits for all involved.
"I believe that the student review process is very good," Moore said. "I don't believe it's censorship and I would like that to continue, but I'm open to further dialogue."
Additionally, Moore shared, "We really want to make sure that we review it [the Bruin] for accuracy, we want to review it for appropriateness, and appropriateness is not censoring."
The fact of the matter is, prior review is defined as a form of censorship according to the Free Speech Center. It gives administrators the power to eliminate content that they do not think is fitting for a student publication and it prevents newspapers such as the Bruin from writing about certain topics that may cause backlash that the administration is not ready to face.
Additionally, the major initiative of New Voices lies in the elimination of the role of the administration in student publications, allowing students the freedom and room to make mistakes and to grow as journalists without worry of pushback from higher-ups in their school district.
"This legislation is really critical to taking administrations out of that role, allowing students to have that freedom to grapple with big and important things happening in their communities and to do so in an age-appropriate way, and to really talk about these issues, for students by students, and I think that this legislation allows students to do that which just has that benefit across the board for everyone," Davis said.
This fear that some student journalists face is the main reason that New Voices has looked to eliminate student censorship as it, in their opinion, limits publications greatly. It seemingly affects how students get their information within their schools. Information may get left out due to the fear of administrations in how a possibly controversial opinion will be perceived.
"When you have schools engage in censorship, not only are they sending a message to students, and student journalists, that you should conform to what's popular rather than what is important to talk about, you're also sending a message to the school that the media doesn't matter, that it's only about puff pieces that make you feel good and that you shouldn't be grappling with scary things in an age-appropriate manner," Davis said.
Local media, while not completely absent from the Wadsworth community in the form of papers such as the Medina Gazette, is less prevalent than it used to be. The Bruin is an example of one of these outlets, as it often tackles community-based issues.
This is another critical mission of New Voices– to give student journalists the space to fill the gap left behind by rapidly disappearing coverage of their communities and the stories that are most important to them.
"So the states that have New Voices Legislation, there is an opportunity there to fulfill this really critical mission of education that the other states don't have," Davis said. "In addition, student journalists are filling a much larger role than they used to because local media is struggling and in a large number of communities there aren't daily papers anymore and there aren't local news sources, so student journalists really do serve a critical function to their community as a whole in profiling their community and representing their community."
Furthermore, some believe that censorship places a limit on what topics can and can not be discussed. This creates a harmful barrier between the reporters and the audiences that they are trying to reach, not allowing their voices to be felt to their full effect.
"Student newspapers are a great place for students to learn how to use their voice for good," Becerra said. "Censorship greatly limits the topics that they can discuss, and this does a great disservice to not only the writers but their audience as well."
Student censorship, specifically prior review, gives the power to administrations that do not always have all of the information they need in order to censor a writer from covering a potentially controversial event. If this continues in the future according to groups like New Voices, it will continue to damage the potential for growth within student publications. This then may eliminate the chances for these publications to grow and flourish beyond the walls of their high schools and into their communities, which can benefit from this information more than anyone else.