Former Wadsworth Exchange Student Flees Ukraine
BY CHLOE PORTER AND CARLEY SORRENT
Crammed in a car with her aunt, brother, and two others, Bohdana Boldina tried to find a comfortable spot in her seat. They still had many miles until they were safe, outside of the Ukrainian border. Suddenly, the car jerks to a stop and all the ache and tiredness from days of traveling was immediately forgotten.
Her body was running on fear and adrenaline alone. Looking up, her eyes met the figures in front of her car with their guns pointed straight at her, and all she could think is that this must be the end. In her head, she was silently praying that they were not Russians disguised as Ukrainian soldiers. If this were the case, surely she would be a target. Her life was in danger.
Bohdana Boldina was a foreign exchange student at Wadsworth High School, in Wadsworth, Ohio from 2016 to 2017. She has had to flee her country, Ukraine, in order to protect herself, her brother, and her aunt. She recalled how quickly her world changed; how serious everything had become all at once. Stacy Villilo, Bohdana's Wadsworth host mom, recalled what Bohdana was like when she stayed with her.
"She was reserved– I think she had quite a bit of culture shock," Villilo said. "I think she had a lot of culture shock, and had a bit of a difficult time acclimating to high school life. She had a little bit of struggle there, but I think that every foreign exchange student does. She loved to go exploring, she liked to explore the landscapes here. She found a lot of her inspiration for her art here."
As Villilo kept up with the news, she began to worry about Bohdana's safety.
"We were worried even before the Russians were setting up shop on the edge of the country," Villilo said. "From what we could gather, we thought that there would be an attack."
In early February, Boldina thought nothing was going to happen. In fact, she dismissed the very fact when she was corresponding with friends here in Wadsworth.
"When I got those emails at first, we were actually laughing really hard," Boldina said.
According to Boldina, the people of Ukraine have had threats from Russia for years, so most citizens did not think a war would come. Generally speaking, they made sure to keep their everyday life as undeterred as possible, even after other countries' news stations were covering the planned attacks.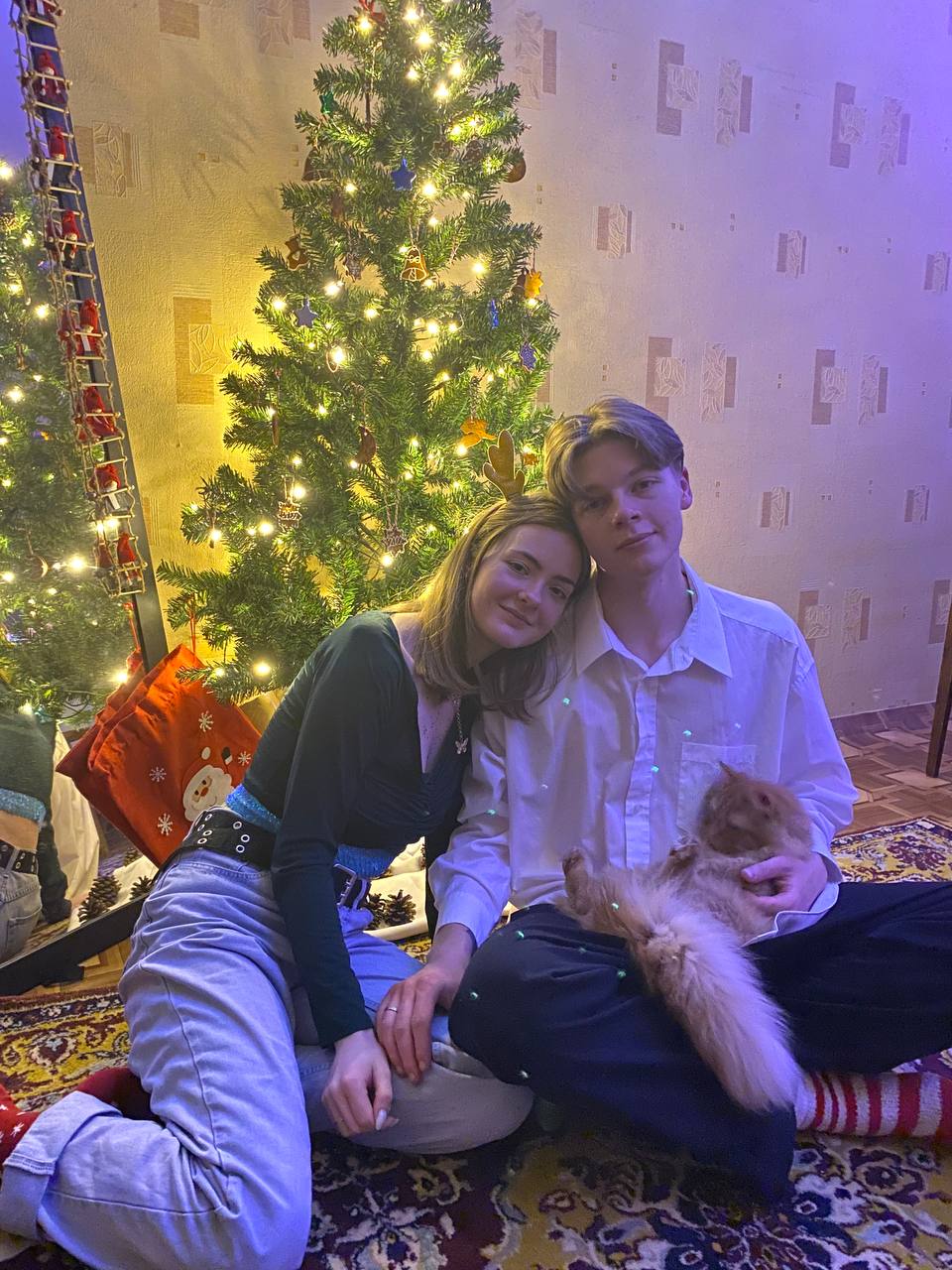 "It was really hard to realize something was going to happen," Boldina said.
Although there were a lot of news stations covering this in America, Boldina explained that this was not the case in Ukraine. What little coverage that the citizens saw was mainly put out to calm their fears, telling them not to worry.
"I could speculate that it's their government trying to keep them calm, trying to keep them positive," Villilo said.
Most NATO countries, including America, believed that Russia would bomb Ukraine on February 16. When this did not happen, Ukraine was united in celebration. This further reinstated the stance that Ukrainian leaders had on keeping spirits high. It was seen as less of an avoided threat than a chance for unity. Flags were draped across Ukraine, and in Kyiv, the nation's capitol, they even unveiled a 200 meter flag at their stadium. This celebration ended as soon as Russia invaded on February 24, 2022.
"My body just started shaking so bad," Boldina said.
She first heard from her sister in Kyiv early that morning that she could hear explosives going off. Boldina lived in Zaporizhzhya, which is in the south east, very far from Kyiv.
"[During the] first couple days we were just really shocked and really scared," Boldina said. "We didn't know what to do."
They waited for good news. Boldina hoped that the war would end soon. After all, she reasoned, this is the 21st century. She soon realized that the conflict would take a lot more time than she initially thought.
Boldina's thoughts began to wander towards her loved ones. On February 27, 2022, the city of Tomak was occupied by Russians. This is where her husband's parents live. She has not been able to get into contact with them ever since the 27th.
With the news of Russia's recent occupation, she began to understand the decision she must make.
"It wasn't until they actually did the first shelling on February 24," Villilo said. "Based on my communication with her, it took actual shelling for anyone to realize that it was serious."
Boldina was faced with the truth.
"I started to realize it was all just getting really worse and not better," Boldina said.
By the time she recognized she would have to leave the country, global Ukrainian mobilization began. This meant that men from ages 18 to 60 could not leave the country. If Boldina should flee, she would have to leave her husband and parents behind.
"For a person who's really sensitive, I couldn't stay there any longer."
The plan to leave by train was soon dismissed when Boldina saw the news of the hostility at the train stations. She said that people were unintentionally crushing each other. She decided that taking a car would be the safest.
Although Boldina's husband could not go with her, she did not venture this journey alone. She traveled with her younger brother, Fedya, who is 9 years old, her Aunt Larysa, and two other people who needed to flee as well. Her cousin, son to her Aunt Larysa, took them to Lviv, which is in Western Ukraine. Boldina expressed how difficult the traveling was.
"I just couldn't move and I couldn't sleep," Boldina said.
In the midst of traveling, her car was faced with a truck full of soldiers. As they stepped out, pointing their firearms at the car, Boldina could not be sure if they were actually Ukrainian.
"I thought that I was just going to be dead," Boldina said.
Fortunately for Boldina and her family, they actually were Ukrainian soldiers and not disguised Russians. There have been incidents of this happening– they dressed up to look familiar, and then they attacked. A recent news story reported that Russians had used this technique to capture and kill journalists across the country.
After that brush of terror, she still had a grueling journey ahead.
The trip to Lviv was 48 tiring hours of little sleep for Boldina. Once the group arrived, they slept for two days. After they caught up on sleep, they quickly boarded a bus to Warsaw, Poland, taking another 13 hours. They rested in Warsaw for two more days. They then took a bus to Madrid, Spain, which took another 48 hours. From there, they bussed to Málaga, Spain, which was another three hours on top of that. Lastly, their cousin's best friend took them from Málaga to Estepona, Spain.
"We're feeling safe here," Boldina said.
Once arriving in Estepona, she found that she felt very comfortable with her new hosts in Spain, Lyubvov Lopushynska and Roman Lopushynskya. Since they are ethnically Ukrainian, they have a lot of the same customs. Boldina says it feels somewhat like home to her, her brother, and aunt. However, despite feeling comfortable with the family, it has been incredibly difficult for the three to adjust to their new life in Spain.
"We are like illegal here for now," Boldina said.
They have been trying to get their refugee documents from Spain since they arrived in the beginning of March. Boldina described how in Poland they were ready to give documents as soon as possible to all of the Ukrainian refugees there. In Spain, they are going to have to wait almost two months– they are supposed to meet with the UNHCR, United Nations High Commissioner for Refugees, to receive them on May 5.
"For now, unfortunately without documents, I can't get a full time job," Boldina said.
Currently she is brushing up on her graphic design skills using Adobe Photoshop and Illustrator which she is trying to use to find employment online so that she can work in Spain until she gets her documents. She has received a part time job of cleaning houses on the weekend, but she says she is still looking for more.
"I cannot imagine going back to Poland or even to the U.S.," Boldina said.
At the time of the interview she knew it would be easier to get documents in Poland, but she did not want to go back. The first trip was hard enough on her, her aunt, and her brother. She did not believe they could make another trip unless it was back to Ukraine. Although she does not want to leave her hosts, the Lopushynskas, she has now realized that this war could take until 2035 and is considering going back to Poland to go to a university.
Boldina expressed how there is a lot of Russian propaganda on the internet, but if people think twice about the sources they are using, they can avoid harmful misinformation. She wants people to know of the genocide Russia is conducting, and the atrocities of Bucha.
Boldina is now safe in Spain, she still feels the sadness of having to leave her loved ones behind. Boldina wishes that no one else will have to experience what she went through. She hopes that people will do what they can to help, whether that be a donation, or simply just educating themselves.
"If they're interested, look for local organizations that support it," Villilo said. "I know we have a big Ukrainian population in Parma. I know the churches in Parma have been collecting donations and they're giving them directly to refugees– especially in Poland, because that's where most of them are going."
Boldina hopes that everyone will listen to her story.
"I was in Wadsworth and maybe people will trust me. . . I really really hope so," Boldina said.
---
If you or someone you know is interested in hiring Boldina for freelance work, please see here resume and contact information here.
Leave a Comment
Your donation will support the student journalists of Wadsworth High School. Your contribution will allow us to purchase equipment and cover our annual website hosting costs.