BY LIAM RUSSELL
This year Wadsworth wrestling sent seven young men to Columbus to compete in the Division 1 High School state tournament. All seven wrestlers made the podium by placing in the top eight. The team placed fourth overall out of 88 teams with two State Champions.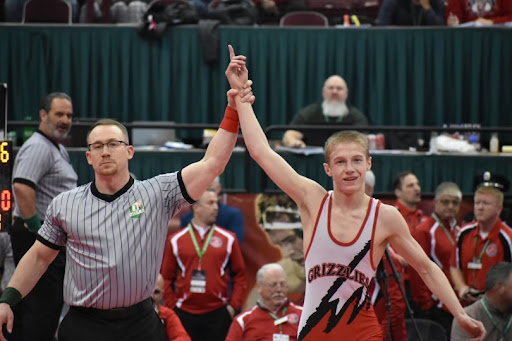 120-pound sophomore Jaxon Joy made it to the state tournament his freshman year and came out a state runner-up. Joy was happy with what he accomplished last year, but he wanted that State Title.
"It feels great because I was able to prove that I was the best, whereas last year, I fell just short of that goal," said Joy.
Joy has been wrestling his whole life and it has been his dream ever since he was a kid to bring home a state title. With him being only a sophomore, he has more opportunities to earn more titles.
After losing last year, Joy said, "I don't ever want to feel that again, so I won't let myself feel it again next year" and he proved himself right. Joy put in countless hours of hard work and was surrounded by great teammates that pushed him hard every day.
Chris Earnest, a 150-pound junior, finished first place in his weight class and brought home the state title. Last year, Earnest fell short of his goal taking home fourth place but continued to work hard and strive for this title.
Earnest had an incredible 4-2 win against Perrysburg's Wyton Denkins. Earnest was up 4-0 when he gave up a penalty point and a stalling point with only two seconds left. After the match, Earnest immediately found his brother who also won a state championship.
"Some crazy things have happened to me this past month, my girlfriend broke up with me, that one hurt and it really helped me get to where I am today, I also hurt my ankle the week before sectionals and had to recover from that," said Earnest.
Earnest is in awe that he won states and said he is going to continue to work hard and dedicate his time to wrestling and hopes to bring home another state title next year.
"I'm very surprised I won states, you know, I worked my butt off to get here," Earnest said.